💡 Crypto Weekly Wrap: 23rd June
📈 Institutions are BULLISH on BTC: 
This week, Bitcoin exploded to the 31K USD resistance level due to news of institutions piling into the cryptocurrency market, despite the ongoing legal battles between the SEC, Binance and CoinSpot. The largest fund on the planet (BlackRock) applied for Bitcoin Spot ETF, highlighted last week. We also know that BlackRock has been increasing its exposure to Bitcoin indirectly, through MicroStrategy (MSTR), the largest corporate holder of Bitcoin.
BlackRock is one of MicroStrategy's top five shareholders, with a reported 8.1% stake, a 25% increase from 2022. MSTR is the largest institutional Bitcoin holder, with 140K BTC valued at more than $3 billion. In the absence of a Bitcoin ETF in the United States, MSTR serves as a proxy for Bitcoin exposure.
Furthermore, on Tuesday, it was announced that EDX, a cryptocurrency exchange supported by Citadel Securities, Fidelity, and Schwab, had launched in the United States after a nine-month development period. The company announced a new round of money with the debut of its digital asset market, which includes investments from Miami International Holdings, DV Crypto, and GTS, among others.
In Europe, Deutsche Bank has applied to Germany's financial services authority to provide cryptocurrency custody services. Deutsche Bank wants to expand its digital assets and custody business. Deutsche's appeal to BaFin is part of a larger drive to increase fee revenue for its business bank unit. With a BaFin licence, crypto businesses can confidently promote and sell their services in the German market.
Is the Federal Reserve now bullish on cryptocurrency?
On Wednesday, Federal Reserve Chair Jerome Powell stated that the US central bank should have a "robust federal role" in monitoring stablecoins, a significant portion of the entire crypto market for which lawmakers are attempting to develop rules. Powell also stated that cryptocurrencies such as Bitcoin had "staying power." This is a change in tone from earlier in the year when Jerome Powell warned banks about the risks in the cryptocurrency market. A major U-turn from the central bank.
The news of institutions piling into the cryptocurrency market should come as no surprise. The next Bitcoin halving event is under 1 year away, we are still early in the cycle!
🎯 Bitcoin - keeping the technicals simple here!
▶ Major support can be located at 24,700, which previously acted as resistance during the bear market phase. BTC is pushing higher after re-testing the 24,700 support zone. 
▶ There appears to be a bullish consolidation, known as a bull flag structure in play. This is where price action declines inside a tight range before a breakout and a move to the upside. BTC is teasing a breakout above the bull flag structure.
▶ We can see the opposite scenario played out during the bearish consolidation structure back in July 2022. Price action broke down from the bear flag structure and reached lows of roughly 15,500.  
▶There has been a Golden Cross on the daily chart, where the 50-day MA crosses above the 200-day MA, which is an early indication of a bullish move to the upside.
We must note, since Bitcoin reached the 31,000 resistance level, there have been 8 consecutive weeks of institutional OUTFLOWS from the cryptocurrency market. Therefore, it is no surprise that Bitcoin declined in value as investors realize early gains during these uncertain times.
However, upon news of the Blackrock Bitcoin ETF application, the tail-end of last week saw minor institutional INFLOWS. Furthermore, Altcoins saw minor inflows last week, indicating a potential shift from the negative sentiment (still very early to confirm).
The technical analysis of BTC paints a bullish picture; let's see if institutional inflows turn positive in the following week. A breach above the bull flag formation will undoubtedly attract additional buying liquidity!
Before (Wednesday 21st June):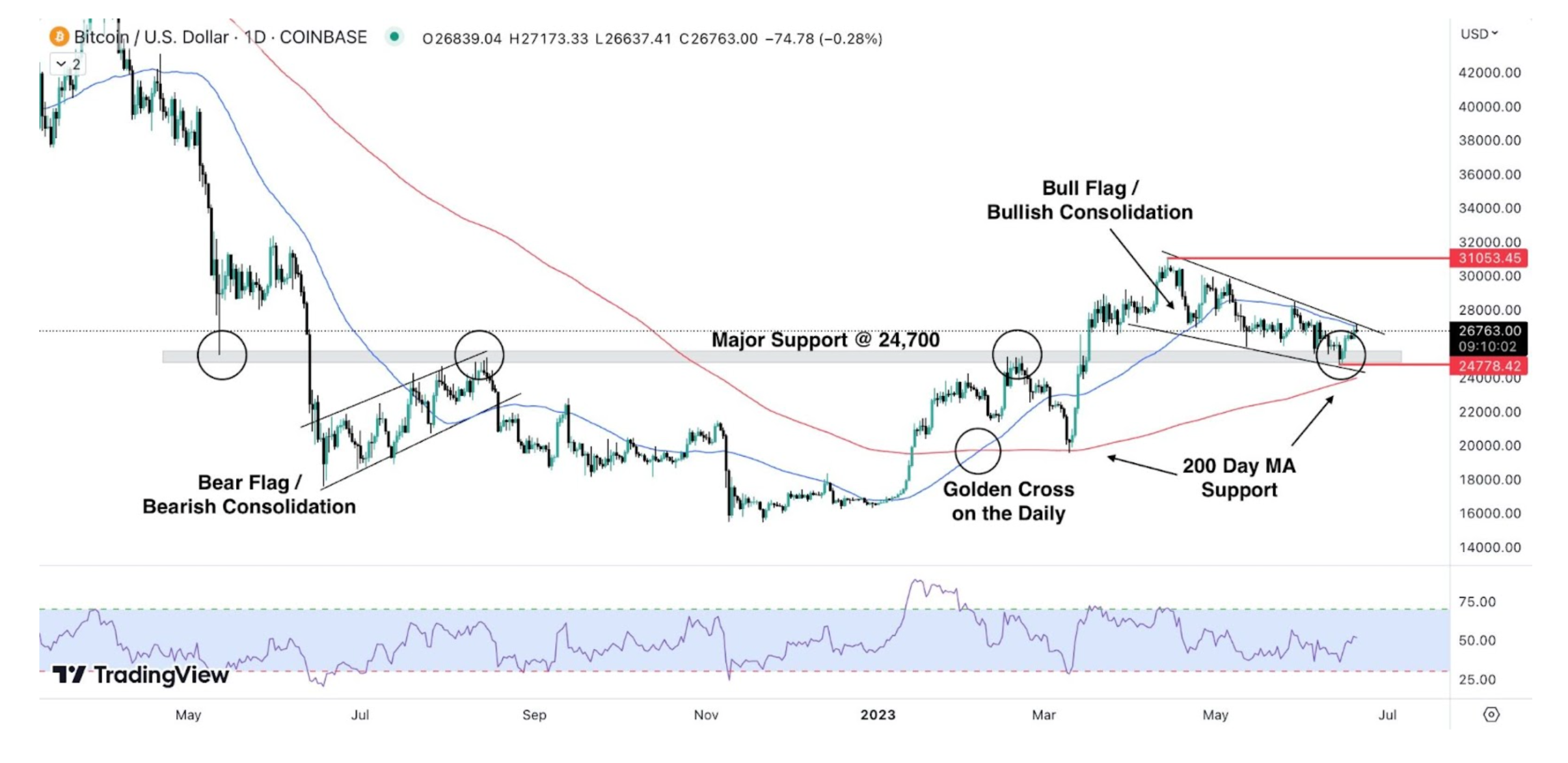 After (today):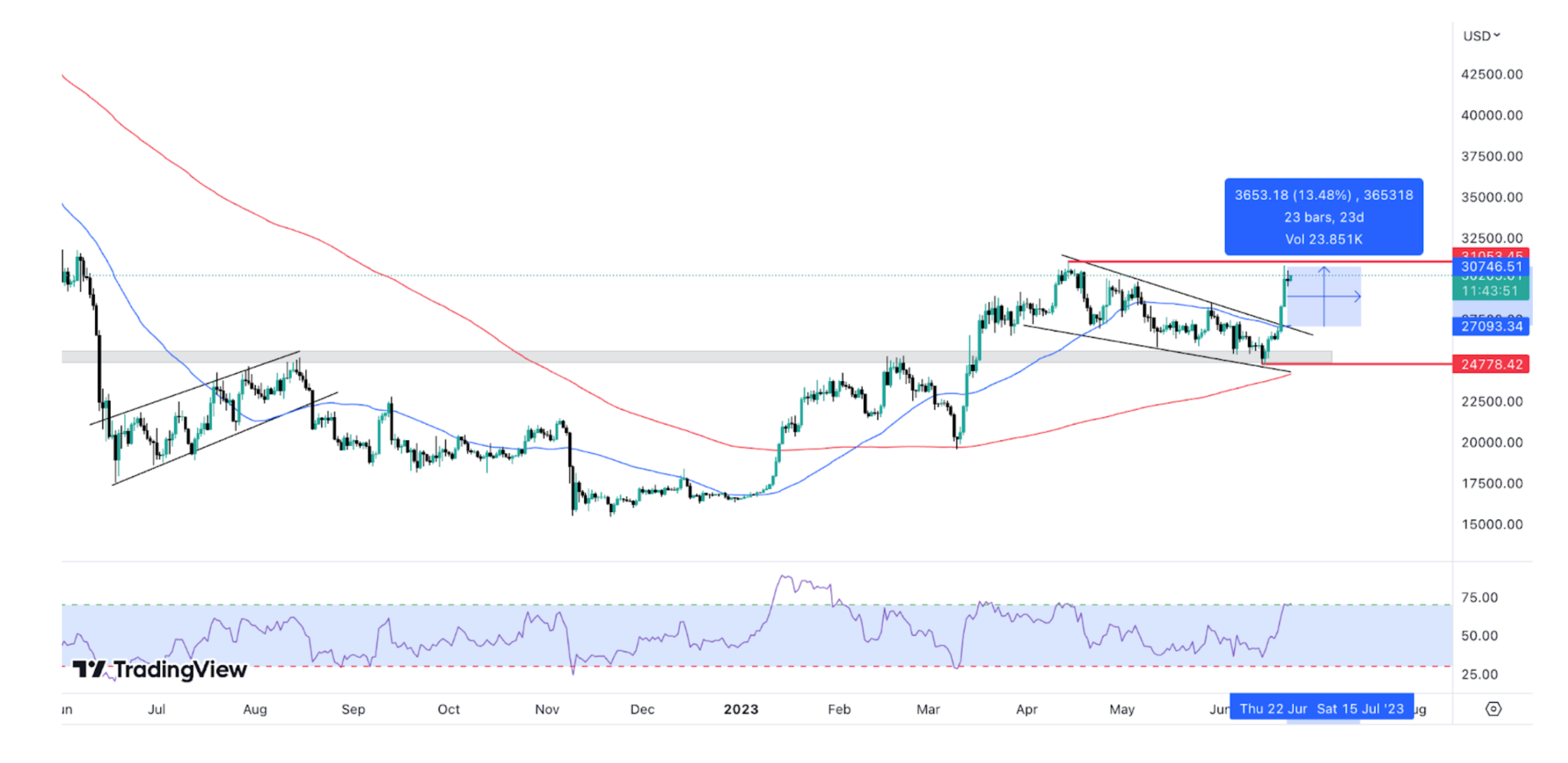 Want to learn more about the cryptocurrency market?
📞 Book a crypto consultation: 
https://calendar.app.google/DA16UjtXscye1tzc9
Investing in Crypto - Guide
Learn about the cryptocurrency market, discover Crypto Strategies, and master the art of building your crypto portfolio.
Download