⚡ April Week 3 Crypto Weekly Wrap
📉 Technical Analysis BTC
At $30,000, Bitcoin has attained its first significant milestone. As we can identify an important resistance level, a bearish divergence on the 2-day chart, and a negative trend line resistance, this level may come under renewed selling pressure. Although BTC's 100% YTD gain is encouraging, a stop or correction is likely in the next few days or weeks due to the technical structures. Support is available at 25k and 20k USD.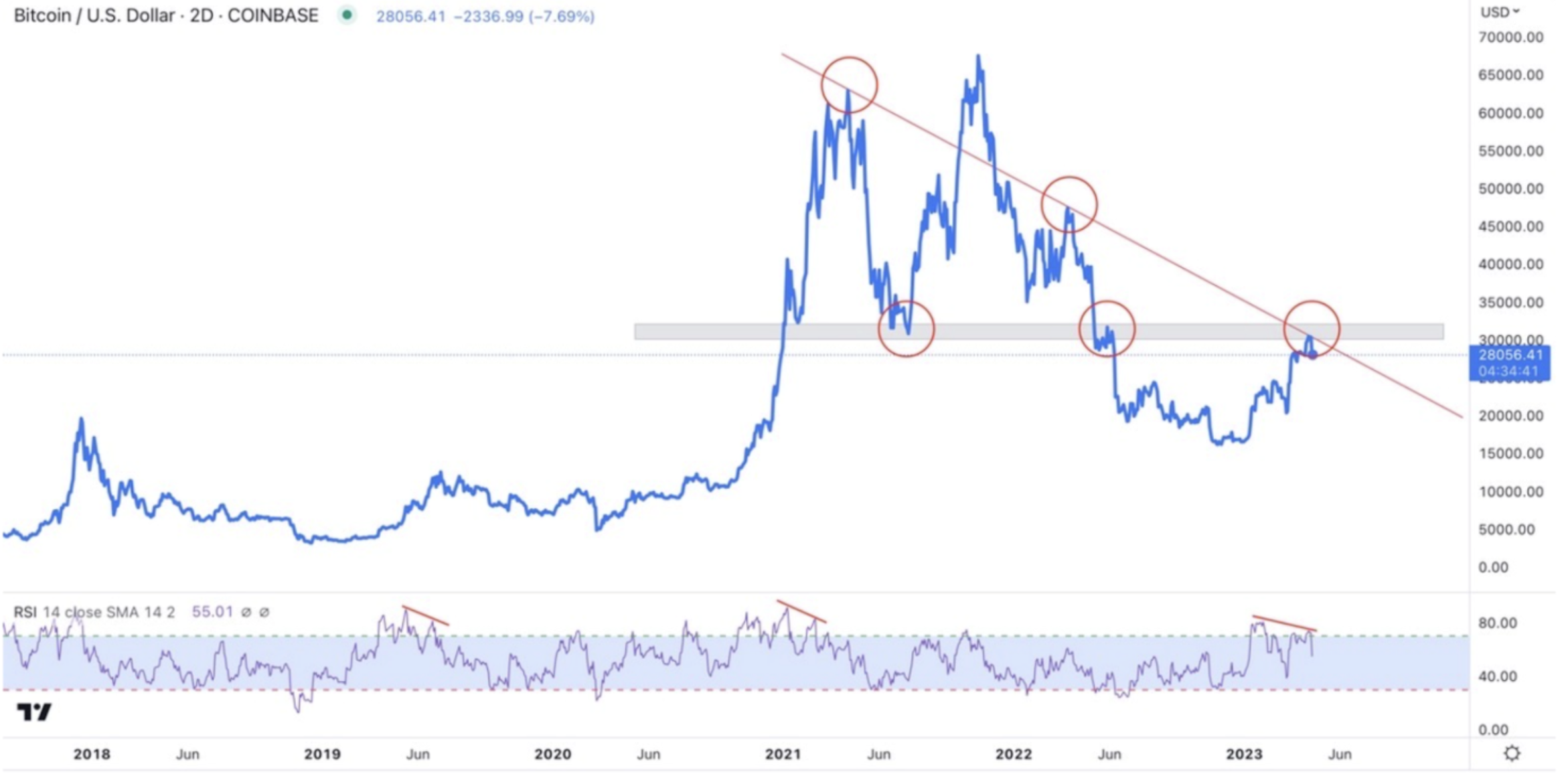 📈 Cryptocurrency Institutional Inflows: 
Investment products in digital assets have had inflows of over $345 million over the past four weeks. However, out of the $184 million in MTD inflows, $173 million went to Bitcoin, maintaining its dominance of the institutional sector. Despite the introduction of Ethereum's yield features (Shapella), only $0.3 million in inflows into digital asset investment products were observed last week. Institutional investors appear to be returning to the market.
💡 EU Crypto Regulation 
Vse kaže, da so zakonodajalci v EU korak pred časom, saj je Evropski parlament glasoval za uvedbo uredbe MiCA. To zmanjšuje regulativna tveganja za podjetja in postavlja trdne temelje za industrijo v kontinentalnem delu Evrope. Če vlada Združenega kraljestva s pobudo "globalnega kripto vozlišča" misli resno, mora s polno paro nadaljevati implementacijo regulativnega okvira, s katerim bo vzpostavljeno pravo ravnovesje med inovacijami, zaščito uporabnikov in globalnimi ambicijami Združenega kraljestva. 
🔴 SEC Chair Gensler is in the Firing Line
The EU regulators appear to be ahead of the curve, as the European Parliament voted for MiCA to be implemented. This reduces regulatory risks for businesses and sets a solid foundation for the industry in continental Europe. If the UK government is serious about the "global crypto hub initiative" we need to go full speed ahead to implement a regulatory framework that will strike the right balance between innovation, user protection, and UK's global ambitions. 
👉 Coinbase V SEC:
Brian Armstrong, the CEO of Coinbase, recently spoke about the company's readiness for a potential legal dispute with the Securities and Exchange Commission (SEC) of the United States. "The Law is on Our Side," said Armstrong. "Over the last year, we had 30 meetings and never got a single piece of feedback from them about what we could be doing better or differently, and then this Wells Notice arrived, so it's really unfortunate."
He said that the SEC had neglected its duty to create unambiguous market rules and that legal action might be required to obtain the clarity they require.
Do you or your business want to diversify into the cryptocurrency market?
Book a crypto consultation: https://lnkd.in/gzJXuXMJ
Learn more about ICONOMI B2B Solutions: https://lnkd.in/ggfXuEVM
Investing in Crypto - Guide
Learn about the cryptocurrency market, discover Crypto Strategies, and master the art of building your crypto portfolio.
Download