Crypto Weekly Wrap: 11th August
Here's what's moving the cryptocurrency market this week
📊 Digital assets are historically known for increased volatility, however, the market is currently experiencing an extreme volatility compression. Fewer than 5% of trading days have a tighter trade range. Bitcoin and the overall cryptocurrency market are in a consolidation phase. During the current consolidation phase, digital asset investment products saw outflows this week, totalling US$107m. This is the third consecutive week of institutional outflows from the market.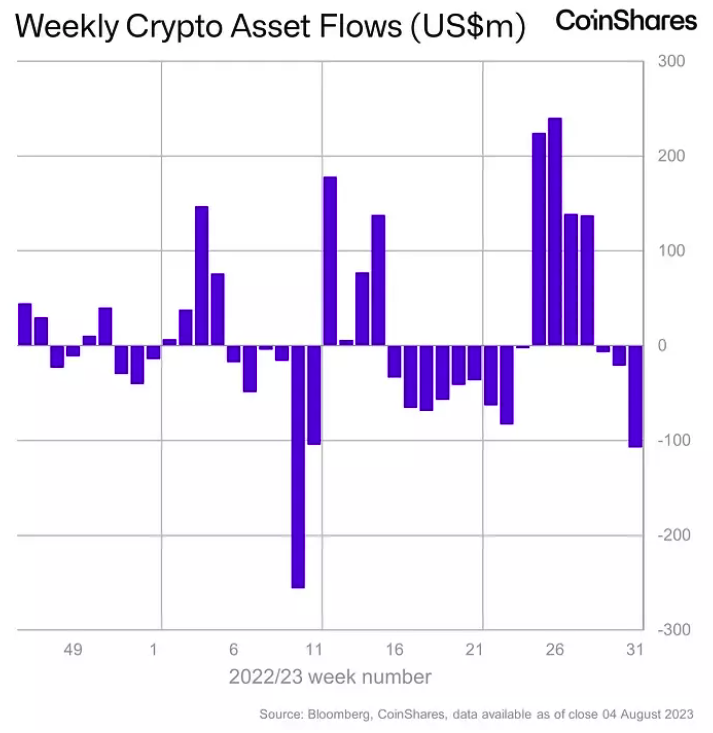 📈 When we compare Bitcoin's YTD performance to the Long/Short Ratio (on Binance), we can observe an inverse correlation. Binance market participants became overly bullish on Bitcoin too early, and price action has since dropped in a consolidation phase, liquidating early investors. Before Bitcoin's price surged higher, the Long/Short Ratio fell below one, signalling a pessimistic market sentiment. Binance's Long/Short ratio is currently falling to the same level. A contrarian investor, who takes an opposing stance in the market, may see this as a bullish indicator for Bitcoin (see chart).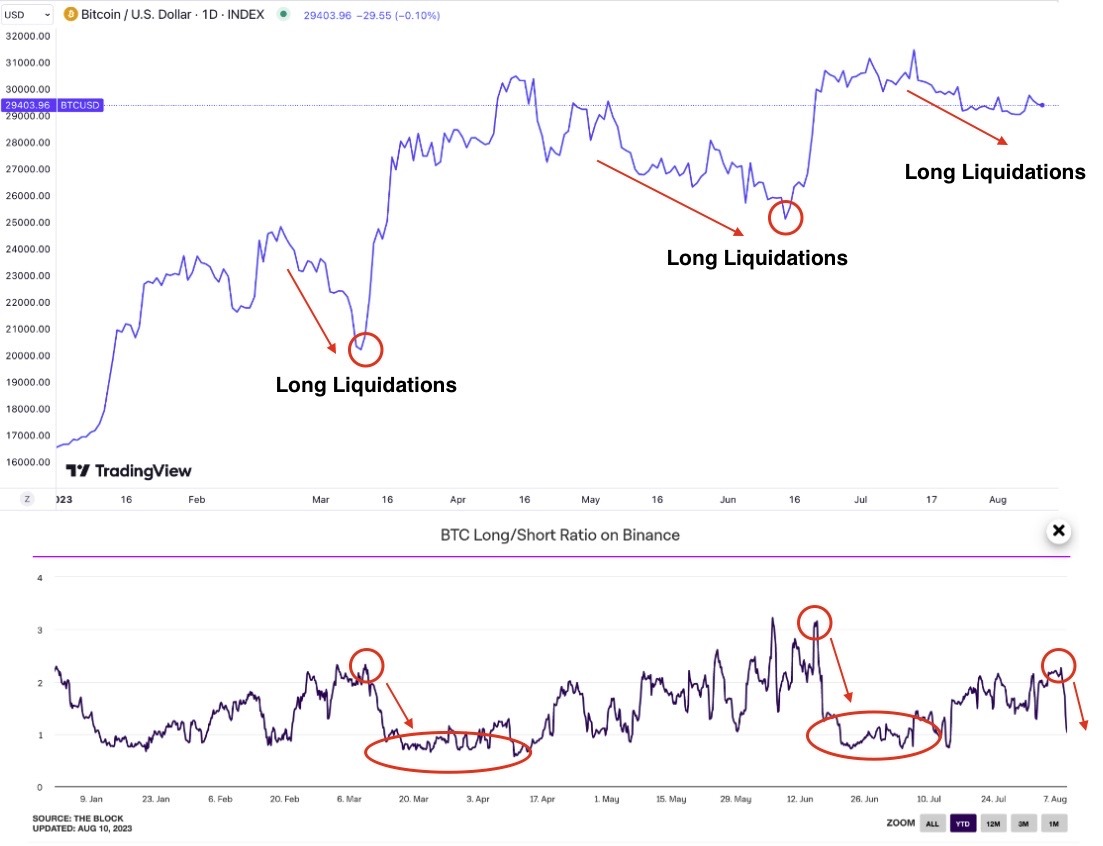 👉 The SEC is poised to announce a significant decision concerning Bitcoin spot ETFs later this evening, with the decision relating directly to the ARK 21Shares Bitcoin ETF. The official deadline is August the 13th, however, this falls on a Sunday. Therefore expectations are an announcement will be made before the weekend. According to ETF analyst James Seyffart, a delay will possibly be announced after the markets have closed.
💲 Paypal, whose stock price has crashed by 17% over the past two weeks, has launched a US dollar-backed stable coin. Global payments giant PayPal has launched a US dollar-denominated stablecoin,' PayPal USD' (PYUSD). The new stablecoin will be issued by blockchain and digital asset solution provider Paxos Trust Company. PayPal's new Paxos-issued stablecoin will be gradually rolled out to eligible PayPal customers in the US. Those who purchase PYUSD will be able to fund purchases with the stablecoin by selecting it at checkout, via PayPal's Checkout with Crypto feature.
📉 In the United States, inflation increased to 3.2% in July, which was lower than the market predicted. This week, risk assets such as equities and cryptos have remained under pressure. However, the lower-than-expected annual increase in US inflation strengthens the case for the Fed to keep interest rates unchanged in September. The annual rate increased to 3.2% in July, up from 3% the previous month, the smallest rate since March 2021. Following the release of the data, futures traders increased their bets that the Fed will hold interest rates constant in September, placing the odds of a pause at 91%.
Do you want to learn more about the cryptocurrency market?
💻 Explore different ICONOMI Strategies: https://www.iconomi.com/strategies
📞 Speak with a cryptocurrency specialist: https://calendar.app.google/dM9g2PHMPjCyUFFF9
Investing in Crypto - Guide
Learn about the cryptocurrency market, discover Crypto Strategies, and master the art of building your crypto portfolio.
Download