Crypto Weekly Wrap: 3rd November 2023
Bitcoin ETF Prospects:
One of the most highly anticipated developments in the crypto market is the potential approval of a Bitcoin Exchange-Traded Fund (ETF). This financial product could provide a significant boost to Bitcoin's adoption among both retail and institutional investors. The involvement of major market-making firms like Jane Street, Virtu Financial, Jump Trading, and Hudson River Trading in discussions with BlackRock is a clear signal of growing interest in cryptocurrencies. If approved, a Bitcoin ETF would allow investors to gain exposure to the crypto market through traditional investment channels, potentially increasing liquidity, and further legitimising Bitcoin as an asset class.
Regulatory Actions:
The role of regulatory bodies has never been more pronounced. The Commodity Futures Trading Commission (CFTC) has been actively engaging with the crypto industry, particularly regarding fraud and illegal activities. The fact that a majority of the whistleblower tips submitted to the CFTC in 2023 are crypto-related highlights the need for oversight and consumer protection in the market. Investors are increasingly looking to regulators for a safer investment environment, making it imperative for the industry to work alongside regulatory agencies.
Stablebond by Etherfuse:
Decentralised finance (DeFi) projects continue to innovate, with Etherfuse's "Stablebond" offering as a prime example. This initiative, unveiled at Solana's breakpoint conference, targets retail investors in Mexico, which boasts one of the largest bond markets in Latin America. This development underlines the expanding global reach of DeFi and the blockchain industry. By tapping into established financial markets, projects like Etherfuse aim to bridge traditional and decentralised finance, opening up new investment opportunities for a broader audience.
International Efforts Against Ransomware:
Ransomware attacks have plagued the digital world for years, with cryptocurrencies being the preferred form of payment for cybercriminals. In response, a U.S.-led alliance of forty countries has pledged never to pay ransoms to hackers. The International Counter Ransomware Initiative is a significant step towards eliminating the financial incentives for cybercriminals. It also emphasises the need for coordinated global efforts to combat cyber threats. The initiative's use of artificial intelligence and blockchain analysis to track and trace illicit funds showcases the growing importance of technology in securing the crypto space.
Cryptocurrency Payment Preferences:
The preferences of ransomware attackers for cryptocurrencies continue to evolve. While Bitcoin has been a traditional favourite for ransom payments, privacy coins like Monero have gained traction. This shift complicates efforts to track and trace illicit funds, as privacy coins enhance the anonymity of transactions. It also reflects the adaptability of the crypto market, with cybercriminals exploring different avenues to avoid detection. Understanding these trends is crucial for both regulators and security experts in developing effective strategies to combat cybercrime.
Latest on Bitcoin
Bitcoin has experienced a notable surge in its price, reaching a remarkable $35,860 with a 4% increase on Thursday. This upward momentum is attributed to a combination of influential factors that are shaping the cryptocurrency's price.
Firstly, MicroStrategy's consistent acquisition of Bitcoin, led by CEO Michael Saylor, continues to bolster investor confidence. The company acquired an additional 155 Bitcoins in October, contributing to their substantial holdings worth nearly $5.54 billion, highlighting institutional interest in Bitcoin.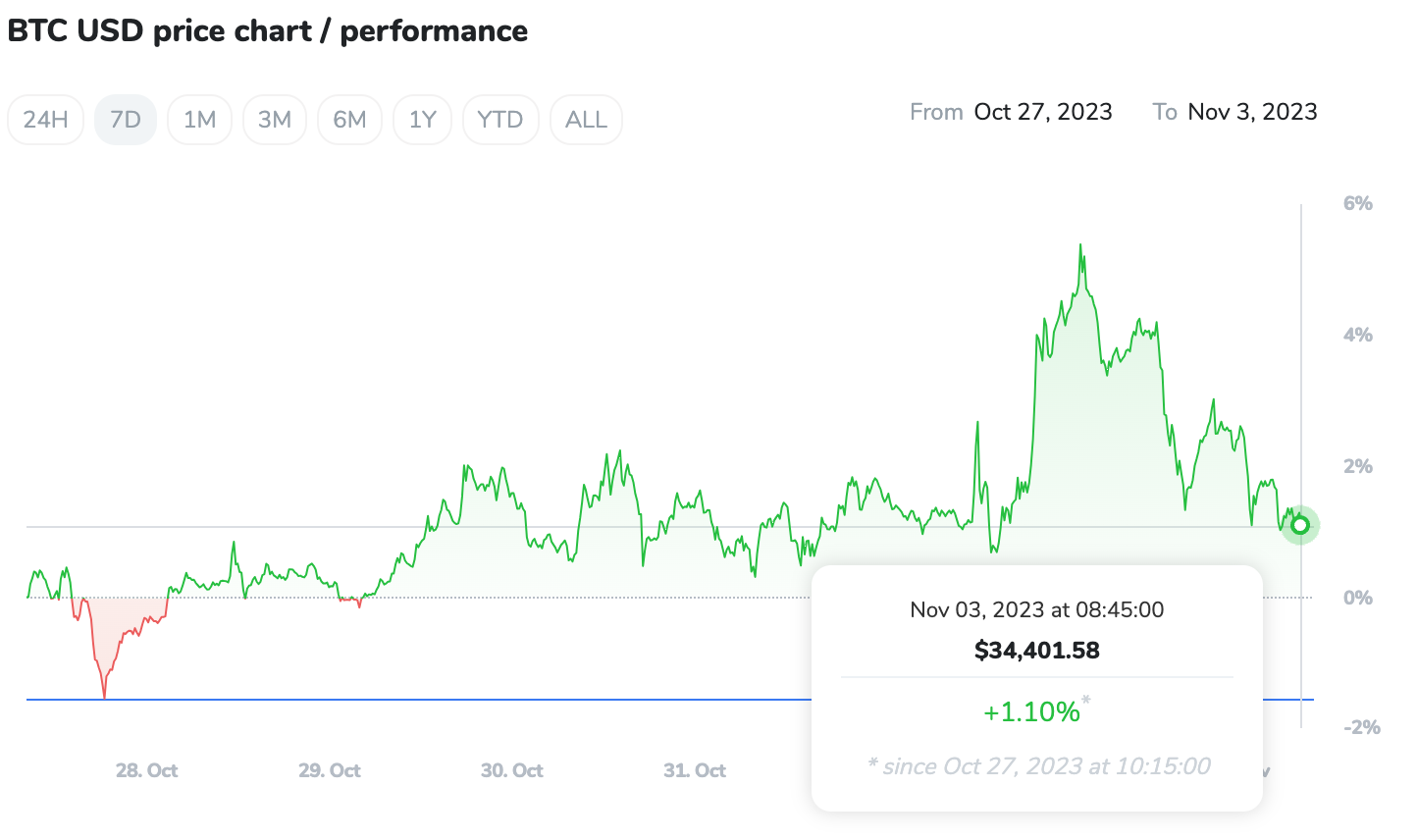 Additionally, the Federal Open Market Committee (FOMC) has played a pivotal role. Their decision to maintain interest rates between 5.25% and 5.50% has provided stability to the market and alleviated concerns about rising rates. This, coupled with better-than-expected inflation data, has led to improved market sentiment and confidence in Bitcoin.

Prominent endorsements have also positively influenced Bitcoin's outlook. Canadian Member of Parliament Joël Lightbound acknowledged the significance of Bitcoin during a parliamentary session, referencing statements from influential figures like Gary Gensler, the chair of the U.S. Securities and Exchange Commission (SEC), and Jack Dorsey. Such endorsements encourage further public interest and understanding of Bitcoin's potential to promote change and economic inclusivity.
The endorsement of legendary investor Stan Druckenmiller further solidifies Bitcoin's position as a desirable asset. Druckenmiller's previous engagement with Bitcoin and his acknowledgement of its appeal to younger generations suggest increased demand and interest in the cryptocurrency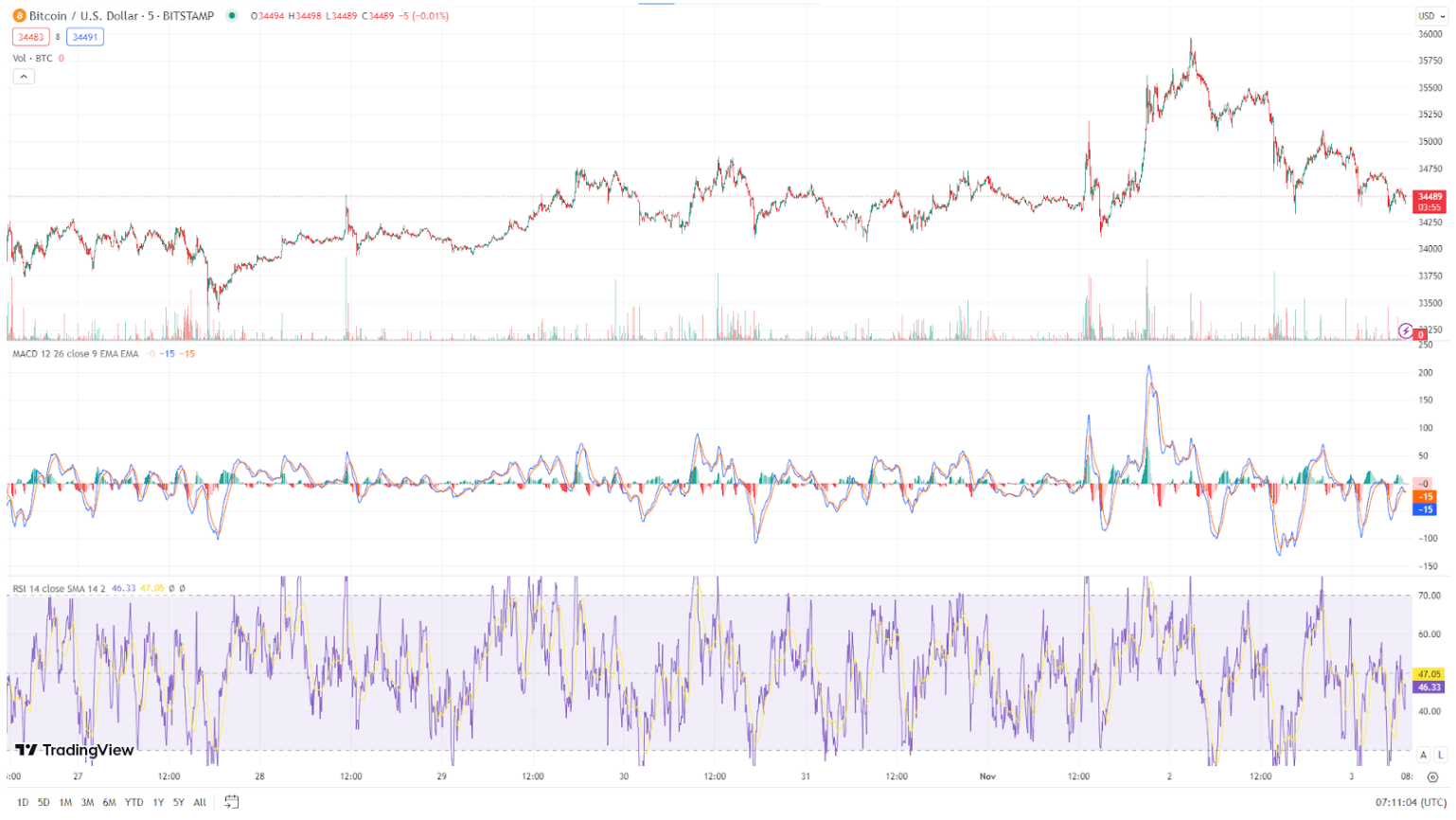 From a technical analysis perspective, Bitcoin's price currently hovers around the critical $34,434 mark, with strong support levels at $33,850, $33,000, and $32,400. Key resistance levels are identified at $36,040 and $36,980. The Relative Strength Index (RSI) at 49 shows a neutral trend, a slight pullback has already been observed. Furthermore, Bitcoin's price has surpassed the 50-Day Exponential Moving Average (50 EMA), supporting a short-term bullish outlook.
In summary, Bitcoin's recent price surge can be attributed to MicroStrategy's acquisitions, the FOMC's monetary policies, and influential endorsements. From a technical standpoint, Bitcoin appears to be in a bullish trend, with a focus on resistance levels at $36,040 and $36,980. Traders should monitor these levels for potential trend reversals while considering the notable factors that are shaping the cryptocurrency's trajectory.
Investing in Crypto - Guide
Learn about the cryptocurrency market, discover Crypto Strategies, and master the art of building your crypto portfolio.
Download