Investing 101
Oct 27, 2023
Crypto Weekly Wrap: 27th October 2023
Unlocking a $244 Million Bitcoin Fortune
In a remarkable turn of events, crypto recovery firm Unciphered extended an offer to former Ripple chief technology officer (CTO) Stefan Thomas to unlock a hard drive containing over 7,000 Bitcoin (BTC), valued at approximately $244 million. Thomas, a German-born programmer, had forgotten the password required to access the drive, which is designed to erase its data after ten incorrect attempts. With only two attempts remaining, the stakes were high.
Unciphered claims to have developed a method to crack the hardware and securely retrieve the BTC keys stored on the drive. They cite their previous success in accessing a similar IronKey device after an astonishing "200 trillion tries," bypassing the ten-attempt restriction. This offer highlights the growing demand for crypto recovery services, as individuals grapple with lost or inaccessible crypto assets. It also sheds light on the fact that a significant portion of Bitcoin's total supply might be inaccessible, representing billions of dollars' worth of locked-up assets.
JPM Coin Handling $1 Billion Daily Transactions
JPM Coin, a settlement token introduced by JPMorgan, has been making waves in the crypto world. The bank now handles a staggering $1 billion worth of transactions in JPM Coin every day. Originally designed for making blockchain-based wholesale payments between accounts worldwide, it has gained significant traction since its launch in 2019. Initially, JPM Coin was used for dollar-denominated transactions, with support for euros added later. The growing usage of JPM Coin underscores the expanding acceptance of blockchain-based solutions by institutional clients. This development raises expectations for wider adoption of similar tokens and coins in the financial sector.
The Ongoing Evolution of Crypto ETFs
While Bitcoin futures ETFs made a significant impact upon their launch, the situation has evolved with the introduction of Ethereum futures ETFs. The ProShares Bitcoin Strategy ETF (BITO), launched in 2021, garnered immense attention and trading volume, fuelled by the bullish crypto market at that time. However, the recent launch of Ethereum futures ETFs saw considerably less fanfare, reflecting changing market dynamics.
Investors have been eagerly awaiting the approval of spot Bitcoin ETFs, as these products are perceived to have advantages over futures ETFs due to lower roll costs. The deadline for SEC to appeal the Grayscale court decision recently passed, which bodes well for the potential approval of spot Bitcoin ETFs. Several issuers, including Blackrock, Fidelity, and Ark, have amended their spot Bitcoin ETF applications, indicating ongoing discussions with the SEC.
This shift toward spot products may also extend to Ethereum, with five filings for spot Ethereum ETFs on the horizon. These developments have the potential to alter the landscape of crypto ETFs, with a focus on spot products offering investors greater benefits.
Regulatory Challenges in the UK
The UK's crypto market faces regulatory challenges, with 221 crypto-based entities found to be in violation of newly implemented promotional regulations. These breaches mainly pertain to misleading claims regarding the safety and utility of cryptocurrencies, insufficient risk disclosures, and inadequate risk alerts. The Financial Conduct Authority (FCA) has taken swift action, issuing notifications to rule-breaking firms. This regulatory crackdown underscores the need for stricter oversight in the crypto industry and its potential impact on market sentiment and the BTC/USD relationship.
Bitcoin Technical Analysis: A Glimpse into Price Trends
At the time of writing, Bitcoin is hovering around $34,092, showcasing a 16.6% surge in price in a week. From a technical perspective, the pivotal metric that traders are closely monitoring is the pivot point, which currently stands at $33,894. Notably, there's an immediate resistance observed at $35,252, marked by the formation of a double top pattern. This resistance level holds significance as it has the potential to dictate Bitcoin's short-term price direction.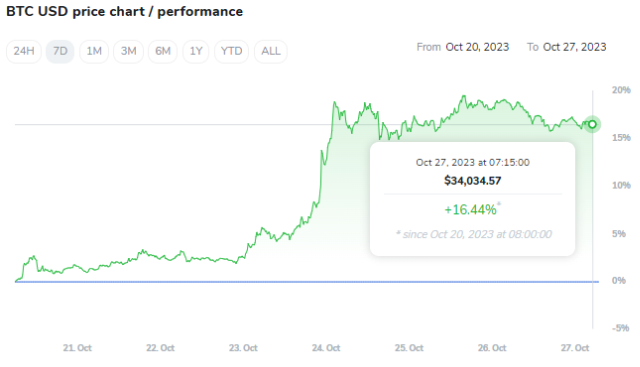 Should the bullish momentum persist and break through this resistance, the next notable resistance levels to watch are at $36,099 and $36,977. Conversely, if the bears regain control, the market might seek support at $33,126, corresponding to the 38.2% Fibonacci retracement level, followed by further support levels at $32,423 and $31,800, marked by the 50% and 61.8% Fibonacci retracement levels, respectively.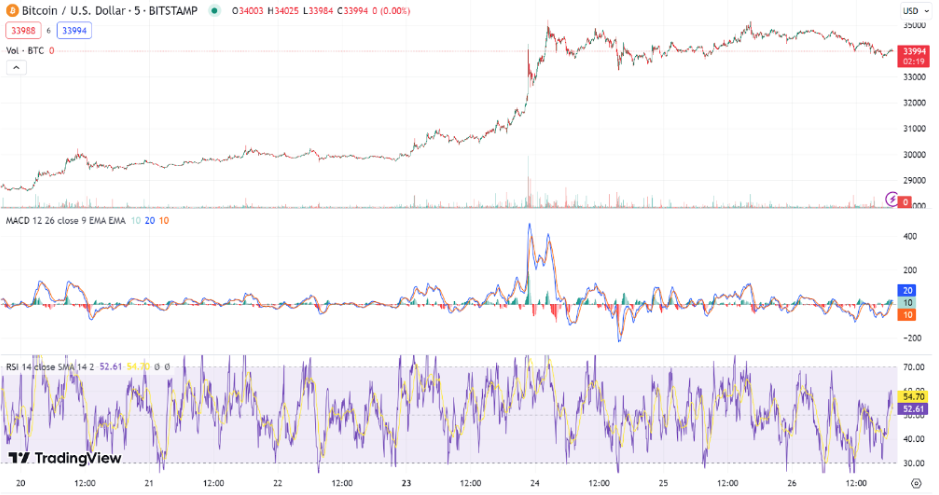 Furthermore, the 50-day Exponential Moving Average (EMA) is positioned at $31,608, indicating a short-term bullish trend as Bitcoin's price trades above this level. It's worth noting the presence of a double top pattern near the $35,252 resistance, making it a critical level to watch. In conclusion, while Bitcoin's trend appears bearish below the $35,252 mark, a breakthrough has the potential to set the stage for a bullish rally, with the next significant resistance at $36,099 coming into sight. 
Investing in Crypto - Guide
Learn about the cryptocurrency market, discover Crypto Strategies, and master the art of building your crypto portfolio.
Download