Here's What's New
Rebalance Filtering & Weight spread
In the rebalance process, users may now expand the filter field beneath the input and filter coins by specific categories. This is especially useful for creating category-based Strategies like "DeFi Strategy" or "Infrastructure Strategy."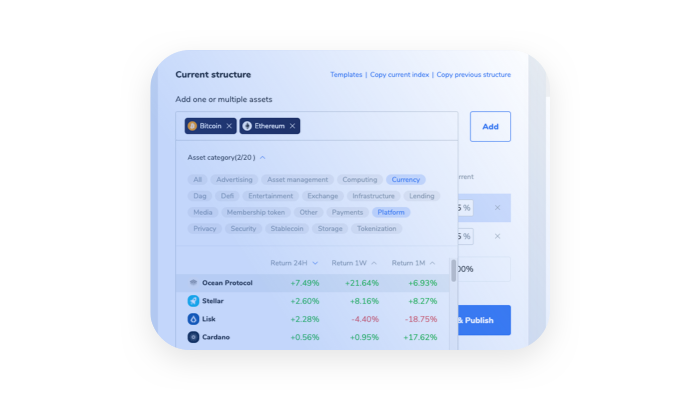 Besides that, users may now use 'Fill Equally' or 'Fill Proportionally' functions to spread the remaining weight among assets that are already included in the Strategy. Let's say you have 30 assets in your structure and you remove one with 20% weight. Now, you can simply click "Fill Proportionally" that results in an instant spread of the remaining 20% among other assets according to their weight.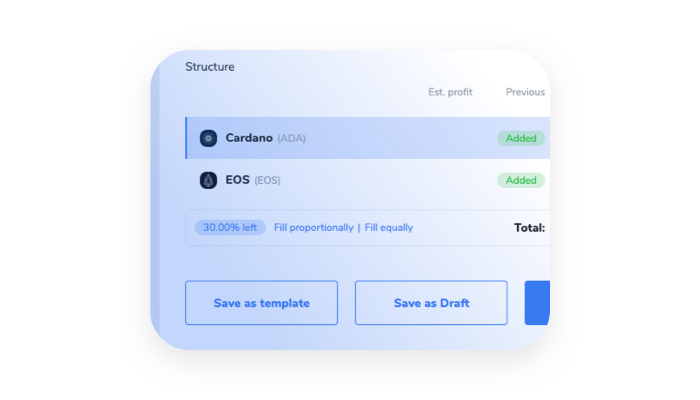 Fingerprint login and PWA
We are aware of the fact that our mobile apps are currently not up to the standard we have set with the rewrite on the desktop app. It is in our interest to resolve that as soon as possible, but to rebuild mobile apps in the best possible way, we are releasing new features to the desktop and measuring usability. This stage will take us a while, but it will allow us to rework the mobile apps from the data that came from users.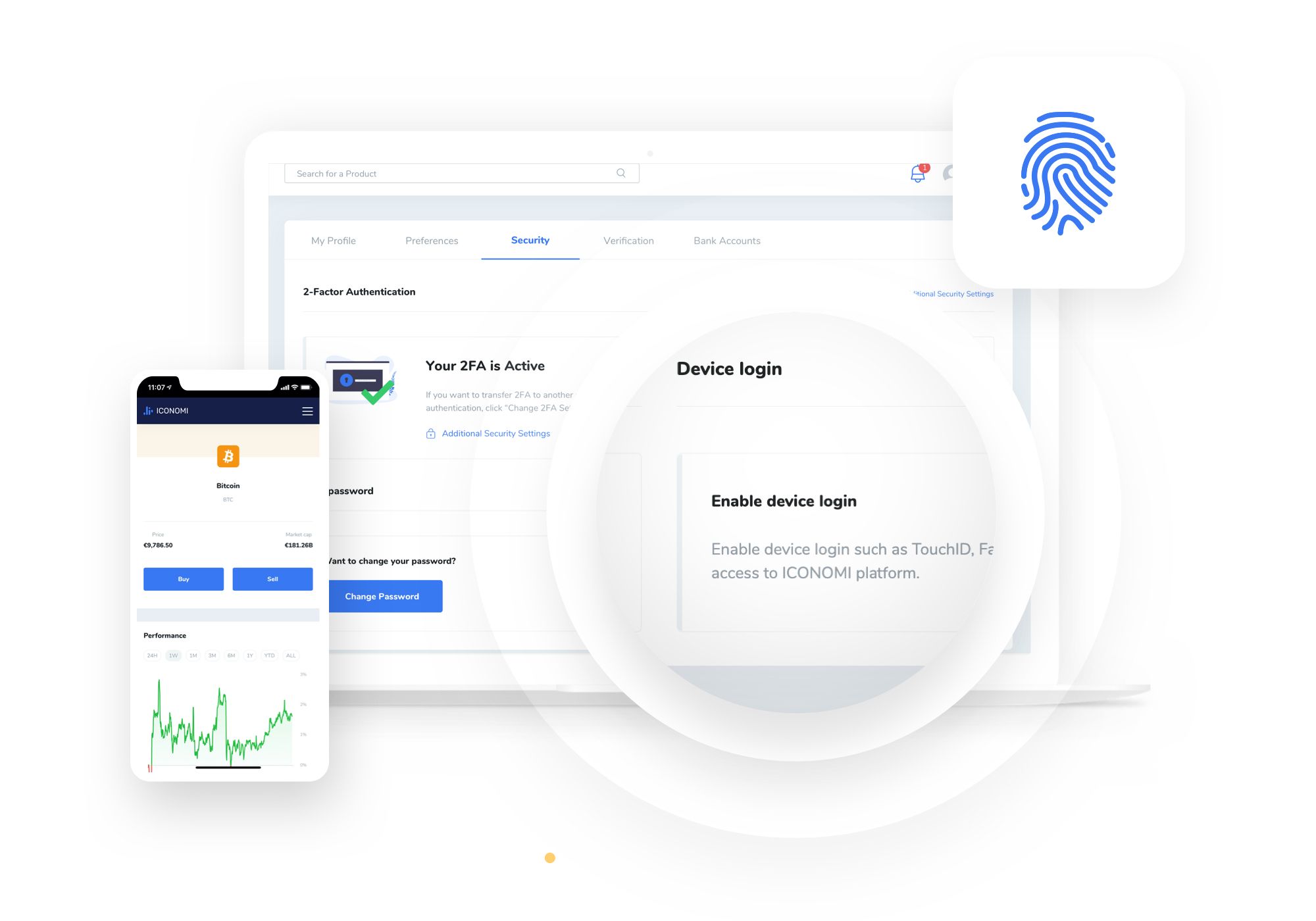 Our web app was written as a 'PWA' (progressive web app), which means you can add the web app to your mobile phone as an application, and use it seamlessly. We even implemented fingerprint reading for login recently, so until we rewrite mobile native apps, this is a good alternative. (To learn how to add PWA to your home screen, google "PWA installation" for your specific phone and browser combination).
All posts wall
This update aggregates all posts from managers in a public wall, allowing our users to quickly monitor all comments and derive market sentiment from that. It represents a minor step towards the social trading and data insights concepts we are building towards. If you have any ideas or proposals regarding posts or social trading, please leave us feedback here.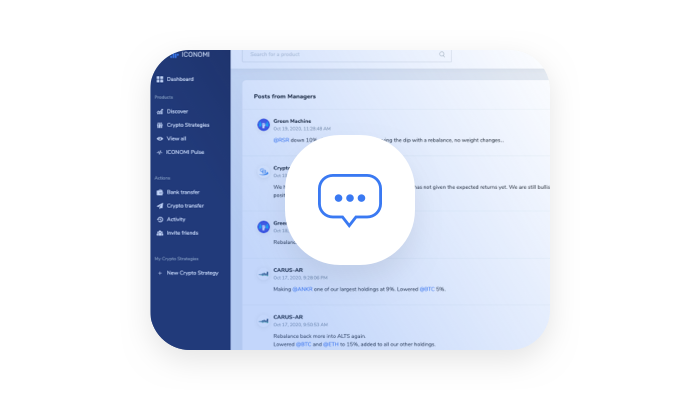 ICONOMI Pulse - Beta
Ever since we surpassed 1000 Crypto Strategies markers on the ICONOMI platform, we have been thinking about market data insights. ICONOMI Pulse is a brand new branch of functionalities intended specifically for managers in order to give them good insights about trading directions on ICONOMI. Currently, ICONOMI Pulse provides easy insight into trading trends. Users may choose a specific date or buy/sell filters. Each view is calculated based on the top traded asset for that day/filter, and all other assets are calculated relative to the top traded asset that day.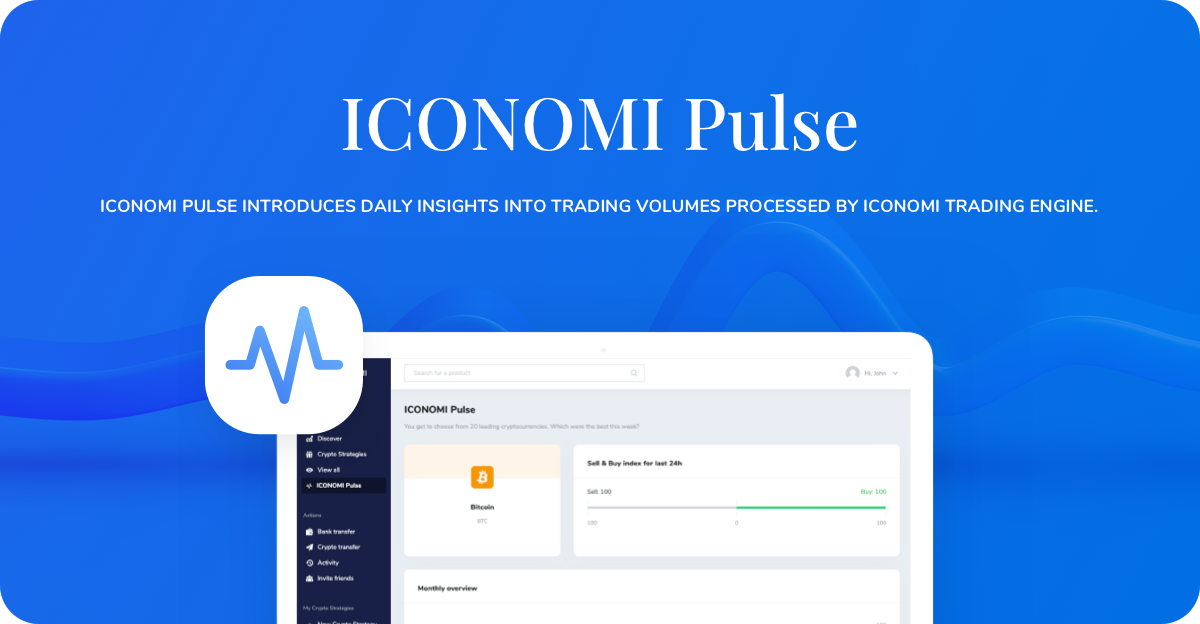 This means, if the buy volume's top traded asset was BTC, all other assets for that day are ranked relative to BTC's volume of that same day.
Visit ICONOMI Pulse: https://www.iconomi.com/asset/pulse

Since this is a brand new field for us and we are looking to provide the best data possible that you can rely on, please leave us feedback or suggestions here.
Create Crypto Strategy Flow improved
It was always relatively easy to create a Crypto Strategy, but now, we have made it even simpler and faster. Instead of starting the flow with a Strategy name, ticker, url, and other technicalities, users now start the creation flow with the most fun part – structure. Users may now simply add a few assets with desired weights and finish the Crypto Strategy creation. To help beginner users, we have added a guided tour, that helps them set the structure and understand how Crypto Strategies work.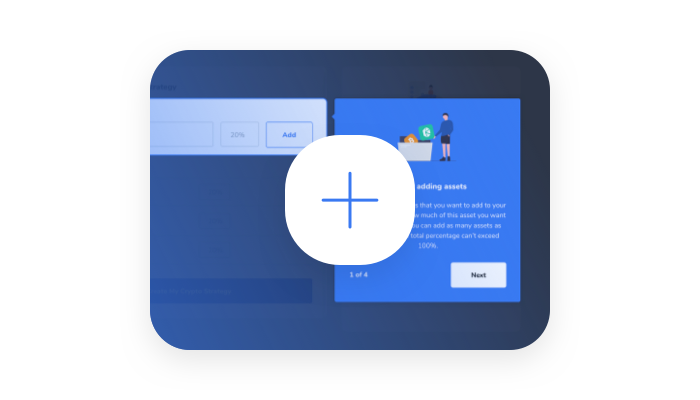 Become an Influencer
With our latest updates around Crypto Strategies, we have become the perfect tool for established traders and social media influencers to monetize their knowledge or community exposure. Established influencers may now create their own Crypto Strategy and invite their community to copy it, earning from fees and custom 1:1 deals made with ICONOMI.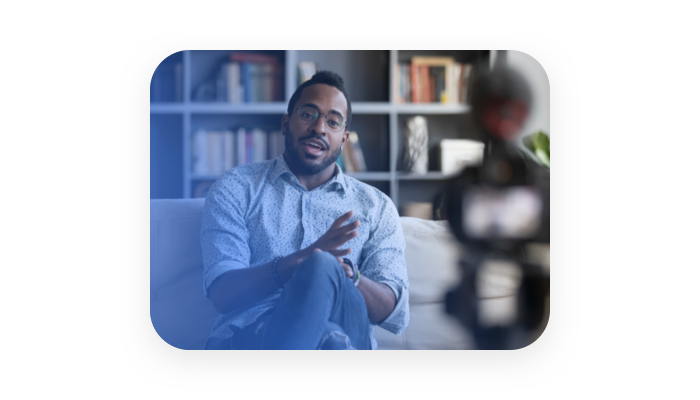 To become an ICONOMI influencer apply here: https://www.iconomi.com/become-influencer
Bank Accounts improved
We have tweaked the withdrawal flow. Now you can save bank accounts with a personal label to improve recognition in the withdrawal process. Beside labeling, we have improved the bank account formatting, as well as bank account number masking in the withdrawal dropdown.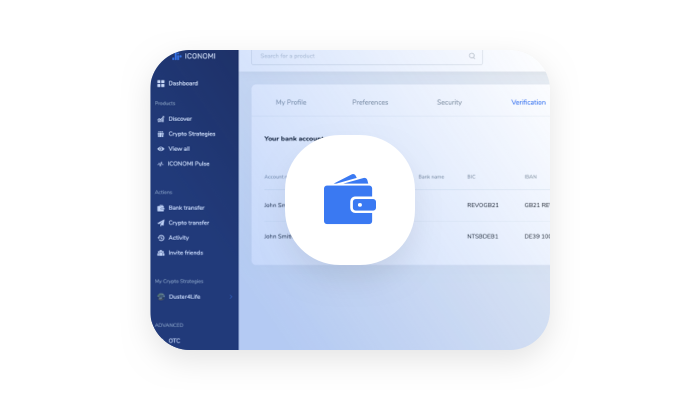 Portfolio value-masking
We have received several requests for this feature. Showing someone an ICONOMI platform, or even recording your screen for promotional purposes may be a sensitive subject if your portfolio value is clearly visible. Now you can go to settings and turn on 'Portfolio Incognito mode' and we will mask all the values on the platform.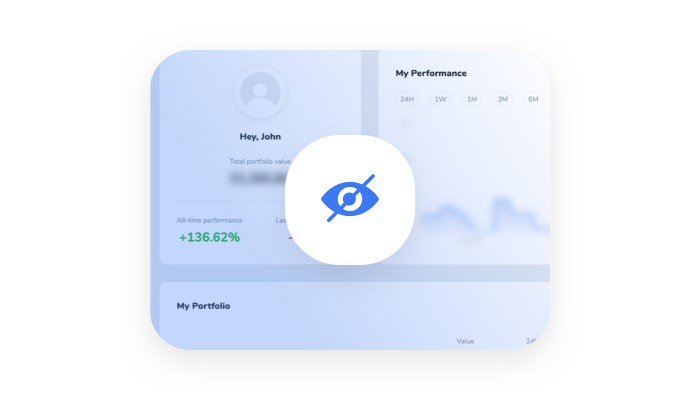 Introduction Video for managers
Verified managers may now create and publish introduction videos for their Strategies. The idea behind this is to give managers a chance to directly talk to users and present themselves, their background, and their trading Strategy for the next few weeks/months. Managers may update their video at any time.
To set introduction video for your Strategy, login to the platform, visit your Crypto Strategy settings and paste a youtube video URL.
COMING NEXT:
Performance comparison charts and Twitter
For those of you who follow our Twitter feed, you probably noticed comparison charts published by our verified experts. The idea behind those posts is to compare the Crypto Strategy performance vs. ETH and BTC in order to prove that diversification is important and profitable, and at the same time provide a vehicle for managers to promote their Crypto Strategies.
Now, we have expanded this feature towards all managers, giving them the opportunity to download the pre-generated comparison image or Tweet it to their Twitter feed. This way, good social media content is only one click away.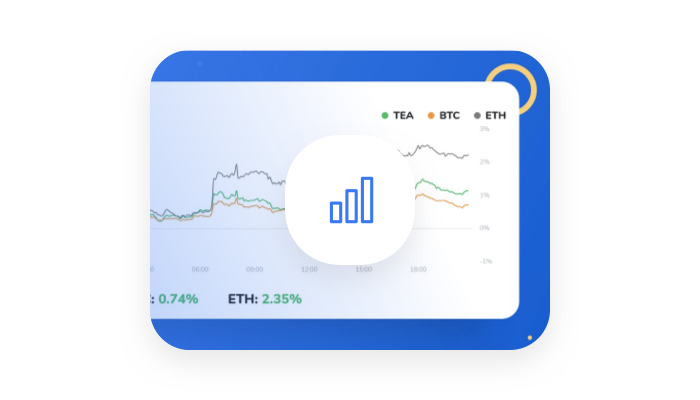 Notifications
Currently, we are testing brand new Notifications internally. This highly anticipated feature will bring notifications from managers, posts, price changes, ICONOMI notifications, and more. Notifications will also extend to mobile push notifications and or email notifications so you are always up to date with what is going on with your favorite managers or crypto assets.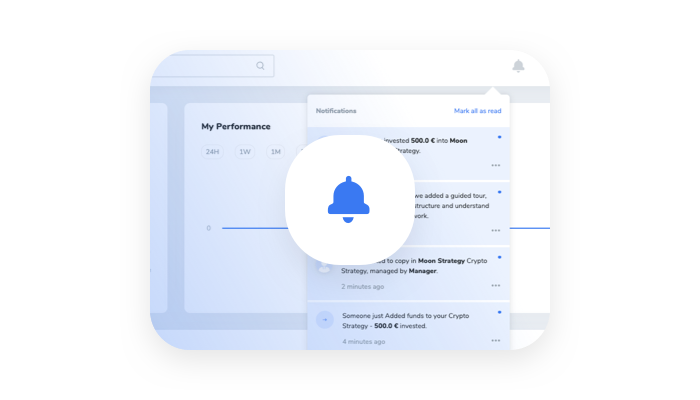 Investing in Crypto - Guide
Learn about the cryptocurrency market, discover Crypto Strategies, and master the art of building your crypto portfolio.
Download