Investing 101
Nov 1, 2023
Tron (TRX) - Comprehensive Overview
Tron (TRX) Surpasses 190 Million Accounts and Gains Momentum
Impressive User Base Growth
TRON has recently achieved a remarkable milestone by surpassing 190 million total accounts. This significant increase in user accounts signifies the continuous growth of TRON's user base. It's essential to note that TRON reached its annual peak in June 2023 with 3.8 million active users, demonstrating the platform's ability to attract and retain a substantial user community.
Steady Price and Upside Potential
At the time of writing, TRX is trading around $0.097556, showing stability in both daily and weekly time frames. While TRX is still over 60% away from its all-time high price of $0.2317 in January 2018, there are promising signs of potential upside.
TRON's market capitalization for its circulating supply has increased by 3.54%, reaching $7.87 billion. The platform's annualised revenue stands at a significant $1.10 billion, reflecting robust growth compared to other blockchains.
Total Value Locked (TVL) Signals Optimism
One of the key indicators of TRX's positive outlook is its Total Value Locked (TVL), which currently stands at $7.842 billion. This level of TVL hasn't been seen since late 2021. The upward trajectory of TVL suggests that more users and projects are locking assets into the TRON ecosystem, indicating confidence in the platform's capabilities.

Increasing Daily Transactions and USDT Settlements
TRON's blockchain has become the single-largest platform for USDT (Tether) settlements, highlighting its importance in the cryptocurrency ecosystem. Tron Scan data reveals an average of 5.17 million daily transactions in the past months, marking an 8% increase. This surge in daily transactions indicates sustained growth and utilisation of the TRON network.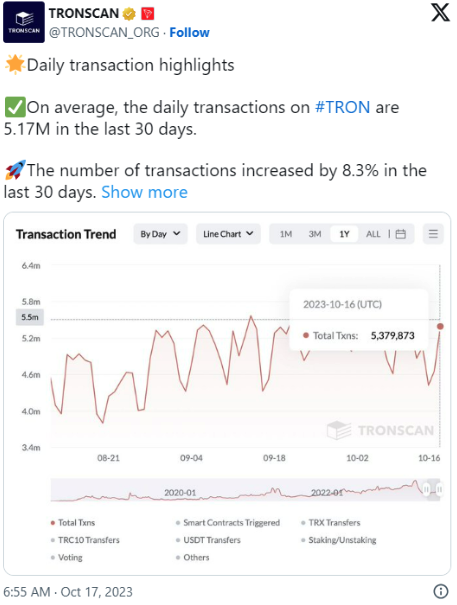 Technical Analysis and Price Movement
Tron (TRX) has witnessed a recent 5.03% price surge, underpinned by a robust technical analysis that suggests a favourable outlook for the cryptocurrency. Key technical indicators provide valuable insights into TRX's current market dynamics.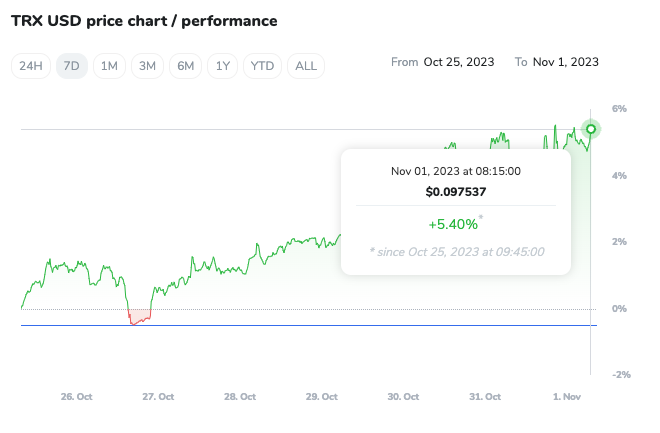 The Moving Average, currently standing at $0.087685, serves as a crucial reference point. TRX trading above this moving average signifies positive momentum and market confidence.
Additionally, the Bollinger Bands, offer insights into TRX's trading range. With the upper band at $0.088996 and the lower one at $0.088995, the bands indicate reduced volatility, signalling stability and the potential for a sustained uptrend.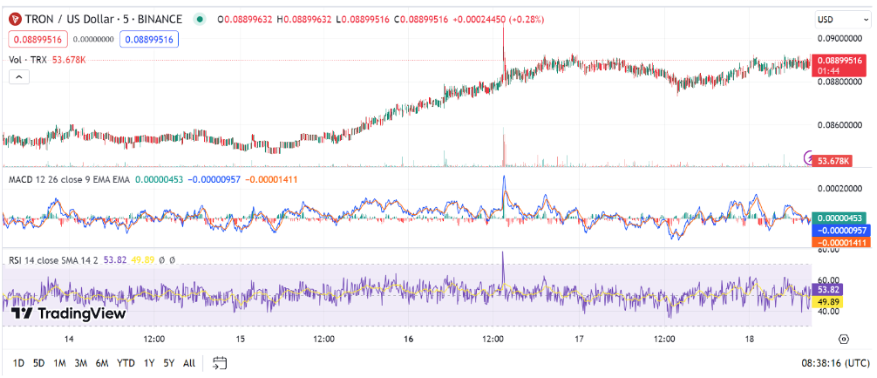 The Relative Strength Index (RSI), with an average value of around 53, reflects a neutral market sentiment. This neutrality implies room for TRX to move in either direction, without being overbought or oversold.
Green candlesticks on the chart further underscore the bullish sentiment, and this positivity extends to the four-hour analysis, reinforcing the idea of sustained upward momentum.
Strategic Developments Driving Growth
TRX's bullish trajectory is not solely dependent on technical factors. Strategic initiatives have played a significant role in bolstering TRX's appeal. For instance, its integration with GP-Protocol's AI execution technology, increased network activity, and collaborations with organisations like APENFT and the Giacometti Foundation demonstrate TRON's versatility and commitment to expanding blockchain adoption.
Additionally, the introduction of TroNBox, a smart contract toolkit, aims to simplify the creation and deployment of smart contracts on the TRON network, making blockchain technology more accessible.
Conclusion
In summary, Tron (TRX) has demonstrated substantial growth in its user base, stability in price, and promising technical indicators. The platform's Total Value Locked (TVL) and daily transaction volumes continue to rise, indicating a positive outlook for the cryptocurrency. Strategic partnerships and initiatives further support TRX's potential for sustained growth in the medium to long term. As TRON continues to evolve and expand, it remains a cryptocurrency to watch closely.
Investing in Crypto - Guide
Learn about the cryptocurrency market, discover Crypto Strategies, and master the art of building your crypto portfolio.
Download