Investing 101
Oct 11, 2023
Solana (SOL): Prices and Overview
Recent Price Movements:
Solana has been on a roller coaster in terms of its price in recent weeks. Following a steep decline after the U.S. bankruptcy court approved the sale of a significant chunk of SOL from the defunct exchange FTX, the digital asset rebounded with a fervour. Between September 28 and October 6, SOL experienced a 20% gain, an indicator of the project's inherent strength and the market's confidence in its future. The price has been making attempts to establish a steady support level at $23, further solidifying its standing in the top-tier cryptocurrency rankings.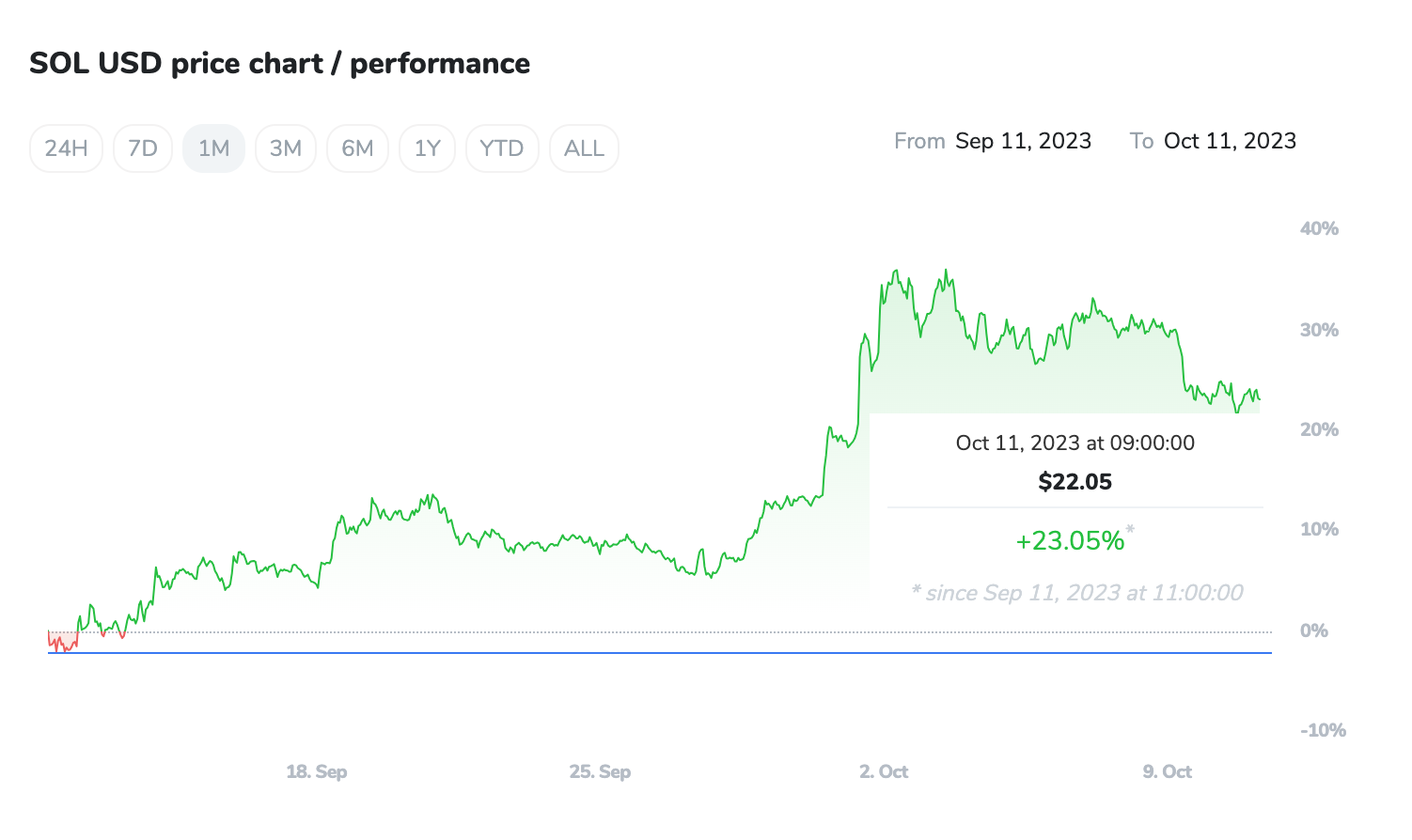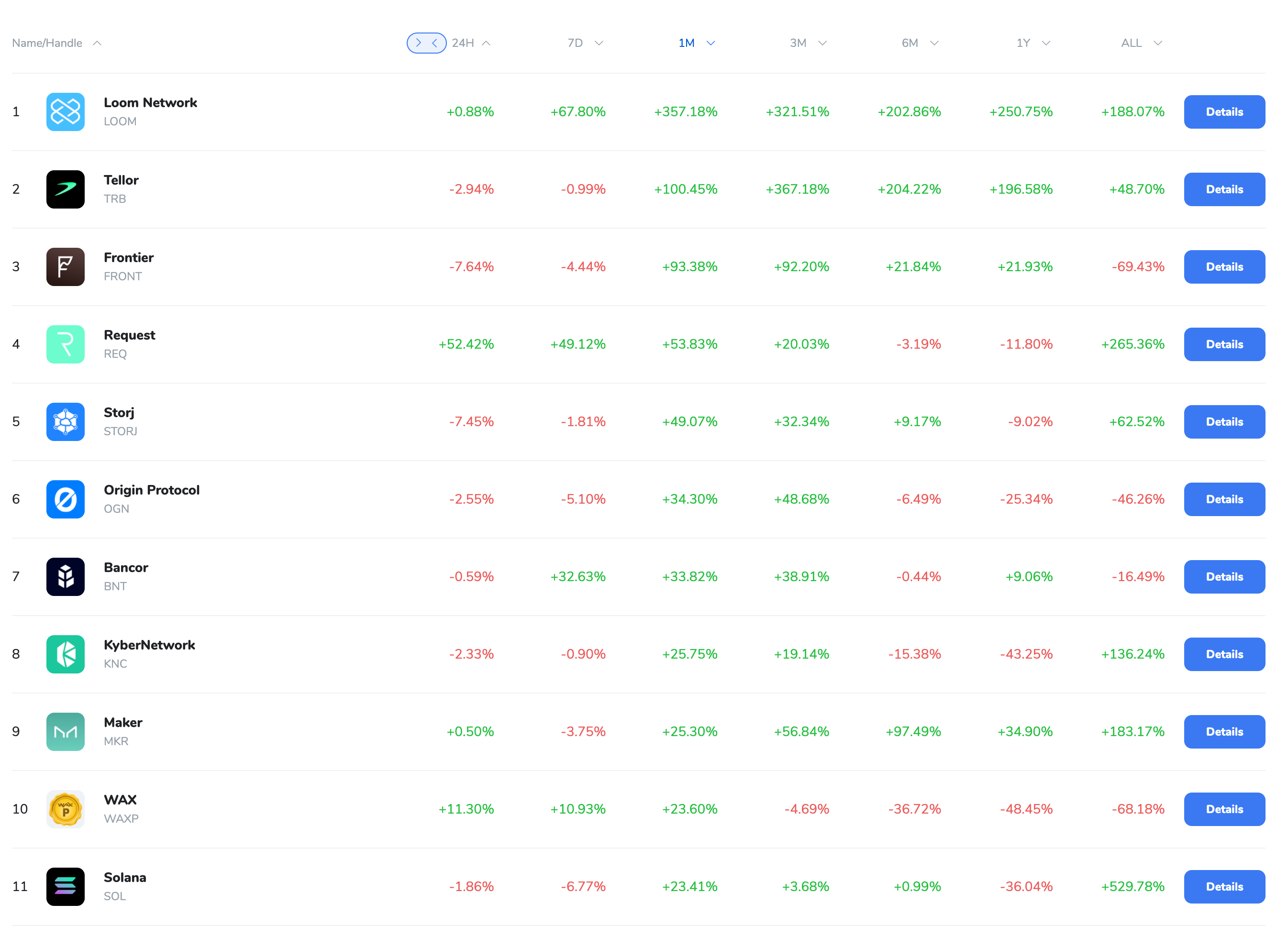 Network Upgrades and Innovations:
One of the primary drivers behind Solana's recent price surge has been its network upgrade to version 1.16. This update, rolled out on September 28, introduced a variety of features aimed at enhancing stability, efficiency, and user privacy. The new "gate system" promises gradual activation of features, mitigating the risks associated with sudden network changes. Additionally, with "confidential transfers," users can now benefit from encrypted transaction details, enhancing the privacy and security attributes of the blockchain.
DApp and NFT Explosion on Solana:
Decentralised applications (DApps) and Non-fungible Tokens (NFTs) are redefining the crypto market, and Solana is at the forefront of this revolution. A surge in active addresses interacting with DApps on Solana indicates a growing user base, even surpassing activity on the Ethereum network for a certain period. Solana's cost-effective and scalable architecture for NFTs has made it an attractive platform for creators, leading to a surge in NFT sales on the network.
Challenges and Competition:
Despite its impressive trajectory, Solana is not without challenges. Ethereum's layer-2 solutions, such as Arbitrum and Optimism, are gaining traction, with their total value locked (TVL) figures dwarfing that of Solana. The Ethereum ecosystem, with its robust developer community and established DApps, remains a formidable competitor. It will be essential for Solana to continue innovating to stay relevant in this highly competitive space.
Technical analysis:
The future looks promising for Solana, especially with the recent price actions indicating a bullish market sentiment. However, like all investments, it's vital to approach with caution and conduct thorough research. If the bulls maintain their momentum and push the SOL price above critical resistance levels, we could witness further bullish runs. Conversely, should bearish sentiments dominate, the price may experience corrections.
Solana's recent trading patterns have been enlightening. Currently poised at around $22.09, it exhibits a promising trajectory with its breakout from the Falling Wedge. This bullish signal, coupled with its re-entry above the 200-day moving average (~$21), showcases a potential upward drive targeting the $25-30 resistance range. Setting a price alert for these figures might be a prudent move.
In terms of broader trend dynamics, the picture is nuanced. The short to medium term clearly rides an uptrend, while the longer horizon points to a bearish drift.
From a momentum perspective, bullish vibes are evident as the MACD line surpasses its signal counterpart and the RSI marks above 55. However, the declining MACD histogram bars suggest this bullish momentum might soon taper.
Key levels to observe for potential trades are the support at $20, followed by a more robust base at $12. On the flip side, resistance looms at $25-$30, with a subsequent challenge expected at $38.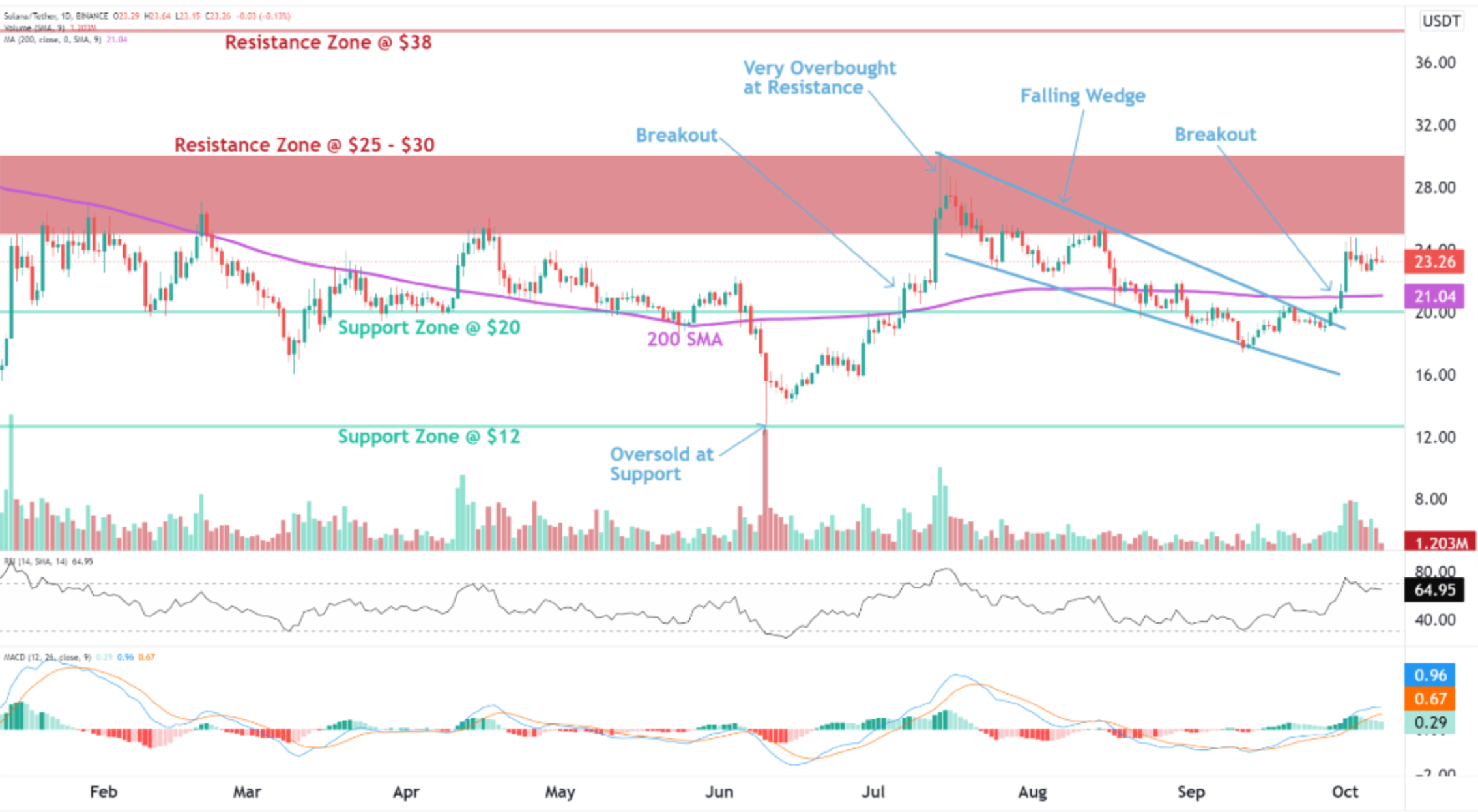 Solana has showcased its potential to be a dominant force in the crypto world. With its innovative solutions, growing DApp ecosystem, and strong market performance, it's a project worth watching closely. As always, potential investors should remain informed and make decisions based on a combination of research and market insights.
Investing in Crypto - Guide
Learn about the cryptocurrency market, discover Crypto Strategies, and master the art of building your crypto portfolio.
Download