Investing 101
Sep 11, 2023
Solana is becoming an institutional favourite - here's why:
Digital asset investment products saw institutional outflows in the region of $11.2 million this week. Outflows from digital asset investment products appear to be stalling as Bitcoin trades on a crucial support zone. Despite little activity on inflows/ outflows, trading volumes were much higher than average this week, totalling US$2.8bn for the week, 90% above the YTD average.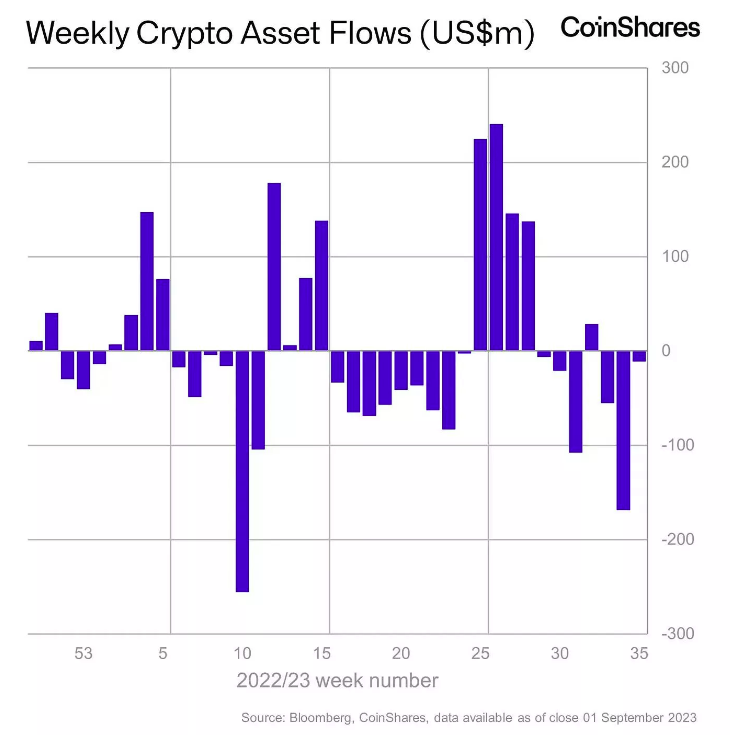 Interestingly, despite the negative market conditions, Solana saw inflows for the 9th consecutive week totalling US$0.7m. Solana has seen the highest institutional inflows this year behind Bitcoin and has emerged as a standout performer, attracting significant year-to-date (YTD) inflows of $26 million since the beginning of the year.
Here are 3 recent developments that paint a bullish picture for Solana: 👇
1) This week, Visa announced it's expanding its stablecoin settlement capabilities with Solana.
Visa's trial programme with ETH began in 2021. However, the requirement to transfer and receive stablecoins at a faster and lower cost prompted them to utilize the Solana network. Visa will expand its tests with Circle's USDC, the second-largest stablecoin by market capitalization after tether, to improve the speed of cross-border payments, and will begin transferring the USDC to select businesses via the Solana blockchain in a recently announced pilot. This announcement has the potential to revolutionise dollar settlements between institutions.
2) Solana Pay, a payments protocol developed by Solana Labs, now integrates with Shopify.
As a new payment method, Solana Pay, a payment protocol created by Solana Labs, now interacts with Shopify. Millions of businesses using Shopify now have access to Solana Pay, a decentralised payment mechanism developed by Solana Labs, through the integration of its plug-in. According to its website, Shopify accounts for 10% of all e-commerce in the United States and $444 billion in global economic activity. Over 11.5 million accounts are now active in the Solana ecosystem. Significant cryptocurrency players like Circle and Phantom have embraced Solana Pay, as have payment processors like Checkout.com and Citcon.
The cost of using the Solana Pay option is much lower than the typical credit card processing costs that businesses pay for every transaction, which range from 1.5% to 3.5%. On the blockchain of Solana, a transaction typically costs $0.00025, or a little fraction of a penny. Of course, Solana has already battled with downtime concerns, which has a price of its own. The blockchain did, however, announce 100% uptime in Q2, which suggests enhanced technology. 
3) Maker DAO, the creator of DAI stablecoin, proposed to fork Solana to build its new chain called NewChain.
MakerDAO co-founder Rune Christensen suggested that Solana's software should be the core of the company's forthcoming blockchain because it is optimised for developing "highly efficient blockchains." Despite its long-standing ties with Ethereum, MakerDAO co-founder Rune Christensen has proposed building the decentralised financial project's forthcoming native chain on a fork of Solana's software rather than the Ethereum Virtual Machine (EVM).
Anatoly Yakovenko, co-founder of Solana, recently commented on MakerDAO's consideration of Solana's technology for its future native chain, NewChain, in a tweet. Yakovenko stressed that the action should be considered as a triumph for the open-source community rather than a competitive advantage over Ethereum. 
SOL declined over 96% from its high of $253 USD in November 2021 and reached $8 USD in December 2022. Since its low, price action rallied roughly 300% to reach a new yearly high at $31.80, and is now trading at roughly $18.20. Despite the cooling price action, the fundamentals support a long-term position in this cryptocurrency.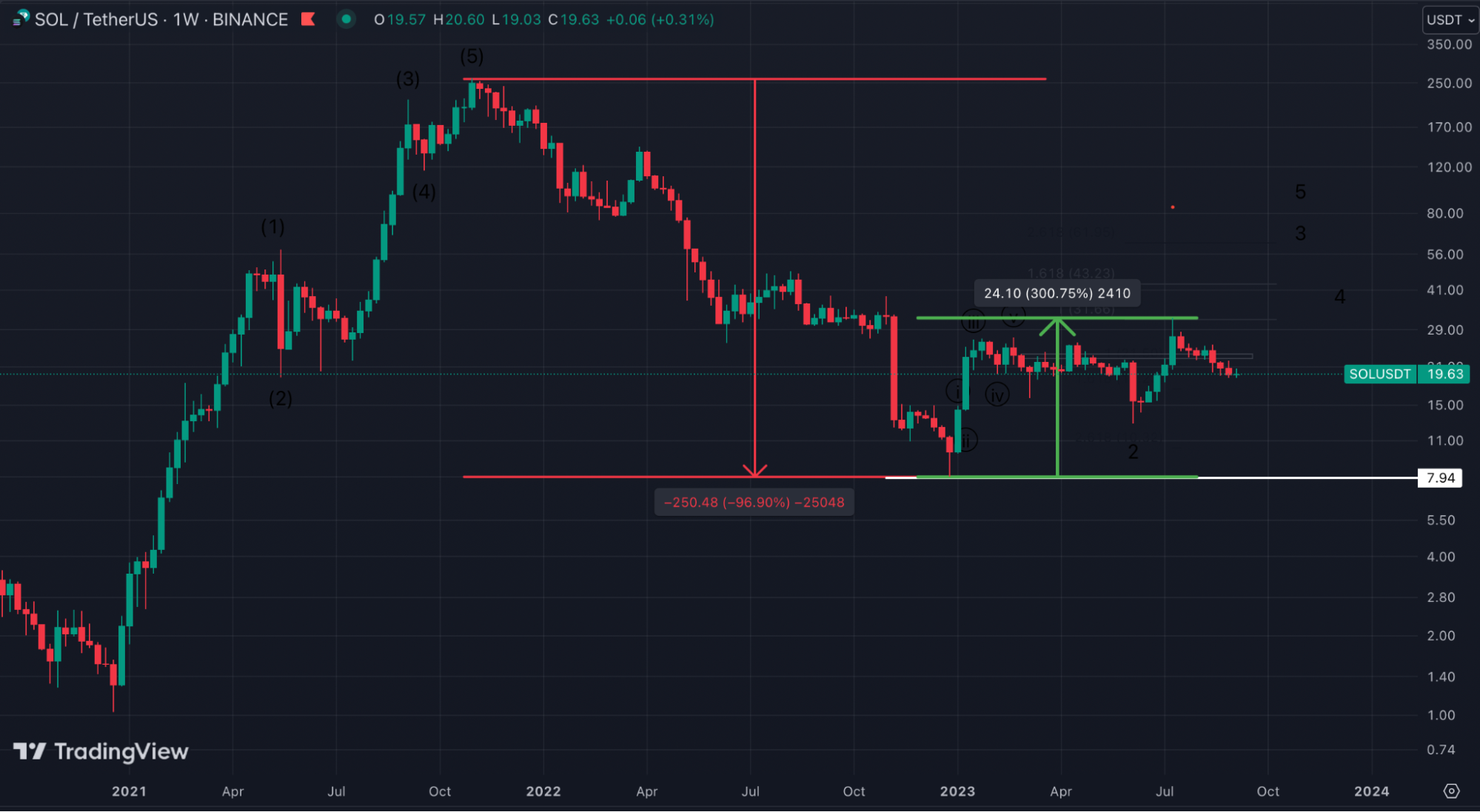 Investing in Crypto - Guide
Learn about the cryptocurrency market, discover Crypto Strategies, and master the art of building your crypto portfolio.
Download