How To Guides
Oct 6, 2022
Using Advanced Buy/Sell to Optimise Your Trades
Advanced Buy/Sell brings you the best possible price from multiple exchanges
Specifically, it:
Uses advanced algorithms for trade execution
Trades across multiple exchanges for the best market price and execution
Saves you time and money for all size orders
Advanced Buy/Sell opens ICONOMI's advanced trading engine for all users and assets, allowing them to trade automatically across several exchanges, looking for the best prices and executing the order within specific algorithm parameters. No need for single orders or asset limits; simply enter the desired amount, choose the algorithm and monitor how the order gets fulfilled. It is that simple.
What is the difference between buying and selling normally vs Advanced Buy/Sell?
When buying single assets, users are usually faced with prices for the exchange they are currently on. But the prices on different exchanges are never really 1:1, so sometimes it's better to be on a different one. Advanced Buy/Sell takes care of that issue, giving the user power so they can get the best price possible.
How does Advanced Buy/Sell work?
The first and most important piece of information is that Advanced Buy/Sell is a process and not an instant action. This means that each advanced Buy/Sell trade gets its own progress bar in our UI, where users can monitor progress towards the end of the trade. It takes time because the trades executed by our algorithms follow several variables and constantly adjust to the market, keeping the rules of the algorithm in check. Since Advanced Buy/Sell is executed using several smaller trades, predicting the final average price of the asset is impossible. We can make sure that the trade follows the algorithm and is executed on the exchange at the best price for the order size desired by the user. To put it simply, Advanced Buy/Sell simulates what an experienced trader would do (across multiple exchanges) when buying or selling large amounts of assets.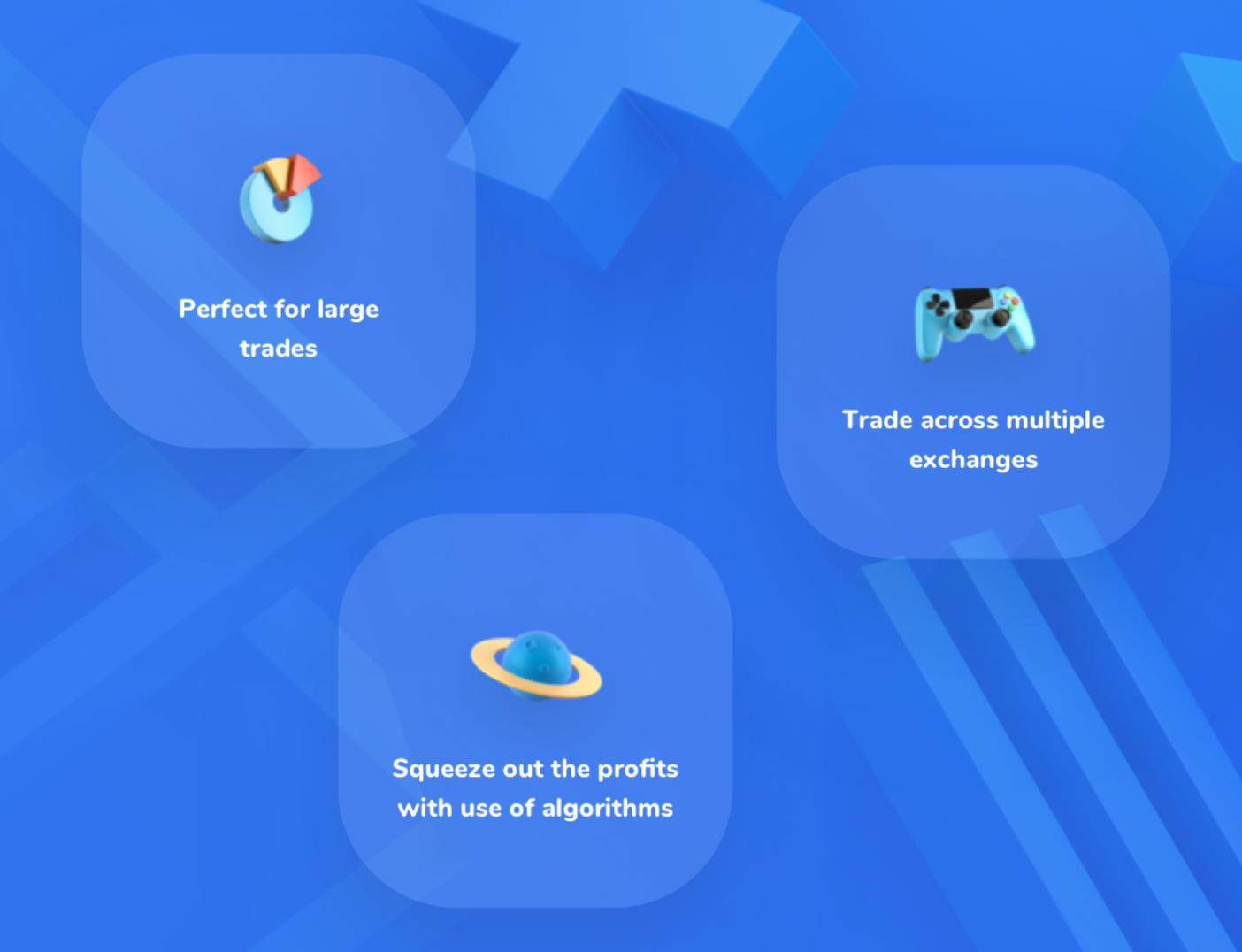 Is this feature for advanced users and large orders only?
This feature offers several advantages to users who want to execute larger orders with a specific desired algorithm. Using Advanced Buy/Sell on ICONOMI saves time and money in specific scenarios where users need to execute large orders and lack the time or knowledge to do so manually. Instead of simply placing market orders and losing value, users can utilise the Best price algorithm and wait until the ICONOMI trading engine trades the large order.
Since Advanced Buy/Sell is not instantaneous, it might not be optimal for active trading. On the other hand, it's perfect for executing large orders via several exchanges, where users would spend hours of trading or simply lose money by consuming market orders manually.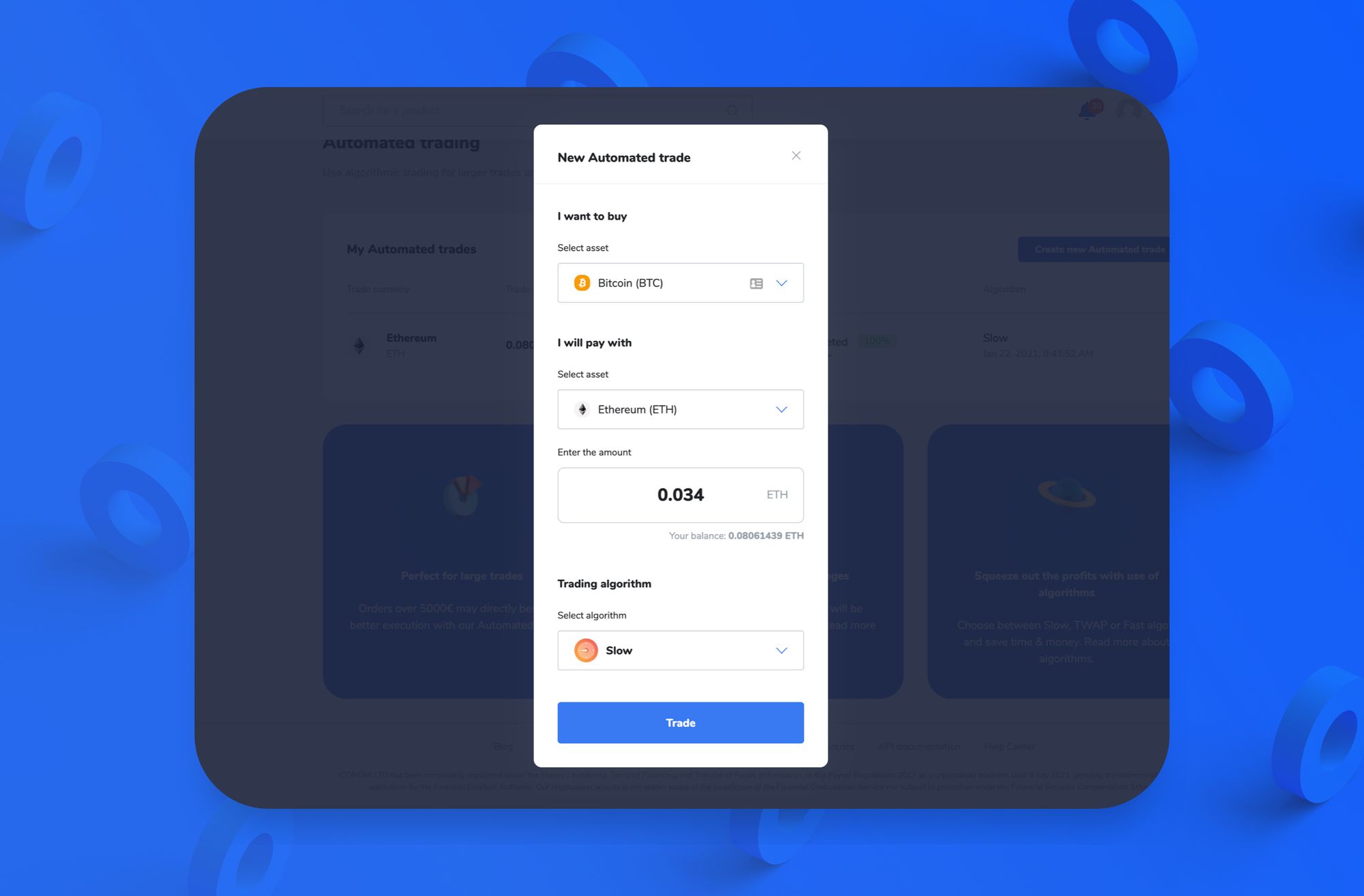 What are the different algorithms?
Best price (slower)
Places limit orders (best bid/best ask) and waits for them to be filled. If the price changes during this process, the algorithm automatically places new best bid/best ask limit orders. It will always try to land you the best price, but it might take some time to do so.
Regular
The regular, time-weighted average price algorithm trades fixed amounts of assets over a fixed period of time.
Best time (accelerated)
Places multiple limit orders at the best market price and tries to fulfill them over a shorter period of time.
Investing in Crypto - Guide
Learn about the cryptocurrency market, discover Crypto Strategies, and master the art of building your crypto portfolio.
Download