Investing 101
Sep 27, 2023
Ripple (XRP) Technical Analysis and Overview
Recent Performance:
The price of XRP has shown notable volatility, with the coin recently surging past the $0.50 mark, a crucial psychological level for traders and investors alike. Currently, it is trading for $0.4969 yet on a monthly scale, the coin is still down by 5.46%.
It's essential to recognise that despite these monthly losses, XRP has appreciated by an impressive 48.64% since the start of the year. This annual rise can be primarily attributed to Ripple's legal triumph against the SEC. The court's decision, which determined XRP is not a security, has significantly influenced its performance.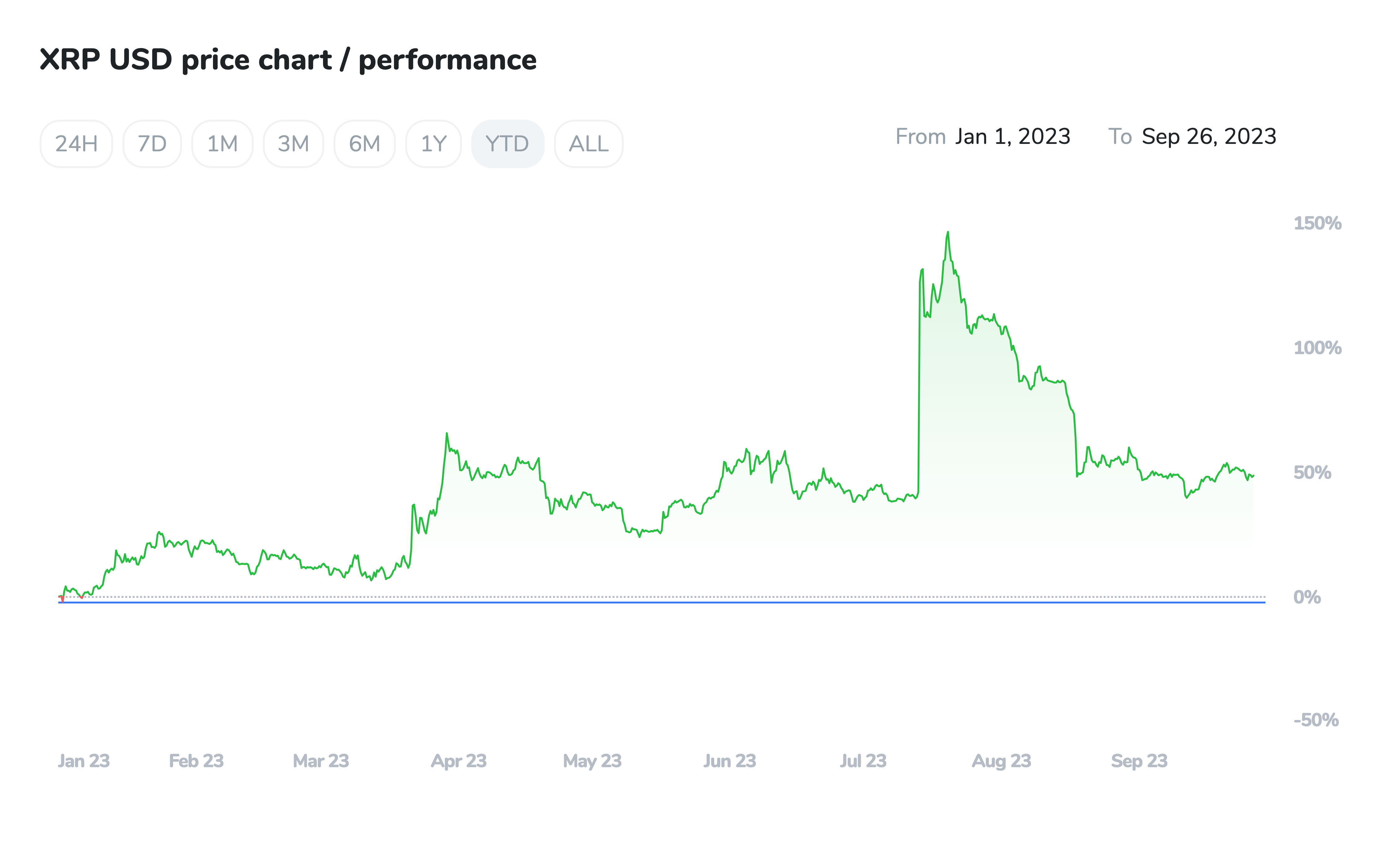 Technical Indicators and Patterns:
The RSI, a key metric in assessing overbought or oversold conditions, has been lingering around or even below the 30 mark since mid-August. This strongly suggests that XRP has been heavily oversold.
An interesting dynamic is observed, with the 30-day moving average (MA) falling below its 200-day counterpart. This crossover can sometimes be a signal for further decline, but it can also be indicative of the end of a selloff, positioning XRP for a possible rebound.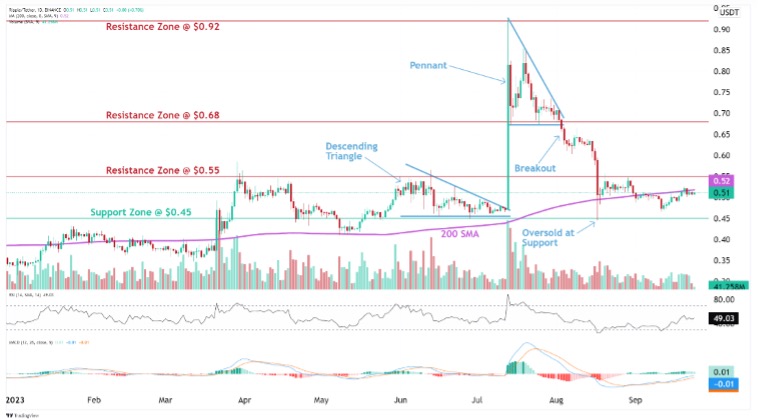 Currently, XRP is oscillating between a support level of $0.48 and a resistance at $0.53. A decisive breach of either boundary will likely indicate the future trajectory for Ripple. Historically, a significant resistance was found at $0.92 in early 2022, which will be crucial if another bull run is initiated.
Momentum Indicators: The MACD line, which gauges momentum, is above its signal line, a bullish sign. However, with the RSI hovering around the 50 level and declining MACD Histogram bars, the momentum appears to be waning.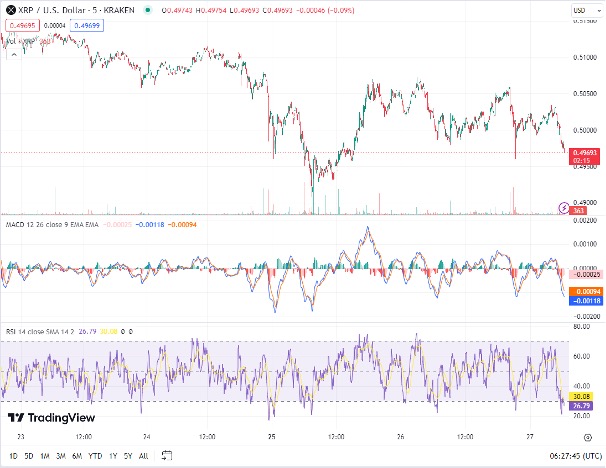 Latest News and Developments:
XRP has witnessed a remarkable 700% increase in investment inflows, with $700,000 invested into XRP-related products in just a week, establishing its strong position in the crypto market.
This rise is interestingly linked to increased XRP activities on the Bitstamp exchange, which might be due to the growing use of Ripple Payments. While Ripple's affiliation with Bitstamp might explain this influx, other cryptocurrencies like Solana (SOL) and Litecoin (LTC) also observed significant inflows. In contrast, the overall crypto investment market has seen consistent outflows, with Bitcoin (BTC) ETPs losing $5.9 million last week alone.

A massive boost for XRP came in mid-July when Judge Analisa Torres ruled in favour of Ripple in its case against the SEC. She determined that XRP transactions on exchanges did not equate to securities offerings. This significant legal development led to many exchanges relisting XRP.
Additionally, Ripple's growth and development efforts haven't halted. Over recent months, the company has made strides in expansion, most notably collaborating with the Republic of Palau on an innovative stablecoin trial leveraging XRPLedger.
An overview:
The market remains in a somewhat uncertain state, with broader macroeconomic challenges and fears of a US government shutdown looming. The sentiment of investors is likely affected, prompting larger transactions towards exchanges, possibly signalling impending sales.
Yet, the fundamental position of XRP remains robust, and it's well-poised for recovery, especially as overall market conditions improve. If the momentum turns positive and the aforementioned resistance levels are surpassed, XRP could potentially touch $0.60 in the upcoming months.
The technical overview for Ripple (XRP) suggests a coin in the midst of potential transition. With Ripple's solid fundamental position, a host of technical indicators hinting at potential rebounds, and significant legal victories in its back pocket, XRP appears to have the groundwork laid for a possible resurgence. Investors and traders should closely monitor the $0.55 and $0.45 price levels for cues on the coin's next major move.
Investing in Crypto - Guide
Learn about the cryptocurrency market, discover Crypto Strategies, and master the art of building your crypto portfolio.
Download