Investing 101
Nov 15, 2023
Polygon (MATIC): A Resilient Force Shaping the Future of Blockchain
Polygon (MATIC) has emerged as a resilient force, defying market trends and showcasing robust growth and user engagement. A recent technical analysis reveals a compelling trade setup, with a bullish breakout from a sideways channel, surpassing the $0.60 resistance and breaching the 200-day moving average. This signals a bullish trend reversal, setting the stage for an uptrend with a potential upside target of $1.00. The momentum is strongly bullish, supported by the MACD Line above the Signal Line and RSI above 55.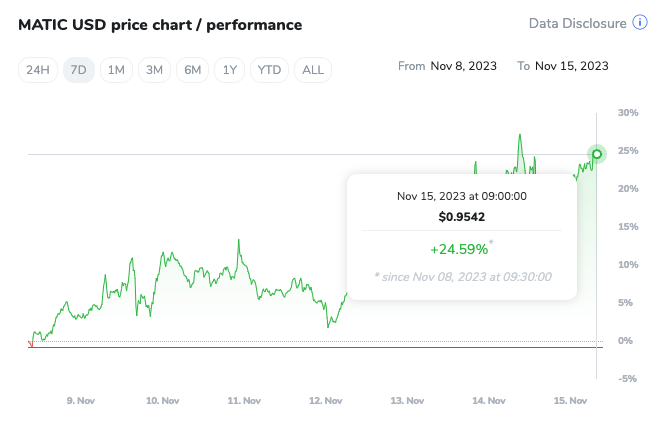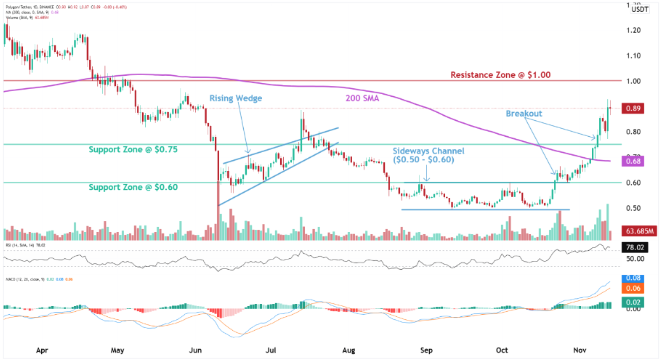 Recent insights from Nansen, a blockchain data analytics platform, shed light on Polygon's exceptional resilience and activity, even in the face of broader market weakness during Q3 2023. Diversity and vibrancy within the Polygon ecosystem are immediately evident in the report; Chainlink led with 47.08 million transactions, followed by Galxe with 8.29 million and Planet IX with 7.52 million transactions. Contributions from Stargate, LayerZero, Tether, and USDC enriched the network, creating a collaborative and thriving environment that distinguishes Polygon.
Polygon's competitive edge extends to its cost-effective transactions. The average daily gas fee for Polygon transactions peaked at $0.05, maintaining a range of $0.01 to $0.05 throughout the quarter. 
During this period, Polygon's daily transactions fluctuated between 1.9 million and 2.8 million. Impressively, the user base remained stable, ranging from 275,000 to 466,000 daily active addresses. This stability is a testament to Polygon's ability to retain a robust and engaged community even in challenging market conditions.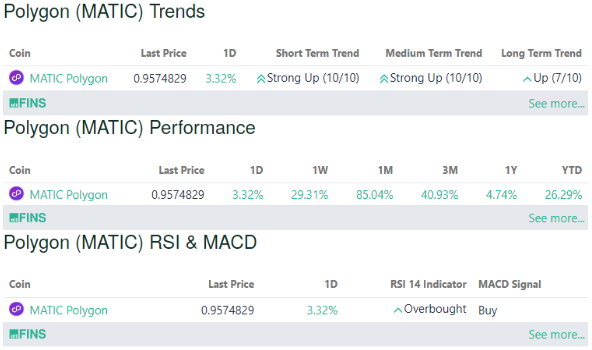 Polygon Labs, the driving force behind Polygon's innovations, showcased remarkable resilience. The introduction of Polygon 2.0, focusing on zero-knowledge (ZK) research and development, signifies a forward-thinking approach. The commitment to a multichain, unified future for scaling Ethereum through ZK technology aligns with broader industry trends. The consistent number of daily active addresses and the cost-effectiveness of Polygon's Proof of Stake (PoS) compared to Ethereum reinforce its compelling value proposition for users.
In Q3 2023, significant developments within the Polygon system unfolded. Collaborations with Milano Hub initiated the "Institutional DeFi for Security Token Ecosystem Project," showcasing Polygon's active engagement with institutional DeFi initiatives. Lufthansa's Uptrip loyalty program on the Polygon PoS network, rewarding travellers with NFT trading cards, gained over 20,000 users during its soft launch, indicating a positive community response.
The Immutable zkEVM testnet launch, focusing on the gaming industry for their appchain, highlights Polygon's commitment to innovation. This technology, combining ZK-rollup and Ethereum's liquidity, aims to elevate the gaming experience, showcasing the platform's versatility.
As Polygon 2.0 propels multichain adoption, dynamic collaborations across diverse industries are flourishing. The platform's commitment to cost-effectiveness cements its reputation as a versatile and accessible blockchain, attracting interest and partnerships from various sectors. The Inborg Upgrade and Polygon ID Release 4 further underline Polygon's dedication to technological advancement and on-chain verification.
Investing in Crypto - Guide
Learn about the cryptocurrency market, discover Crypto Strategies, and master the art of building your crypto portfolio.
Download