Investing 101
Oct 25, 2023
Cardano's Critical Levels: Navigating ADA's Journey from $0.25 to $0.30
Cardano (ADA)
Over the past week, ADA has experienced a significant resurgence, starting from a low of $0.247 on October 19. As of the latest update, ADA is trading at $0.280, marking the sixth consecutive day of gains. This recent performance is indeed impressive, with ADA gaining 14.07% in the past seven days, despite not yet reaching its all-time high of $3.10 achieved on September 2, 2021.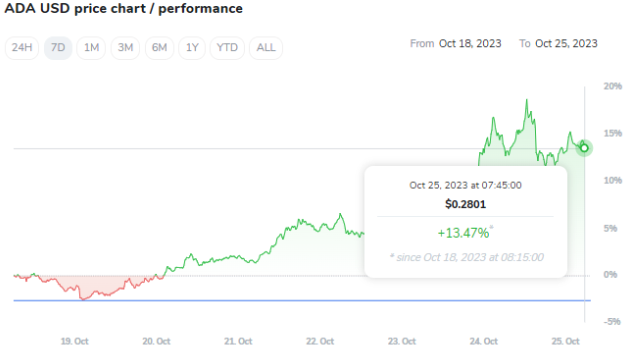 Cardano (ADA) is showing promising signs of a potential bullish breakout. The cryptocurrency has formed a Falling Wedge pattern, a typically bullish precursor to an upward price movement. This pattern indicates that buyers have been steadily absorbing supply from sellers, often resulting in an upward breakout.
To effectively trade this pattern, it is crucial to monitor the upper trend line closely. A breakout above this line is a strong confirmation of the impending uptrend. While some traders may opt for swing trades within the convergence lines of the pattern, it is generally advisable to wait for the breakout to occur before considering a BUY order.
ADA has demonstrated a reliable support level at $0.25 in recent price action. This level has consistently provided a solid foundation for ADA's price, with multiple bounces, including those in August, June, and December 2022. This underscores the significance of the $0.25 level. Presently, Cardano appears poised for an upward move, with the immediate target being the $0.30 resistance zone. Notably, this level had previously acted as support, further enhancing its importance. Setting price alerts at $0.30 is a strategic approach to stay informed about potential breakout opportunities.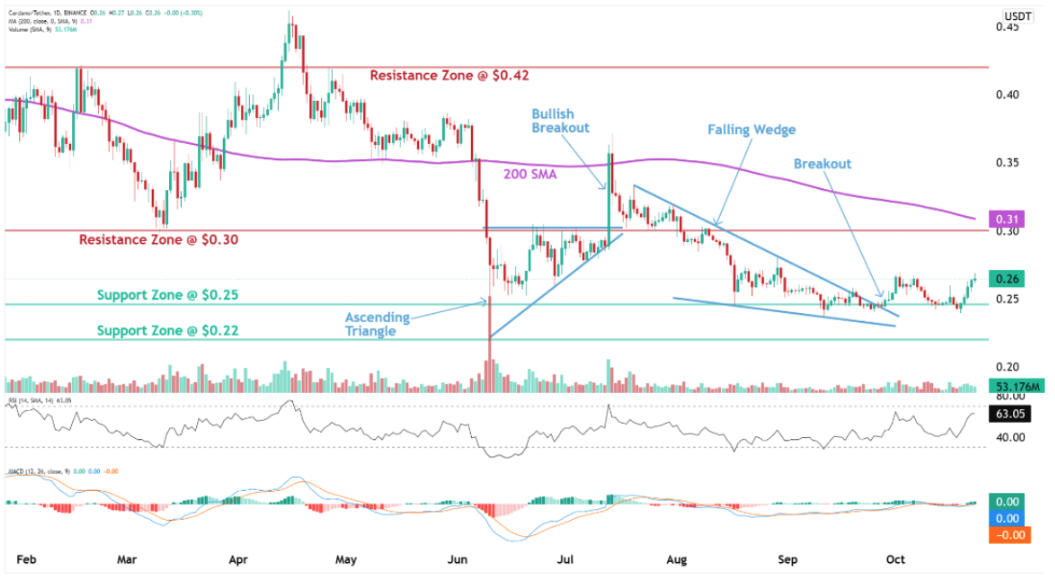 Looking at ADA's trends, there is evidence of a short-term uptrend, supported by the MACD Line being above the MACD Signal Line and the RSI (Relative Strength Index) sitting above 55, indicating bullish momentum. However, it's essential to note that on a medium- and long-term basis, ADA is in a downtrend. This suggests the need for caution and a focus on shorter time frames for trading opportunities.
ADA currently presents a promising technical setup with a high potential for an upward price movement. The Falling Wedge pattern, reinforced by positive momentum indicators, indicates a potential breakout. Traders should keep a keen eye on key support and resistance levels, particularly $0.25 and $0.30. Setting price alerts and closely monitoring the breakout above the upper trend line could be essential strategies for traders seeking to capitalise on ADA's price potential.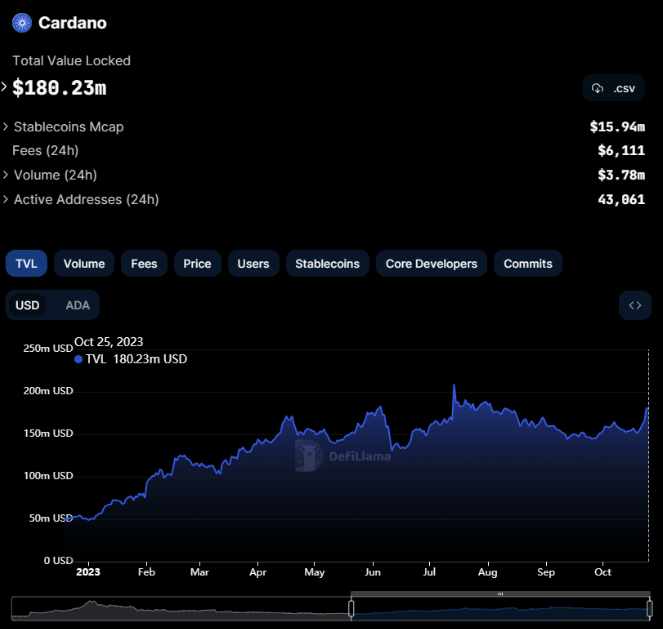 Within the broader context of cryptocurrency investments, digital asset products have seen consistent inflows totalling $66 million over four consecutive weeks, amassing a total of $179 million. These inflows, while significant, appear to reflect a more cautious investor sentiment compared to previous months. Importantly, Cardano experienced a modest inflow of $0.1 million, showcasing confidence in its potential. These factors add to the overall positive outlook for Cardano.
Investing in Crypto - Guide
Learn about the cryptocurrency market, discover Crypto Strategies, and master the art of building your crypto portfolio.
Download