Investing 101
Sep 13, 2023
Metal (MTL) on the Rise
Metal (MTL) offers a user-friendly platform for peer-to-peer payments. As a utility token, MTL plays a pivotal role in the Metal system, incentivizing users to adopt the Metal Pay app for payments. Notably, holding MTL grants users substantial fee reductions when purchasing other cryptocurrencies through the app, with a remarkable 0% fee structure for those who hold a minimum of 10,000 MTL tokens.
In recent days, Metal (MTL) has been making waves in the cryptocurrency market. Despite the broader crypto market experiencing a 2.59% decline, MTL managed to defy the trend by surging a few per cent to reach $1.37. Over the past five days, Metal DAO has consistently earned a bullish rating on the Investors Observer Sentiment Score, which measures the coin's performance based on volume and price movements. This recent surge in sentiment reflects positively on MTL's short-term prospects, making it an intriguing option for both short-term traders looking to capitalise on the current rally and long-term investors eyeing a favourable entry point.

As for price levels, Metal DAO is currently trading near its five-day high of $1.38, marking a 18.15% increase in the last 7 days. However, it's essential to note that MTL is hovering near a key resistance level at $1.4, suggesting that it might face selling pressure in the near future. Furthermore, the coin's recent trading volume has been relatively low compared to its seven-day average, potentially indicating a degree of caution among traders.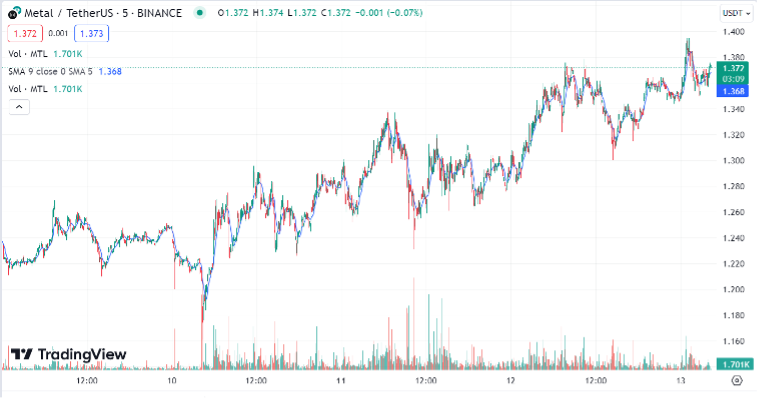 Turning to the technical analysis of Metal (MTL), the coin's price movement has been intriguing. Since November 2022, MTL has been on an upward trajectory, with a notable price surge on August 17th that initiated an upward trend.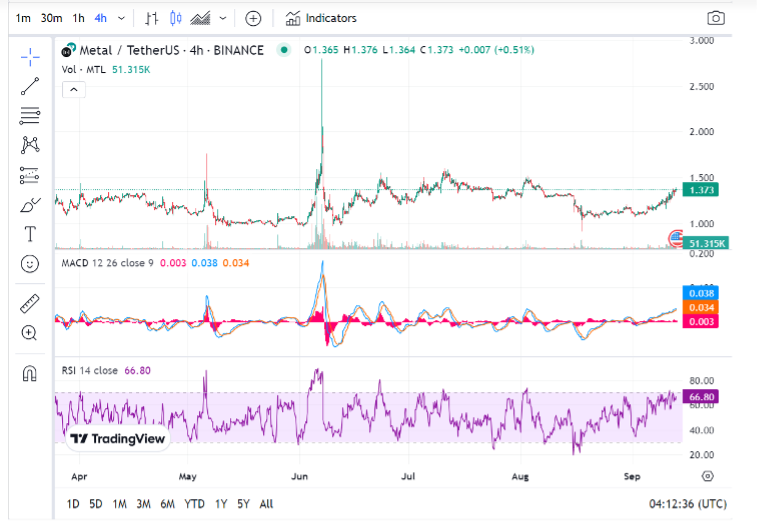 Metal (MTL) appears to be in a rising trend channel in the medium to long term, indicating growing optimism among investors and the likelihood of continued upward movement. The coin is currently trading within a rectangular formation, with support at $1.10 and resistance at $1.68. A decisive break above this range could signal a new direction for MTL. Additionally, the coin has shown positive volume patterns that align with price tops and bottoms, strengthening the prevailing trend. However, it's worth noting that the short-term momentum, as indicated by the Relative Strength Index (RSI), is strongly positive, potentially signalling overbought conditions and the possibility of a corrective move.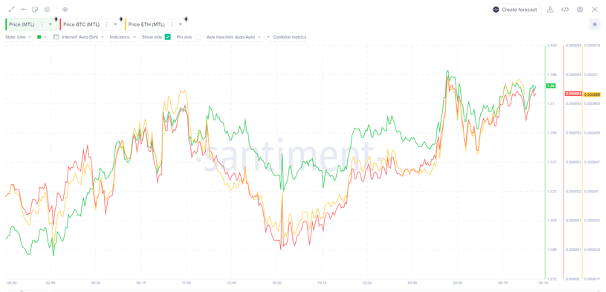 Metal (MTL) presents an intriguing proposition within the cryptocurrency market, with recent bullish sentiment and a potential breakout scenario on the horizon. Keeping a watchful eye on technical indicators and market developments is crucial for those considering a stake in Metal DAO.
Investing in Crypto - Guide
Learn about the cryptocurrency market, discover Crypto Strategies, and master the art of building your crypto portfolio.
Download