Investing 101
Sep 22, 2023
Crypto Weekly Wrap: 22 September 2023
The global crypto market has seen significant volatility and interest over the past week, demonstrating its ever-evolving nature. 
The total market capitalization began the week at approximately $1.056 trillion and saw a midweek dip to about $1.082 trillion before recovering to close at around $1.055 trillion. This volatility can be attributed to several events, with regulatory developments taking centre stage. A rising concern is the scrutiny centralised exchanges are facing, especially after the arrest and trial news of FTX's Sam Bankman-Fried. 
Today we are also noticing an increased total crypto market volume, approx. $72.48B, which makes a 155.39% increase. The total volume in DeFi is currently $22.34B, 30.82% of the total crypto market 24-hour volume.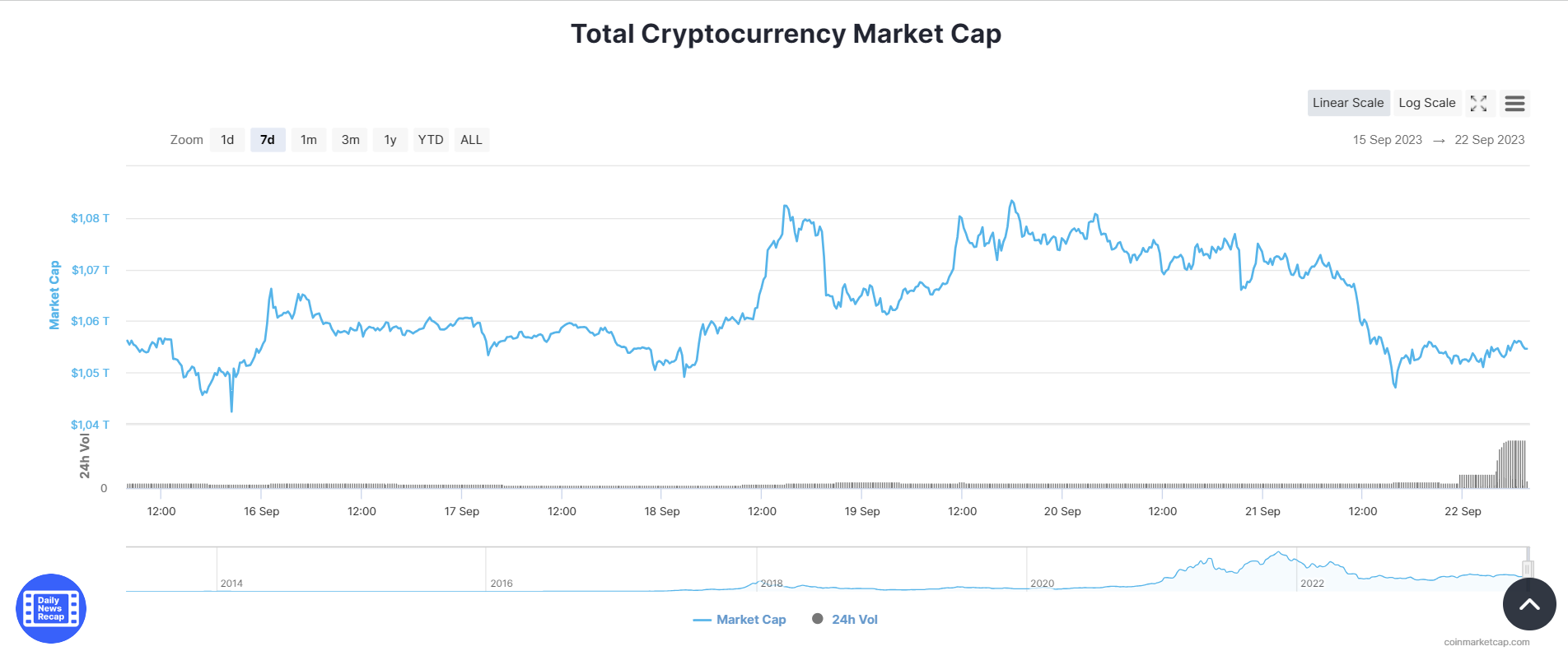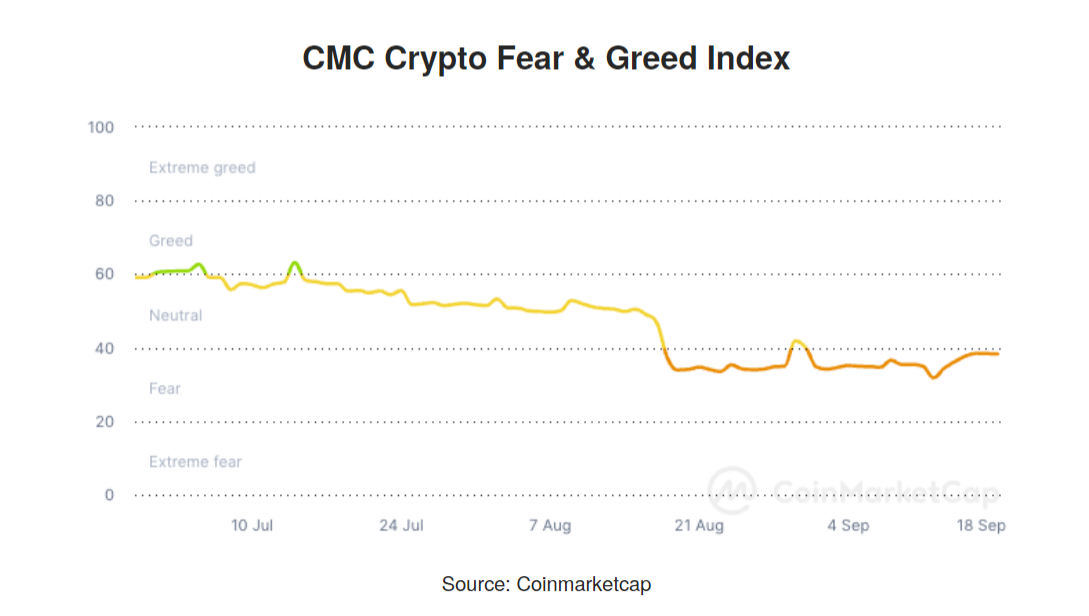 Sam Bankman-Fried's Upcoming Trial
The crypto industry was abuzz with the news of Sam Bankman-Fried, the influential founder of FTX, facing trial for alleged fraud and conspiracy charges. While the specifics of the allegations remain under wraps, many believe that the outcome of this trial could set a precedent for legal proceedings against crypto exchange founders in the future. The trial, commencing on October 3, 2023, is expected to shine a light on internal exchange operations and could potentially lead to calls for more stringent regulations. Stakeholders are keenly watching as the verdict could shape the future interactions between crypto businesses and regulatory bodies.
Regulatory Clarity on Cryptocurrencies
As the crypto ecosystem matures, there's a pressing need for clear regulatory frameworks. Governments from various corners of the globe made headlines this week with their efforts to streamline cryptocurrency regulations. Proposals that surfaced aimed at a multi-pronged approach: safeguarding investors from undue risks, ensuring individuals and crypto enterprises are tax compliant, and asserting control over potential financial threats while not stifling innovation. The global crypto community is hopeful that these balanced regulatory efforts will bring about a stable and trustworthy investment landscape.
Mainstream Adoption Accelerates
The winds of change are evident as traditional financial powerhouses further embrace the crypto world. Revelations this week indicated an uptick in banking and financial entities either introducing their suite of crypto services or forging alliances with established crypto enterprises. These strides are not mere experiments but indicate a strategic shift towards incorporating crypto assets and blockchain technologies in traditional finance. The move underscores the growing consensus among financial institutions about the potential and staying power of cryptocurrencies.
Innovations in Decentralised Finance (DeFi)
DeFi, the revolutionary financial paradigm powered by blockchain, is not resting on its laurels. This week was particularly eventful with reports of groundbreaking advancements in various DeFi sectors. From novel lending solutions that offer more flexibility and security to users, to cutting-edge yield farming tactics that promise better returns, and next-gen decentralised exchanges that aim for improved scalability and reduced fees - the DeFi space is pulsating with innovation. Observers and participants alike anticipate that these advancements will further democratise finance and bring about greater financial inclusivity.
Bitcoin Price Analysis
From a technical standpoint, Bitcoin seems poised for action. The cryptocurrency is flirting with the $27,500 resistance level. Having already conquered the $26,800 resistance, its consolidation above $27,000 signals a potential uptrend. The 23.6% Fib retracement level appears to be acting as a psychological barrier, but with Bitcoin maintaining a position above the 100 hourly Simple Moving Average and finding support at the bullish trend line near $26,800, the momentum seems tilted to the upside.
However, the road to $30,000 is not without its challenges. Clearing the $27,500 resistance will be pivotal. If BTC can overcome this, the next stop could be $28,200, paving the way to flirt with the $30,000 milestone. Conversely, failure to breach the $27,500 barrier could see BTC retreating to support levels of $27,050 and potentially $26,800. A further decline could drag it down towards the $26,200 mark.

Ethereum Price Analysis
Ethereum's price currently reflects a minor downtrend, having dropped 1.6% over the previous 24 hours. This places the token's value at $1,593, showcasing a decline of 2.27% over the past week and 4% for the month. However, on a year-to-date scale, ETH has displayed resilience with a commendable 33% gain.
The RSI gravitates around the 40-mark, staying consistently below the midline (50) since mid-August. An RSI lingering below 50, especially in the lower 40s or 30s, usually indicates bearish sentiment, but it can also be a precursor to a possible price reversal due to the asset being perceived as undervalued.
The awaited Holesky testnet launch, which unfortunately faced delays, has been a considerable influence on Ethereum's recent price movements. This testnet promises to enhance Ethereum's testing capabilities and paves the way for further advancements like proto-Danksharding. The new launch date set for September 28 could act as a catalyst for Ethereum's price, potentially initiating a recovery rally. If the launch proceeds without hitches, ETH might eye the $1,650 mark in the short run.
Ethereum's long-term outlook remains optimistic, thanks to its dominant position in the crypto market in terms of total value locked, especially when including layer-two networks. Real-world adoption indicators, such as collaborations with industry giants like PayPal and Visa, further bolster ETH's future prospects.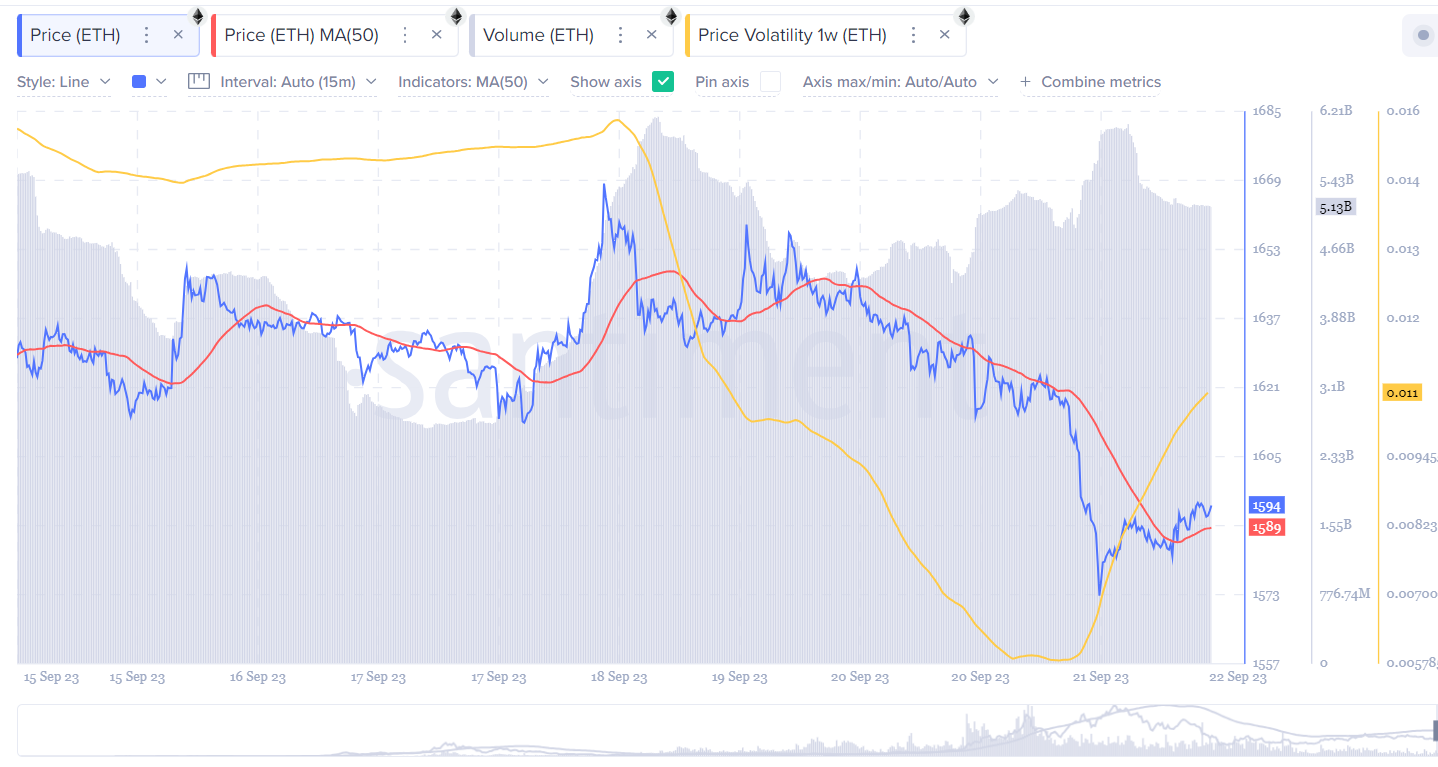 Investing in Crypto - Guide
Learn about the cryptocurrency market, discover Crypto Strategies, and master the art of building your crypto portfolio.
Download