Litecoin (LTC) Price Rebounds and Whale Investors' Impact
Litecoin (LTC), one of the first, if not the first, altcoin, has experienced a remarkable resurgence in value, bouncing back from a 2023 low of $58 to retest the $70 mark on October 2, 2023. This resurgence is a noteworthy development in the world of digital currencies and has drawn attention to the role of influential investors known as "whales."  Currently, LTC is trading for $64.57.
Litecoin's journey in 2023 has been marked by significant price fluctuations, but recent events have shed light on the impact of whale investors and the potential implications for its future price trajectory.
Whale Investors' Influence
Litecoin's price had been in a downtrend since the completion of the August 2 Halving event. However, when the price dropped to the 2023 low of $58 on September 12, Litecoin whale investors took decisive action to prevent further losses. The data from the IntoTheBlock chart reveals a notable increase in whale transactions, surging from 1,800 to 2,900 transactions between September 10 and September 29. Notably, the 2,900 whale transactions recorded on September 29 marked the highest level since August.

The surge in whale transactions is significant for several reasons. It not only contributes to higher market liquidity, enabling more efficient trades for participants, but it also boosts the confidence of other retail investors. This surge in confidence was reflected in Litecoin's rapid 16% price gain, rising from $58 to $68 during this period.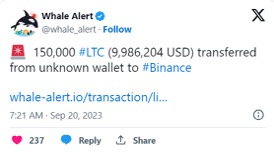 However, recent readings indicate that Litecoin whales have scaled back their trading activity as of October 2, with transactions dropping from 2,900 to 2,100. This reduction appears to have triggered a minor price correction. The question now is whether the bullish whales will resume accumulation or if bearish sentiment will take hold.
The current bullish sentiment in the global crypto markets could potentially incentivize the whales to resume buying. If this scenario materialises, Litecoin may likely maintain its value above the $60 level. Conversely, if bearish sentiment prevails and Litecoin whales remain neutral, there is a risk of a reversal below $60. However, the cryptocurrency could rally toward $70 if bullish whales return to accumulation mode, as they did in late September.
In conclusion, Litecoin's recent price rebound, and the influence of whale investors have been pivotal factors in its performance. The future trajectory of LTC's price remains uncertain and is contingent on various market dynamics, including the actions of influential investors and broader market sentiment.
Litecoin (LTC) Technical Analysis: A Closer Look
Litecoin (LTC) has been undergoing significant price action, marked by notable developments in 2023. Presently trading at approximately $64.28, Litecoin has experienced an impressive 18% increase in value over the past year.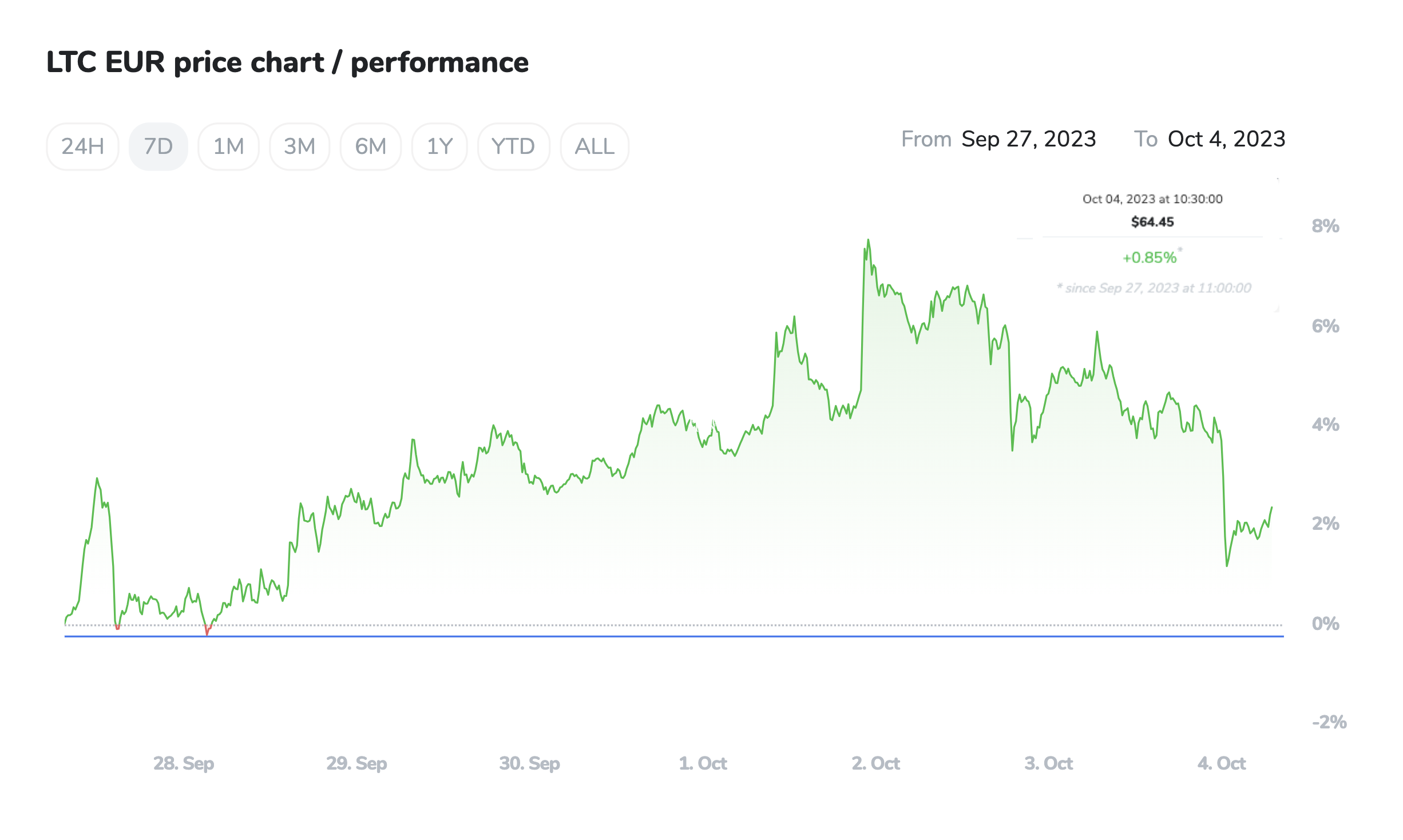 Price Patterns and Key Levels
In recent trading sessions, Litecoin witnessed a bearish breakout from a Channel Down pattern, pushing its price down to as low as $60. However, it managed to stage a recovery and reclaim the $70 key level. For traders and investors looking to establish support and resistance zones, it's crucial to note that Litecoin's nearest support zone lies at $60, with $50 serving as the subsequent level of support. On the flip side, the nearest resistance zone stands at $70, followed by $75. These support and resistance levels are essential reference points for making informed trading decisions.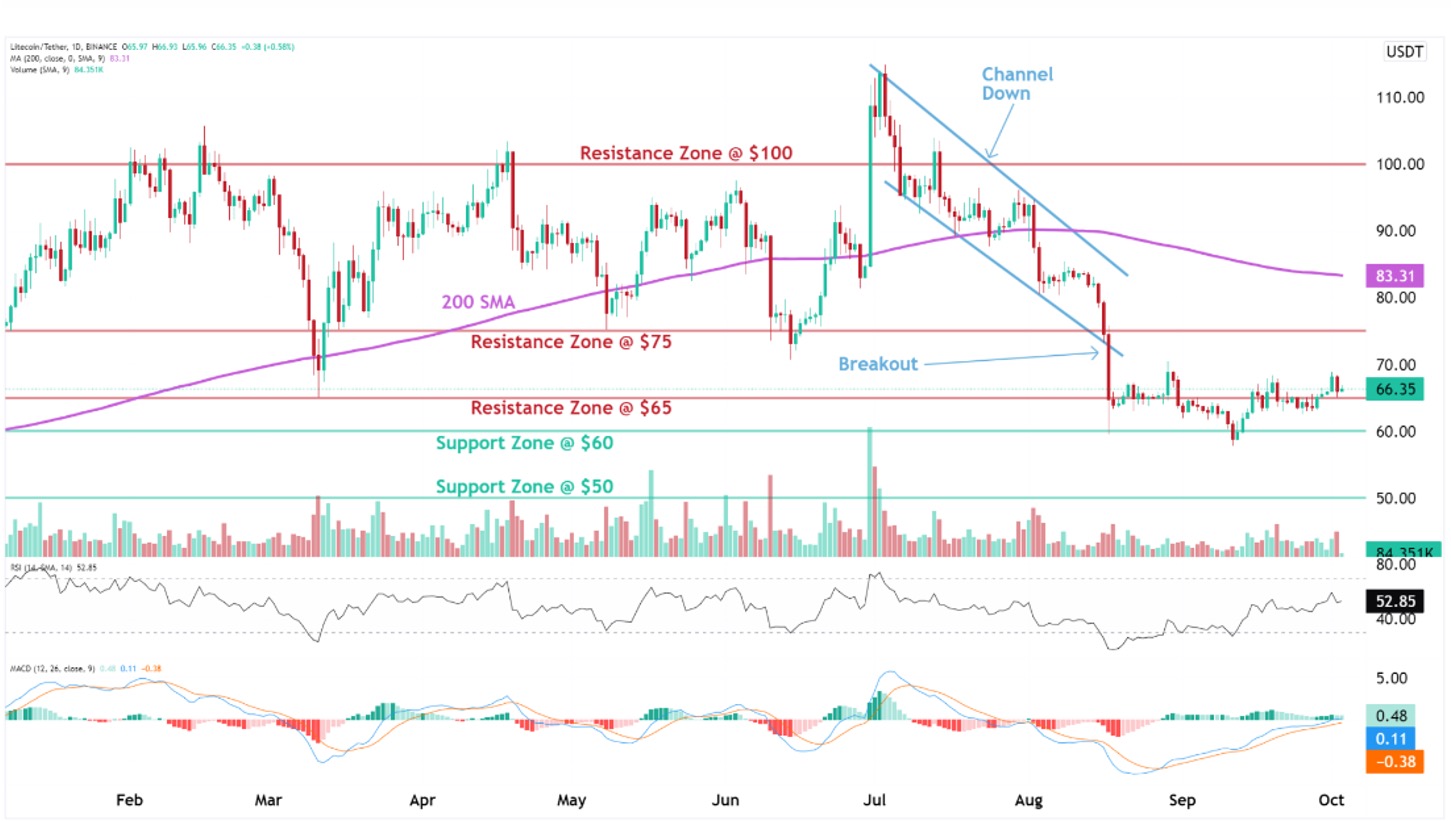 Momentum Indicators
The Moving Average Convergence Divergence (MACD) shows a bullish signal. This suggests that there is some positive momentum in the short term. However, the Relative Strength Index (RSI) hovers around the 50 level, indicating a neutral stance. RSI at this level suggests that Litecoin's price could move in either direction, depending on various market factors.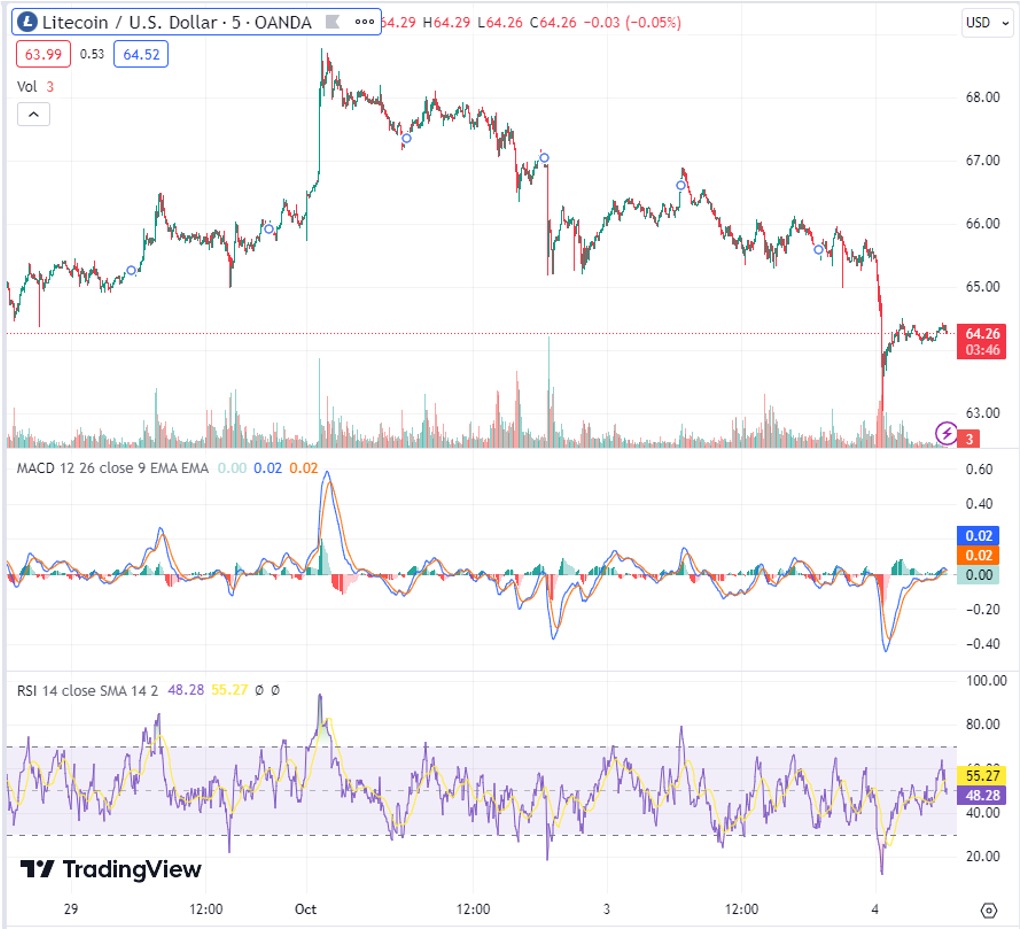 Conclusion
In conclusion, Litecoin's technical analysis reflects a cryptocurrency that has encountered mixed signals and price movements across different timeframes. While short-term momentum appears to be positive, with the potential for a bullish reversal above $70, the broader picture remains uncertain due to the neutral medium-term stance and long-term downtrend. Traders and investors should exercise caution and closely monitor the $70 level as a critical determinant of Litecoin's future direction. Additionally, considering the potential impact of market fluctuations and the absence of significant whale activity, a broader market rally may be necessary to catalyse Litecoin's recovery by year-end.
Investing in Crypto - Guide
Learn about the cryptocurrency market, discover Crypto Strategies, and master the art of building your crypto portfolio.
Download