How To Guides
Aug 27, 2020
Using Quick Data for Better Rebalancing
This week, we have released a new widget called 'Quick look.' This feature was introduced as an upgrade to the rebalance flow in order to give managers access to information where they need it most. Apart from obvious information (charts, returns, and BTC comparison widgets), Quick Look also comes with three new pieces of information.
Asset health
Asset health is determined by two main criteria:
Asset daily volume
Asset exchange availability on exchanges supported by ICONOMI trading engine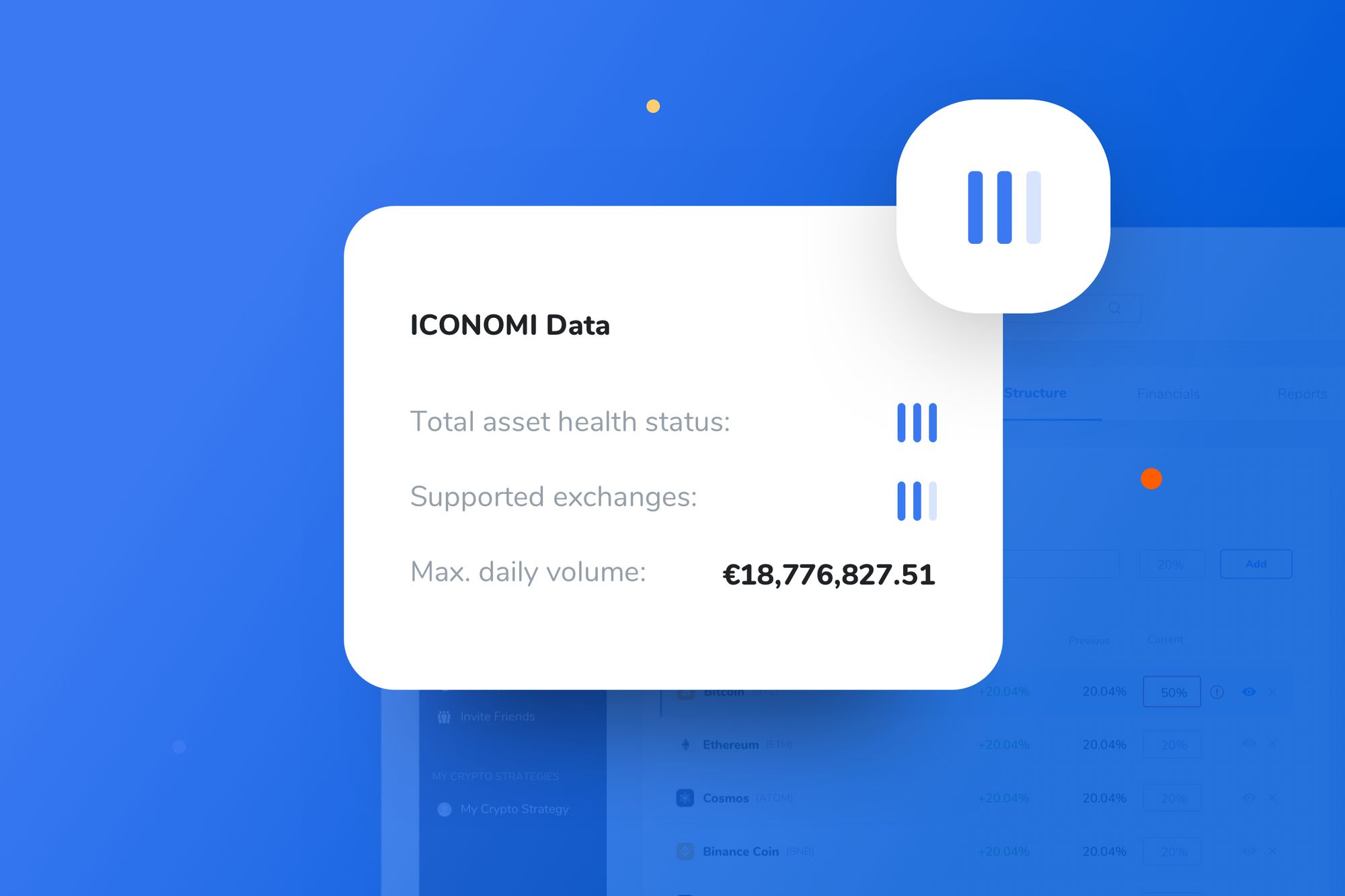 3 bars of asset health:
The asset is traded on at least two different exchanges, providing the redundancy in case one of the exchanges goes offline
The asset has enough daily volume (on exchanges supported by the ICONOMI trading engine) in order to process rebalancing requests by ICONOMI users
2 bars of asset health:
If an asset fulfills only 1 out of two main criteria, that asset loses 1 point of asset health
For example, the specific asset is traded on several exchanges, but the total max. daily volume does not match the rebalancing amounts requested by ICONOMI users.
1 bar asset health
This health status is shown when the asset is available on only one exchange supported by the ICONOMI trading engine and has a low daily volume.
In this specific scenario, the asset may be hard to rebalance because it lacks the volume, and there is no redundancy in case the exchange goes offline.
Max. daily volume
This is the cumulative trading volume from exchanges supported by the ICONOMI trading engine. In reality, this is the maximum volume we can provide for a specific asset. In the case that you have a Crypto Strategy with a huge AUM, this number can give you good insight into how much weight you can put into a specific asset.
Supported Exchanges
This information is relative to the total number of exchanges we are supporting. The bars do not represent the number of exchanges, instead if an asset has 1-2 bars, you may assume the redundancy for that asset is unreliable or has low volume.
How to use this data?
We want to be able to support as many assets as possible on our trading engine, but at the same time we want our users to be able to make informed decisions when rebalancing their Crypto Strategies. This is why we introduced new asset parameters, allowing users to predict the speed of rebalance for each asset and change the asset weights accordingly.
We plan to add more data to Quick Look in the future, but for now we suggest you play around, monitor the data, and learn from it. With time you will be able to nail that rebalance with speed and efficiency.
Investing in Crypto - Guide
Learn about the cryptocurrency market, discover Crypto Strategies, and master the art of building your crypto portfolio.
Download