How To Guides
Oct 12, 2022
The Gift of Crypto
It's hard to share the enthusiasm for crypto trading with someone who doesn't own crypto. We all know that investing the first bit is challenging or even daunting. So, if you want someone to understand what crypto's all about, they need some assets to start.
Here's where gift cards come in. You can create one using either ETH or BTC and generate a one-time code you can share with your friends and family. Those who receive the gift then create an account on ICONOMI, redeem the value in crypto and start trading right away!
If a gift card is the first transaction of a fully verified user, a
referral connection
is established to the Gift Card creator trumping any referral links that might be saved on the user's account. As such, you have a referral guarantee for new users who use your gift cards.
How do Crypto Gift Cards Work?
A registered ICONOMI Tier 1 user can create a gift card from either BTC or ETH they have on the account. The minimum amount of BTC or ETH you can send is 5EUR (value determined at the time of gift card creation), and the maximum is limited by 250EUR (value determined by the pair price at the time of gift card creation).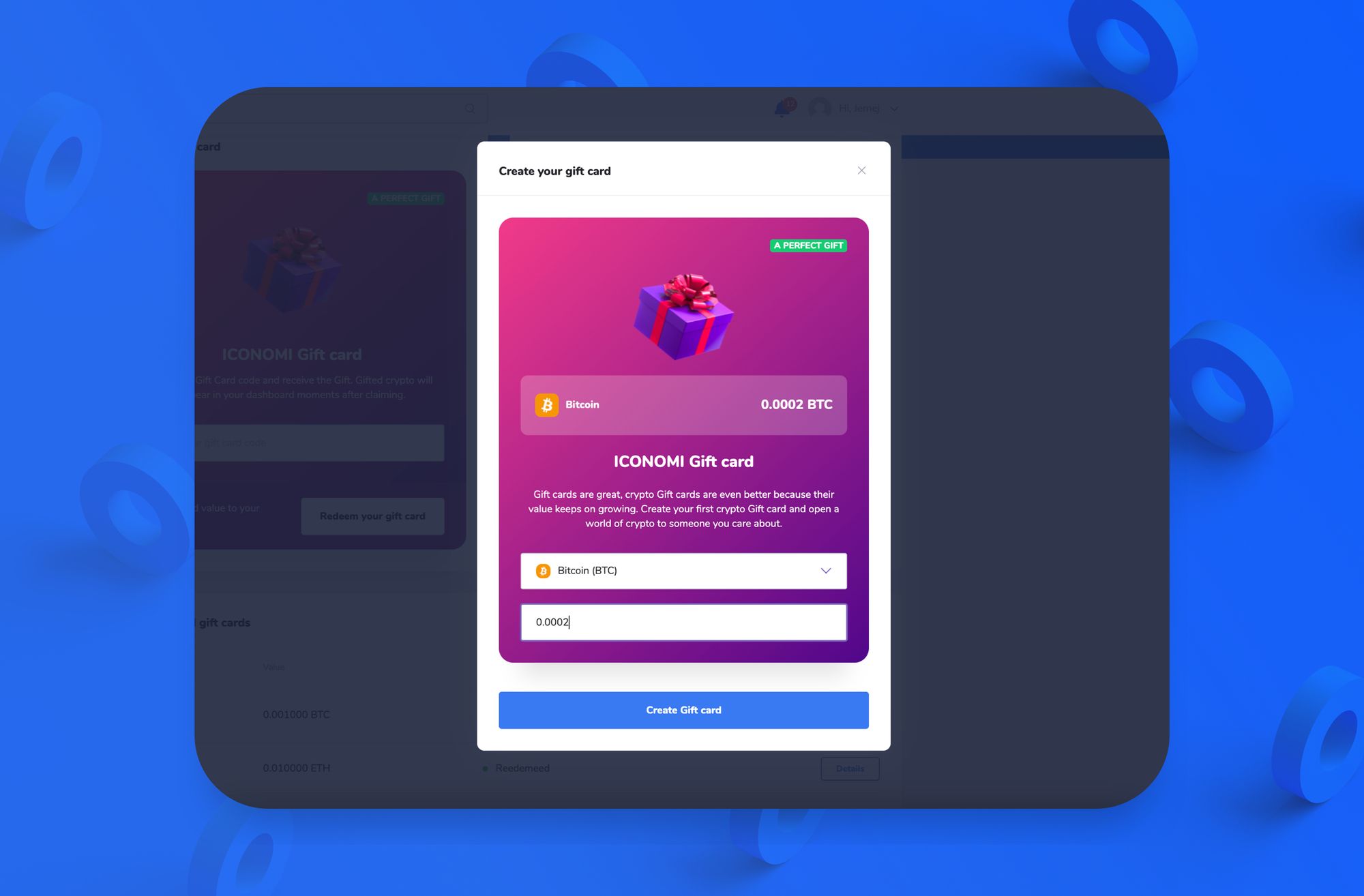 Users that create the gift card can enter any desired amount between 5-250EUR, but the EUR value is only informative. gift cards are always delivered in cryptocurrency, ensuring the target user receives the original amount of crypto. In other words, the amount of crypto will not change, but the value might.
How can I send the gift card?
Once you create the gift card, you will receive two versions of it. One version will get automatically sent to the email address of the gift card creator, allowing them to forward the email to anyone. The second version is available as a printable gift card via our platform. You can simply open the web version of the gift card and print it. We optimised the gift card for printing so you won't print any unnecessary web elements. Both contain the gift card code which can be redeemed on the gift cards page.
What about Strategy gift cards?
Those are slightly different! You can read all about them in the dedicated Strategy gift card blog post.
Can I cancel the gift card?
All created gift cards will appear on your dashboard. Before the gift card is used by the target user, you may cancel it by contacting our support team.
Investing in Crypto - Guide
Learn about the cryptocurrency market, discover Crypto Strategies, and master the art of building your crypto portfolio.
Download