Fiat Currency Collapse (Argentine Peso)
The Argentine Peso collapsed an additional 22% yesterday, in one day!
Year-on-year inflation in Argentina has hit 115%, poverty has soared, and the value of the peso has plummeted.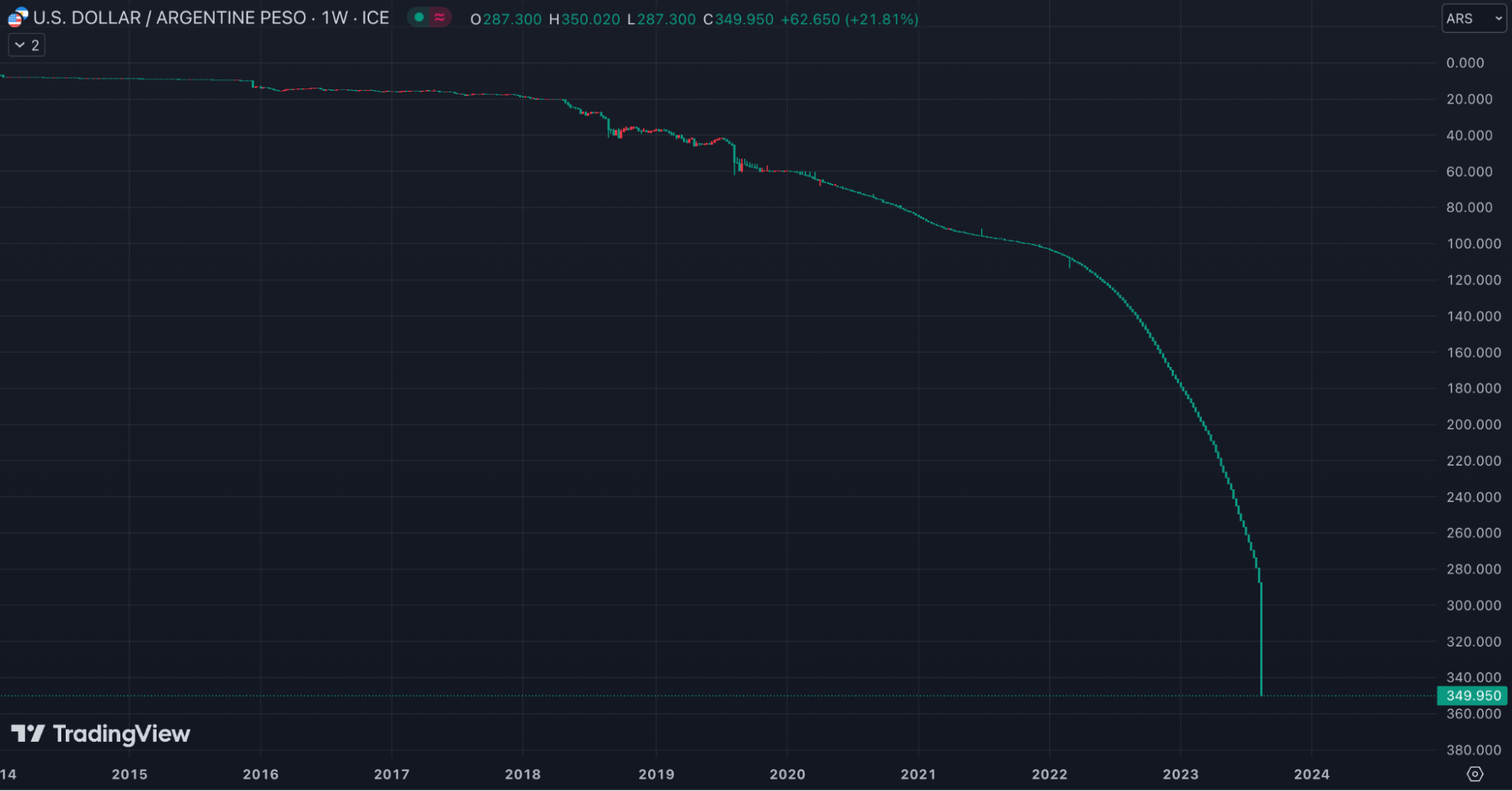 Yesterday, the Argentine central bank made a desperate effort by raising interest rates from 97% to 118% while simultaneously cutting the official dollar exchange rate by 22%. The so-called official dollar rate has fallen the most in one day since December 2015. President Alberto Fernandez made the decision as his administration had run out of choices and resources to maintain an unsustainable exchange rate following a crushing loss in a critical primary election on Sunday.
The outrageous interest rates are intended to prevent the worst price inflation episodes, but the horrifying fall in exchange rates shows that the central bank is no longer able to protect its own currency.
Despite a phenomenal 2282% increase in the last six years, the Argentine stock market is down 13% in dollar terms. Whatever occurs nominally, everyone is significantly poorer in actual terms.
It should come as no surprise that Javier Milei, Argentina's front-runner for president, is an avid supporter of Bitcoin.
Following an unexpected triumph, Javier Milei, a well-known supporter of Bitcoin and libertarian economics, just took the top slot in Argentina's primary. His alliance, La Libertad Avanza, was successful in winning over 30% of the votes, narrowly defeating the centre-right coalition, Juntos Por El Cambio, by less than 2%.
Milei, a well-known opponent of Argentina's central bank, has frequently accused it of "cheating good people" by levying an inflationary tax. Even further, he declared that he would "blow it up," labelling it a swindle. His critique has found resonance with many, especially with Argentina's inflation rates exceeding 135% this year.
The country's crypto scene continues to grow despite the Central Bank's recent ban on digital wallets. Argentina ranks 13th in crypto adoption worldwide, according to Chainalysis.
Milei sees Bitcoin, along with other digital currencies like Ethereum, as a "return of money to its original creator: the private sector." Emphasizing Bitcoin's finite supply, Milei regards it as a more secure alternative to traditional mediums like gold or silver.
Whilst the Argentine Peso collapses, Bitcoin has soared to record highs against the Peso.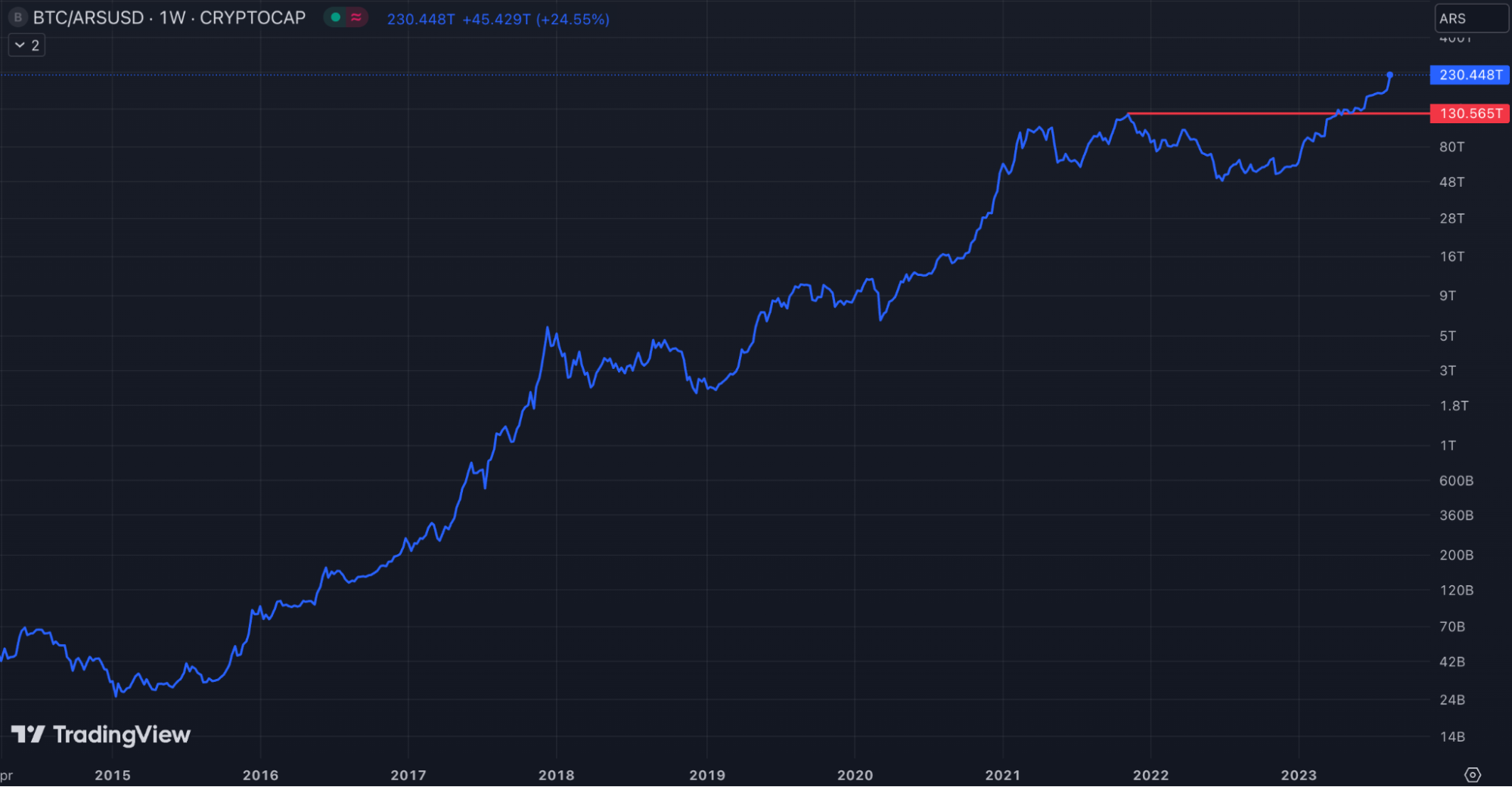 Fiat currencies have historically recorded an average life span of roughly 30 years. As Fiat currency continues to devalue globally, expect a continued increase in the adoption rate of digital assets, in particular, Bitcoin.
Will Argentina follow El Salvador and the Central African Republic in allowing Bitcoin as a legal tender?
Do you want to learn more about the cryptocurrency market?
💻 Explore different ICONOMI Strategies: https://www.iconomi.com/strategies
📞 Book a crypto consultation: https://calendar.app.google/GVL6YRirKSTkJu4z8
Investing in Crypto - Guide
Learn about the cryptocurrency market, discover Crypto Strategies, and master the art of building your crypto portfolio.
Download