DOGE Price and News
Dogecoin (DOGE) has been making waves in the market, attracting attention from investors, enthusiasts, and the broader public. This playful and meme-inspired digital currency emerged in 2013 and was initially considered a joke. However, its popularity skyrocketed due to widespread social media exposure and the support of influential figures like Elon Musk.
Recently, DOGE experienced a 10% price surge after its logo was displayed on X, the platform previously known as Twitter, during a temporary rebranding by Elon Musk. This move ignited an investor rush and brought renewed interest to the cryptocurrency. Many experts believe that this bullish momentum may continue, driven by the market's positive sentiment towards DOGE.
In the last month, DOGE's price increased for 8,67 %, especially in the last days largely fueled by speculations that Elon Musk might integrate DOGE for payments on his rebranded X platform. This potential integration has led to predictions of the price rising to $0.09 and beyond.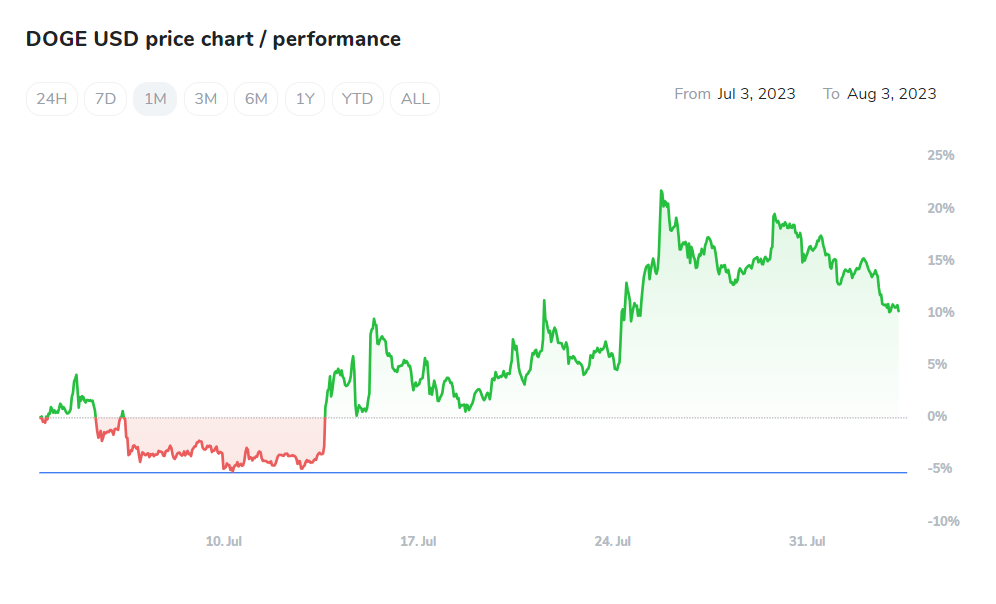 The success of Dogecoin can be attributed to its unique approach compared to traditional cryptocurrencies. While most cryptocurrencies focus on complex technology and financial jargon, DOGE leverages simplicity and humour to attract and retain users. Its ease of use and low transaction fees make it an attractive choice for newcomers to the crypto space, amplifying its viral potential.
Beyond its technological appeal, Dogecoin's community engagement and meme culture integration have been critical to its viral success. The DOGE community actively participates in charitable causes and tips content creators, fostering a sense of belonging and purpose. This, coupled with the support of influential figures like Musk, has transformed Dogecoin into a movement with high return on investment.
One of the most significant potential catalysts for Dogecoin's future price movement is Elon Musk's plan to integrate DOGE payments into his rebranded X platform. Google Bard, a generative AI tool offered by Alphabet's Google, has analysed the potential price increase of DOGE if this integration takes place. The analysis highlights various factors that could contribute to a rise in DOGE's value.
Musk's previous posts about DOGE have often preceded price increases, suggesting that his support could have a positive effect on the cryptocurrency's value. Additionally, the integration of DOGE payments with X would expose the digital currency to a larger audience, potentially increasing demand and subsequently driving up its price. The ease of using DOGE for transactions on the platform would enhance its utility and further impact its price positively.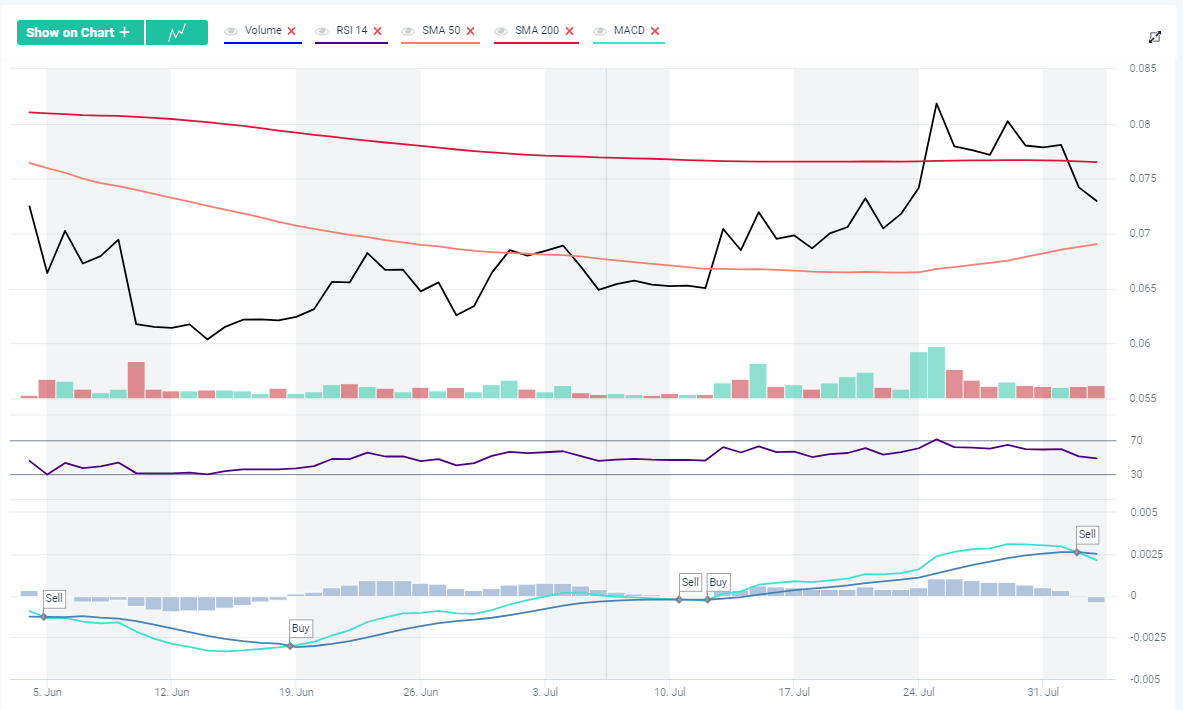 Technical Analysis
The current technical analysis of Dogecoin (DOGE) suggests a bullish breakout from a Falling Wedge pattern, indicating a potential reversal in the price trend. The Falling Wedge pattern typically results in a bullish breakout when the price breaks above the upper trend line. This breakout indicates that buyers have absorbed the supply from sellers.
Confirmation of the bullish setup occurred when the price of DOGE broke above the $0.07 resistance level and the 200-day moving average, which is currently around $0.08. These breakthroughs signal increasing buying pressure and indicate that the short- and medium-term trends are in an uptrend.
The Falling Wedge pattern is a bullish continuation pattern, suggesting that the upward price movement is likely to continue. Before a breakout occurs, swing traders may consider trading between the convergence lines of the pattern. However, most traders prefer to wait for a completed pattern with a confirmed breakout before entering a BUY order.
The momentum for DOGE is currently bullish, as indicated by the Moving Average Convergence Divergence (MACD) and the Relative Strength Index (RSI). The MACD line is above the MACD signal line, suggesting upward momentum. Additionally, the RSI is above 55, indicating positive strength in the price movement.
In terms of support and resistance levels, the nearest support zone is at $0.070, which was a previous resistance level. If the price experiences a pullback, this zone is likely to provide some support. Further down, the next significant support level is around $0.055.
On the upside, the nearest resistance zone is at $0.010, followed by a more significant resistance level at $0.110. If the bullish momentum continues, the price of DOGE could revisit these resistance levels and potentially aim for higher targets beyond $0.110.
To recap, the technical analysis of Dogecoin (DOGE) suggests a bullish outlook in the short- and medium-term timeframes, supported by the breakout from the Falling Wedge pattern and the breach of key resistance levels.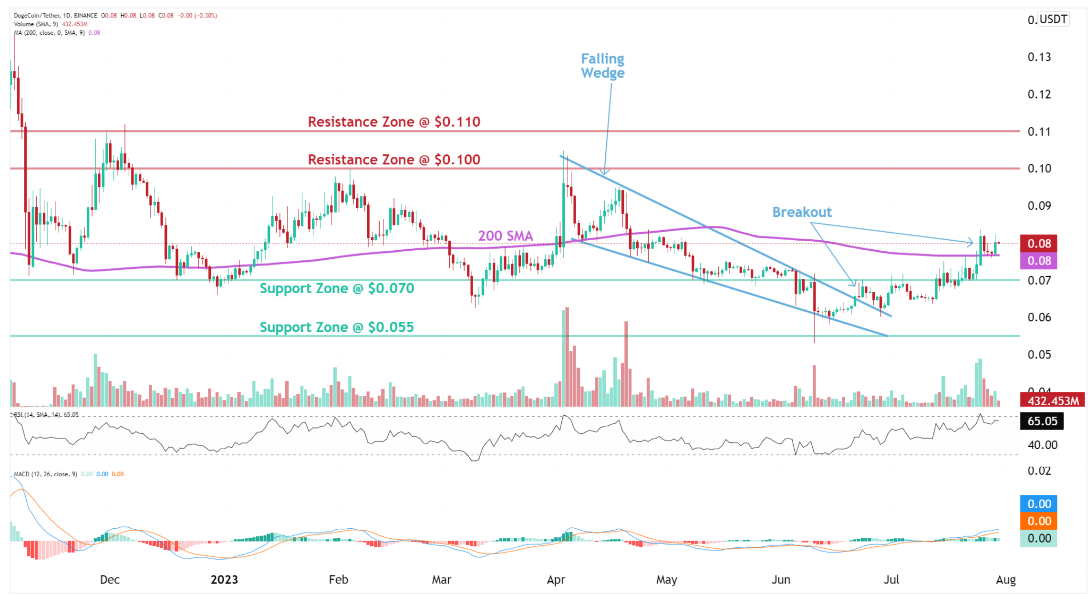 Investing in Crypto - Guide
Learn about the cryptocurrency market, discover Crypto Strategies, and master the art of building your crypto portfolio.
Download