Do you have GOLD in your digital asset portfolio?
Investing in GOLD might be challenging when done through a bullion broker. You must not only pay a high spread but also wait for the delivery and ensure you have a secure place to store the precious metal. When selling your gold investment, you must also perform the reverse transaction. Investing in Gold ETFs can also become costly with limited liquidity. 
However, investing in GOLD is not as difficult as you may think due to a cryptocurrency called PAX Gold (PAXG), which tracks the US dollar price of Gold. From the official Paxos website; "PAXG offers investors a cost-effective way to own investment-grade physical gold with all the benefits of the blockchain. Each Pax Gold (PAXG) token is backed by one fine troy ounce of gold, stored in LBMA vaults in London. If you own PAXG, you own the underlying physical gold, held in custody by Paxos Trust Company." Not only does the PAXG token track the price of gold and provide rights to claim the underlying asset, but there is near instant liquidity, in and out of positions. 

Instant liquidity to enter or exit positions has never been more critical in today's economic climate. 
With the availability of cryptocurrency PAXG, the question is whether gold should have a position in your digital asset portfolio.
Rising geopolitical tensions in Europe and the Middle East are causing a flight to "quality," according to Larry Fink, CEO of BlackRock, in a recent Fox Business News interview, which should boost assets such as Bitcoin and gold. 
During times of economic uncertainty, rising geo-political tensions and risk-off market sentiment, gold acts as a store of value and becomes one of the favoured asset classes.
It's important to understand who has been purchasing this asset at the highest level.  2022 was a record year for gold, central banks purchased more than 1136 Tonnes of gold. The total global gold demand is at its highest level since 2011. 
According to recent news publications, BRICS nations have been stockpiling gold over recent years. Those publications highlighted the possibility of the BRICS nations (Brazil, Russia, India, China and South Africa) building a gold-backed currency to rival the US dollar. 
Looking at the data, we can see that Russia was the greatest purchaser of gold in 2019, collecting more than 158 Tonnes.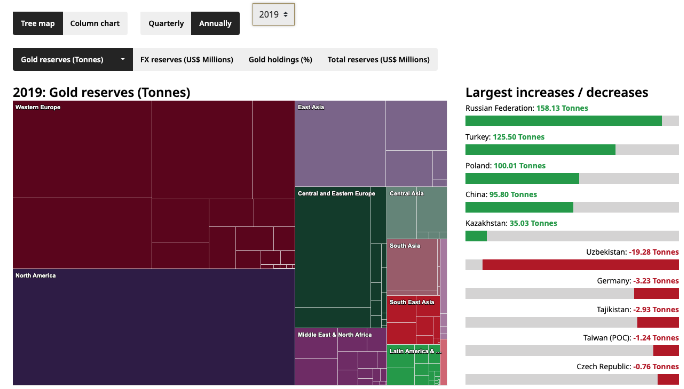 Since then, in 2020, India added more than 41 Tonnes to its gold reserves, while Russia gained almost 27 tonnes. Brazil and India were among the top five nations adding to their gold stockpiles in 2021. India increased its gold stockpiles by 77.45 Tonnes, while Brazil increased its holdings by 62.29 Tonnes. China hoarded an additional 62.21 Tonnes of gold in 2022. China has already added 57.85 Tonnes of Gold in Q1 2023, and 45.10 Tonnes in Q2 2023, exceeding 2022 numbers. Over the past 4 years, the BRICS nations have consistently been amongst the top 5 nations accumulating the precious metal. 
Not only are we faced with the possibility of escalating conflict in the Middle East and Europe, but the rise of the BRICS nations and their goal of de-throneing the US dollar puts gold in a beneficial position. 
GOLD Technical Analysis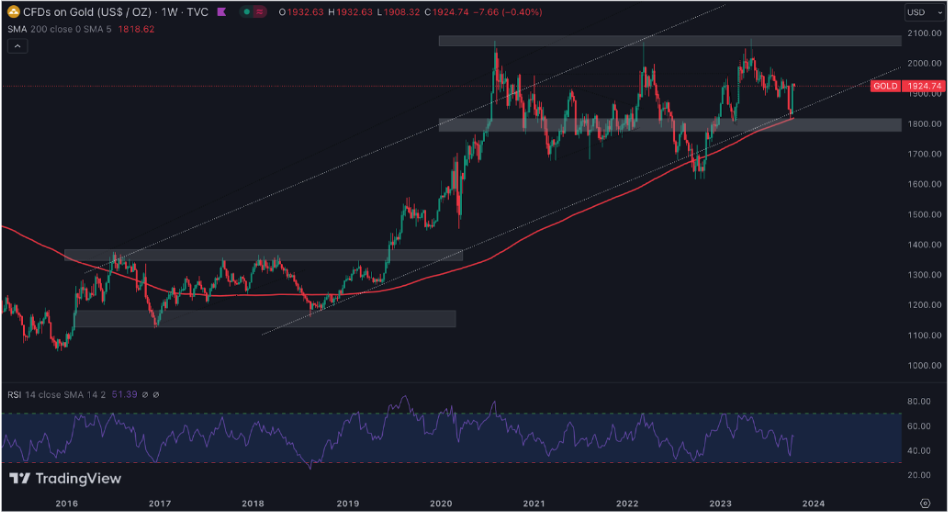 The weekly 200-day moving average is currently providing support for the precious metal. Gold has rallied over 5.5% since tagging the 200-day moving average on the 2nd of October. Major resistance can be found at 2050, and major support at the 1800 levels.