Investing 101
Sep 1, 2023
Crypto Weekly Wrap: 1st September 2023
Here are this week's key events!
📈 Bitcoin Halving & Cycle Analysis:
The next Bitcoin halving will take place in 224 days, where Bitcoin miners' payouts are cut in half. Historically, this has signalled the completion of the accumulation phase and the beginning of a new crypto bull market due to the supply shock. It is important to remember, however, that Bitcoin has bottomed on average 400 days before a Bitcoin halving event.
Bitcoin is still trading within the rising channel structure, according to the longer-term log chart. Despite the fact that the 30,000 level is a big resistance zone, Bitcoin's 4-year cycle is unfolding as planned, and the trend is intact. The accumulation phase continues.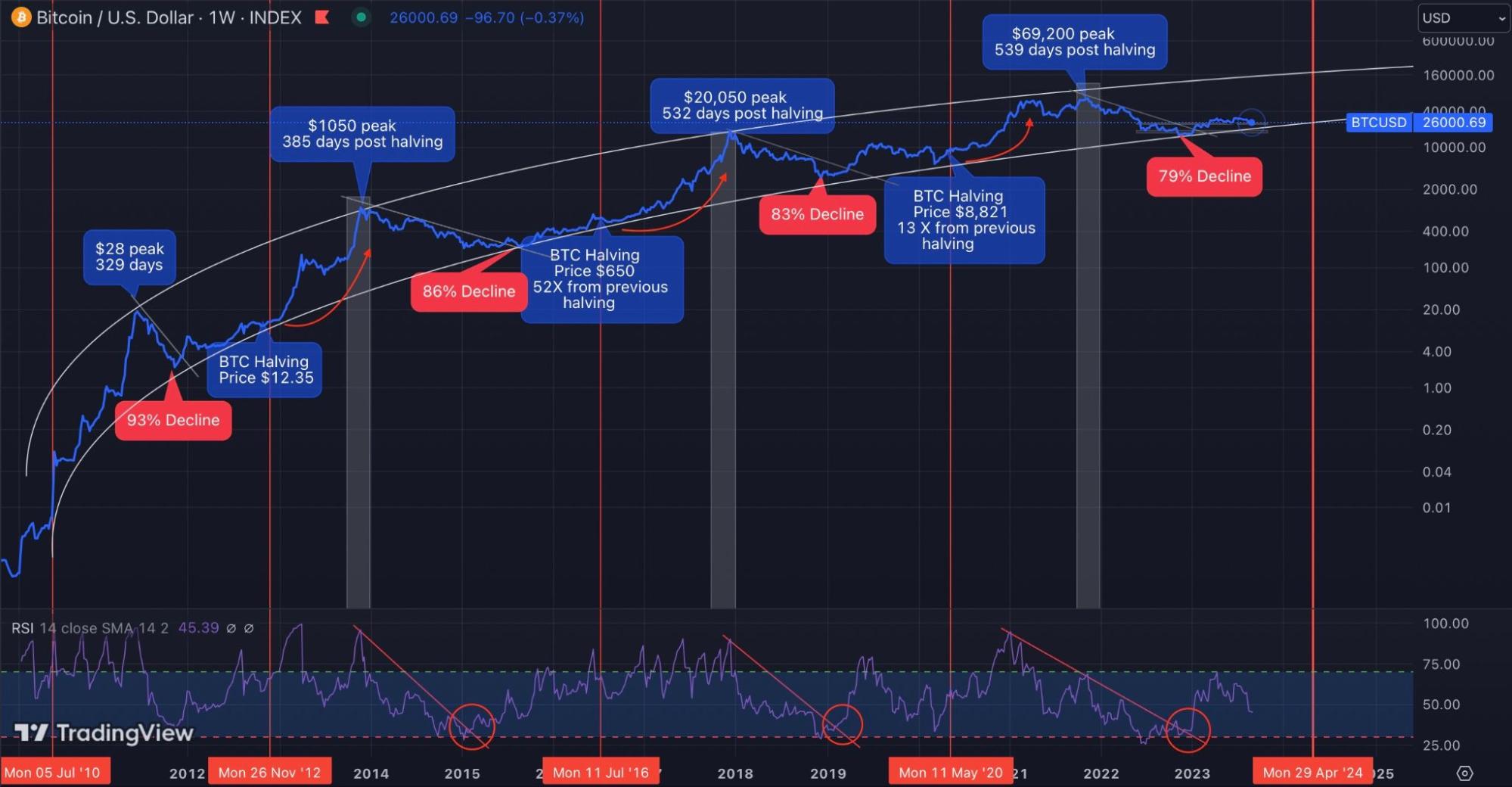 🏦 Institutional Inflows v Outflows:
Bitcoin finished the month of August down -12%. During the last week of August, institutional outflows of digital asset investment products were -$168 million, the highest level since March 2023. Last week, Bitcoin accounted for the majority of the institutional outflows, with $149 million departing the cryptocurrency. Bitcoin has received $265 million in institutional inflows so far this year.
It is worth noting that institutional outflows from short Bitcoin-related investments were -$4 million last week, and -$8.6 million for the month of August. Interestingly, Ethereum has seen a sustained withdrawal of institutional liquidity, with outflows of -$16.8M last week, -$29.8M in August, and -$99M YTD.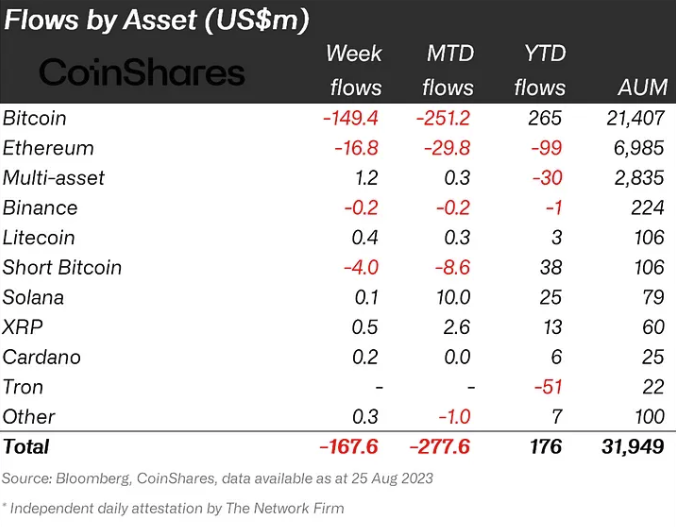 📊 ETH & BTC Deemed Commodities:
A New York court has classed two main cryptos, ETH and BTC, as commodities while simultaneously condemning the proposed class action lawsuit against Uniswap. In the complaint, filed in April 2022, Uniswap was accused of violating US securities laws by operating as an unregistered exchange and marketing securities without necessary registration. Despite SEC Chairman Gary Gensler's refusal to classify ETH as a security, Southern District of New York Judge Katherine Polk Failla categorises it as a commodity. While the judge's decision is not conclusive on the legal standing of Ethereum and Bitcoin in the United States legal system, it is another setback for the SEC.
💡 Bitcoin Spot ETFs:
The SEC has postponed its decision on whether or not to approve or reject seven Bitcoin ETF applications from BlackRock, Invesco, Wisdomtree, and others. The development came as little surprise given the SEC's recent significant loss to Grayscale. The federal securities regulator differed on filing from all seven applications, according to records posted on the SEC's website on Thursday, August 31. SEC Chair Gary Gensler has continually defended the rejection of ETF proposals as a precautionary approach to protect investors from potential fraud in an industry he believes is prone to such activity.
Want to learn more about cryptocurrency?
💻 Explore different ICONOMI Strategies: https://www.iconomi.com/strategies
📞 Book a crypto consultation: https://calendar.app.google/qsZDy73g9qnAkL9CA
Investing in Crypto - Guide
Learn about the cryptocurrency market, discover Crypto Strategies, and master the art of building your crypto portfolio.
Download