👉 Crypto Weekly Wrap - Here are some of this week's key headlines!
Bitcoin is down 2% from Monday's open
Ethereum is down 1.4% from Monday's open
Crypto Total Market Cap Excluding BTC is down 1.19% from Monday's open
Bitcoin Under Pressure
Since Bitcoin printed a new yearly high at roughly $31,800, downside pressure has moved into the cryptocurrency market. Bitcoin is down roughly 2% from Monday's open and 9% since the new yearly high on the 13th of July. At the same time, a rotation into the US Dollar Index can be observed. Taking a look at the institutional inflows v outflows, we can see minor outflows from digital asset investment products of $6.5M this week leading into the FED interest rate decision, after 4 consecutive weeks of institutional inflows in the region of $742M.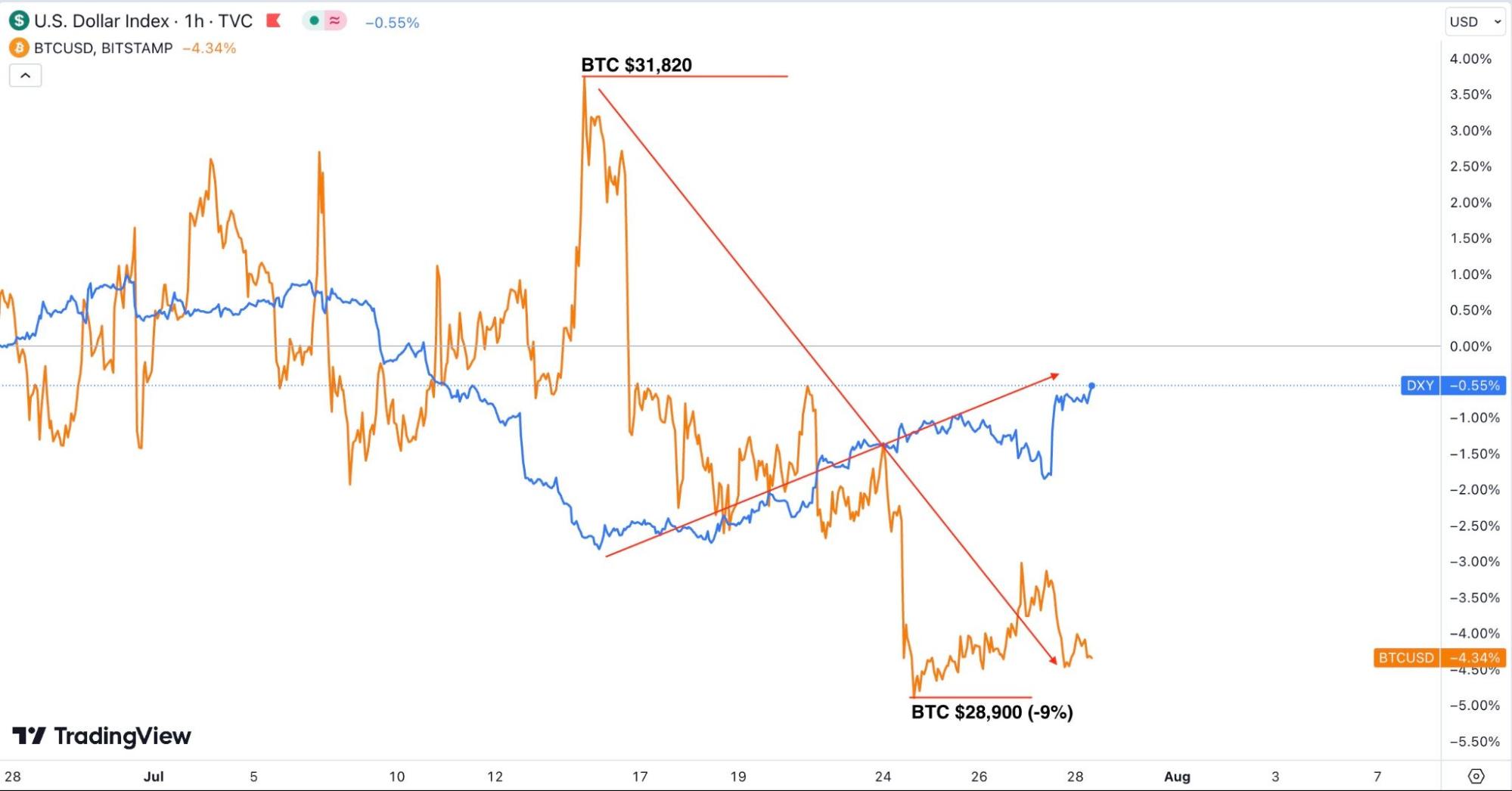 FED Interest Rates and US Dollar
Jerome Powell came out in line with expectations, increasing interest rates by 0.25% to a range of 5.25% to 5.5%, the highest level in 22 years. Despite the probability of a recession in the US rising to roughly 67%, levels not seen since the 1980s, the likelihood of the FED signalling the end of the rate hiking cycle remained low. US GDP and employment data remain strong, and core inflation is still slightly above the FED's 2% target.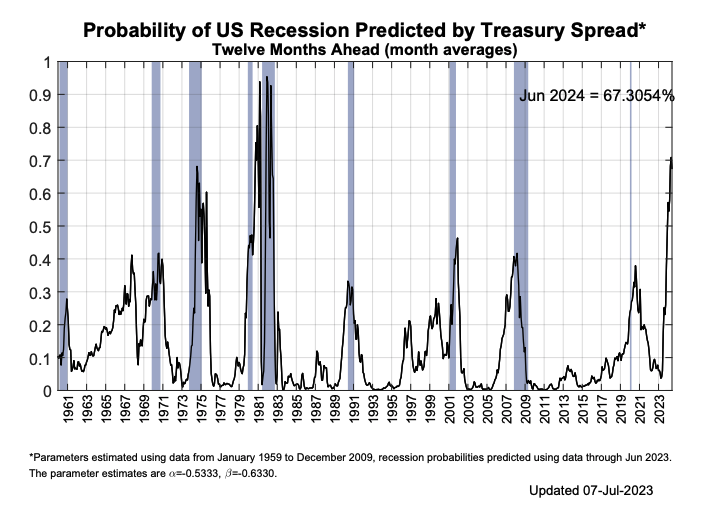 J Powell stated the FED has the door open for further rate hikes, "Stronger growth could lead over time to higher inflation and that would require an appropriate response for monetary policy," Powell said. He also noted that core inflation remains "pretty elevated." However, today, the CME FED watch tool is pricing in a 77% chance of NO HIKE by September, a 67% chance of NO HIKE by November, and a 65% chance of NO HIKE by December. Was this the last rate hike of the year?
Worldcoin Launch
After three years of development, Worldcoin, the eagerly anticipated eyeball-scanning cryptocurrency project of artificial intelligence entrepreneur Sam Altman, officially launched this week. Worldcoin rewards users with virtual currency in exchange for an eyeball scan. The endeavour, according to Mr Altman, the CEO of Open AI, which created the chatbot ChatGPT, aims to identify if a person is human or a robot. Around the world, Orb devices are being installed to scan people's irises and issue them a blockchain-based digital identity card in exchange. Sam Altman claimed that Worldcoin verifies 1 person every 8 seconds, but the lack of evidence has raised scepticism.
Landmark Regulation For The US Crypto Industry
A bipartisan bill intended to create a regulatory framework for Bitcoin and cryptocurrencies was advanced on Wednesday by the US House Financial Services Committee, marking a significant success for the cryptocurrency industry. The House Financial Services Committee has endorsed a bill that clarifies whether a cryptocurrency should be categorised as a security or a commodity and increases the CFTC's control over the cryptocurrency market. In addition, it seeks to clarify the Securities and Exchange Commission's (SEC) authority, addressing worries about the organization's alleged overreach.
Top 5 Performing Cryptocurrency Strategies This Week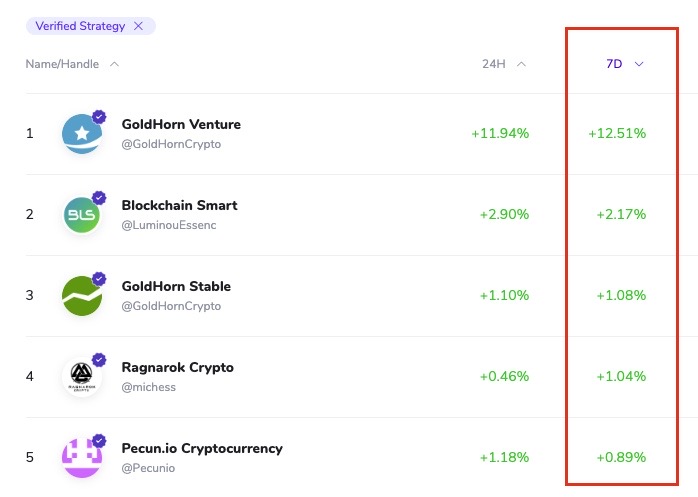 Despite the overall cryptocurrency market cap declining this week, with Bitcoin falling roughly 9% over the past 2 weeks, our top 5 performing strategists have all generated a positive return for their investors. The stand-out performer is GoldHorn Venture, gaining an eye-watering 12.51% ROI over the past 7 days. Any positive return in a falling market can only be applauded. The top 5 performers this week have highlighted the importance of having a managed portfolio. 
Want to learn more about cryptocurrency?
💻 Explore different ICONOMI Strategies:
https://www.iconomi.com/strategies#filters
📞 Book a consultation:
https://calendar.app.google/ZHbXTzTSBNmGSJLf8
Investing in Crypto - Guide
Learn about the cryptocurrency market, discover Crypto Strategies, and master the art of building your crypto portfolio.
Download