Crypto Weekly Wrap: 6th October 2023
Ethereum Futures ETFs Debut with Caution
The cryptocurrency community witnessed the launch of the first Ethereum futures ETFs, marking a significant step in bringing more institutional investment to the world's second-largest cryptocurrency by market cap. However, these ETFs did not have a dazzling debut, with some of them experiencing a decline in value and limited trading volume on their first day of trading. The VanEck Ethereum Strategy ETF (EFUT), for instance, was down 6.6%, while the Bitwise Ethereum Strategy ETF (AETH) and ProShares Ether Strategy ETF (EETH) were trading 4% and 3.7% lower, respectively. It's important to note that these ETFs offer a way for investors to gain exposure to Ethereum without directly owning the cryptocurrency itself, potentially making it more accessible for traditional investors. Additionally, some ETFs are not limiting themselves to Ethereum alone; Bitwise and ProShares, for example, are offering products that include both Ethereum and Bitcoin exposure, catering to diverse investor preferences.

Sam Bankman-Fried's Trial and the FTX Collapse
Sam Bankman-Fried is currently facing trial with the U.S. Department of Justice (DOJ), alleging that his crypto empire was built on a shaky foundation. Bankman-Fried's defence argues that he acted in good faith, attributing the rapid rise and subsequent collapse of his businesses partly to his former employee, Caroline Ellison. The trial will shed light on the complex dynamics of the crypto industry, including regulatory challenges and the responsibility of exchange operators in ensuring the security of customer funds. This case underscores the need for clear regulatory frameworks in the cryptocurrency space.
Crypto Market Overview
Despite the cautious start for Ethereum futures ETFs and the ongoing legal battles, the broader cryptocurrency market has shown resilience. Bitcoin has managed to stabilise above the $27,500 level after experiencing some fluctuations earlier in the week. While Bitcoin lost around 0.6% in the past 24 hours, Ethereum's price dipped by 1.23%. Cardano (ADA) experienced a 1.6% increase, while Tether (USDT) and Binance Coin (BNB) traded relatively flat.
XRP, on the other hand, witnessed a 3.10% surge in the last week following two significant developments for Ripple, its parent company. Ripple's Asian arm received a licence to offer payment services in Singapore, while in the U.S., the Securities and Exchange Commission (SEC) lost an appeal in the ongoing Ripple case. This legal victory for Ripple boosted XRP's price, highlighting the impact of regulatory clarity on market confidence.
Additionally, Avalanche's AVAX token saw notable gains as demand increased due to promotions on social app X (formerly Twitter). The platform called "Stars Arena" garnered significant transaction activity, leading to a nearly 40% increase in AVAX transactions since the start of the week. These developments emphasise the importance of both regulatory clarity and user adoption in the crypto market.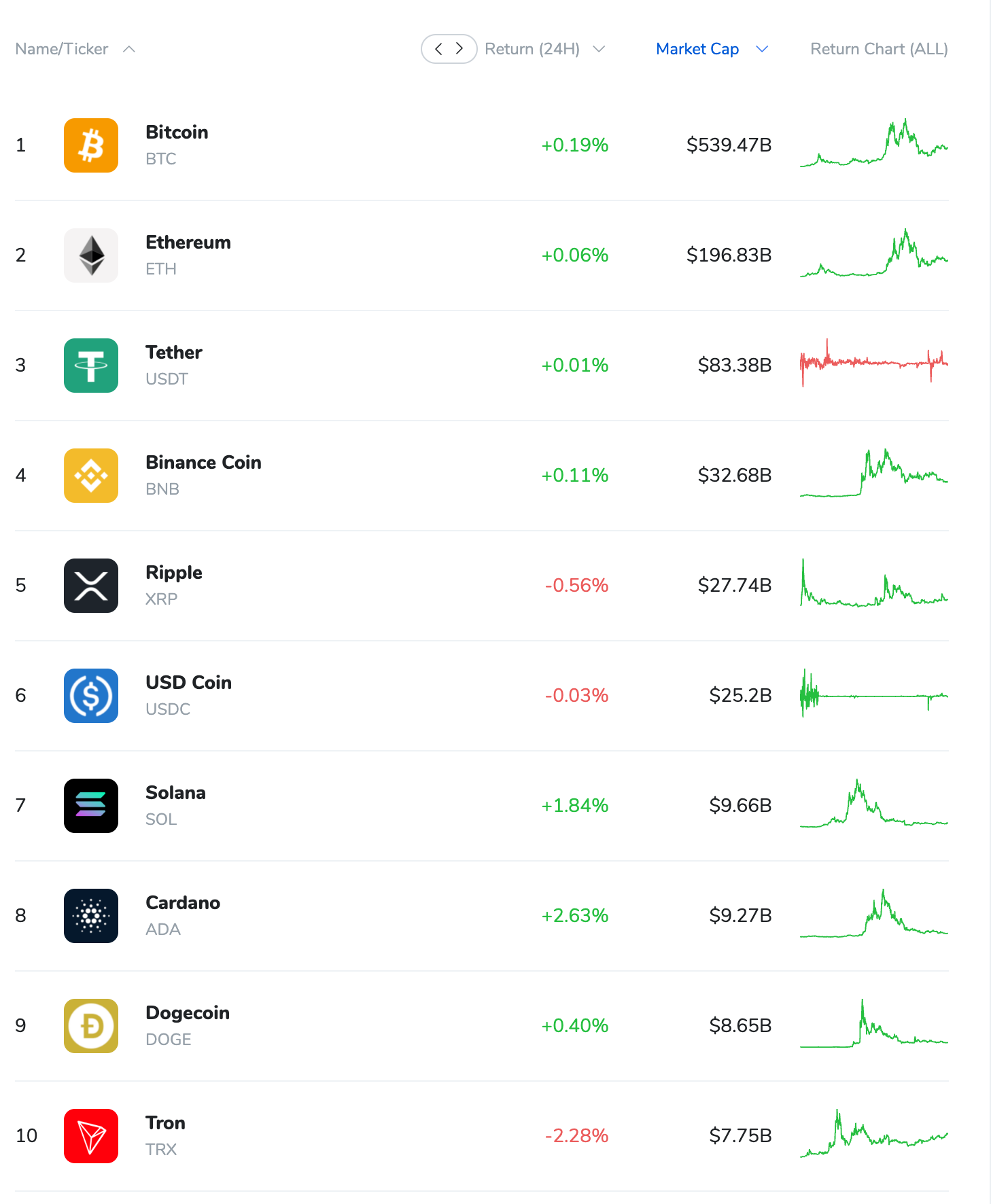 A Glimpse of Optimism at the start of October
Despite some challenges, the cryptocurrency market has recently shown signs of optimism, with the term "Uptober" gaining traction in anticipation of a potential October bull run. CoinMarketCap data reveals an increase in the global crypto market capitalization over the last week, reaching a six-week high of $1.09 trillion. This comes after the market's total cap had dropped to a six-month low of $1 trillion on September 12.
Bitcoin, in particular, has historically performed well in October, with an average profit margin of 28%. This, coupled with Bitcoin's resilience, suggests the potential for a significant price surge in the upcoming month.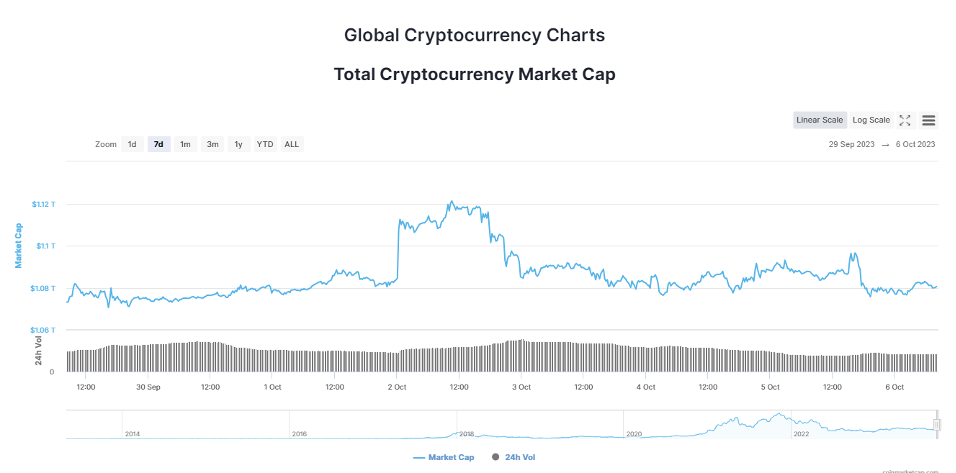 Bitcoin Technical Analysis 
Turning our attention to Bitcoin's technical analysis, we find that it currently faces a pivotal point. The pivot point stands at $27,500, with resistance levels at $27,045 and $28,382, and support levels at $27,176 and $26,903. The Relative Strength Index (RSI) hovers around 46.03, indicating a neutral stance.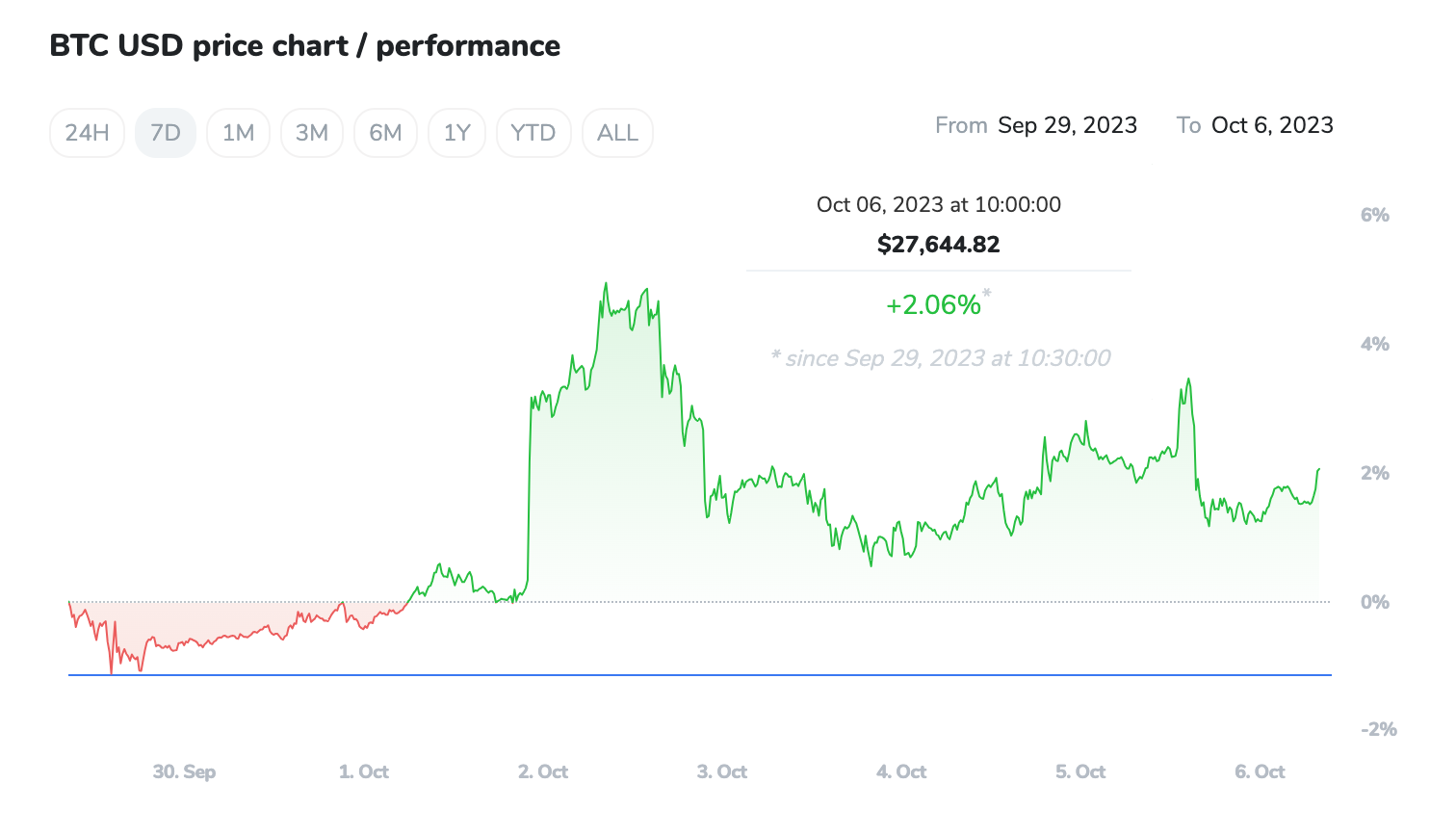 The 50-Day Exponential Moving Average (50 EMA) at $27,041 suggests a mild bullish trend. However, a drop below this level could trigger selling pressure. In essence, Bitcoin appears bullish as long as it remains above $27,500. A break below this support could signal a shift towards bearish tendencies.
Looking ahead, the cryptocurrency market remains susceptible to regulatory developments and macroeconomic factors. Positive internal factors, such as broader adoption and growing institutional interest, could propel prices higher. Moreover, the potential approval of spot Bitcoin ETFs in the U.S. and the upcoming four-year halving event in early 2024 could further bolster Bitcoin's position. If Bitcoin maintains its current momentum, we could see it testing the $28,788 resistance level and potentially aiming for $29,576. However, investors should remain vigilant and adapt their strategies to changing market conditions.
Investing in Crypto - Guide
Learn about the cryptocurrency market, discover Crypto Strategies, and master the art of building your crypto portfolio.
Download