Crypto Weekly Wrap: 26 May 2023
Here are some of this week's crypto headlines!
XRP is gaining momentum
Institutional inflows/outflows
Bitcoin options expiry
Florida Gov DeSantis is pro Bitcoin
XRP Gaining Momentum:
XRP is on the cusp of another bullish breakout from a bull flag formation. The CEO of Ripple believes that the payment industry giant will win the SEC lawsuit in a landmark manner. In an interview, Brad Garlinghouse expressed his confidence that the SEC vs. Ripple action will result in a favorable decision soon. XRP was gaining momentum last week as a result of the Central Bank Digitial Currency play, but this development could also give the cryptocurrency an optimistic outlook. The technicals are also favoring a move to the upside, with the bullish invalidation level set at 0.41.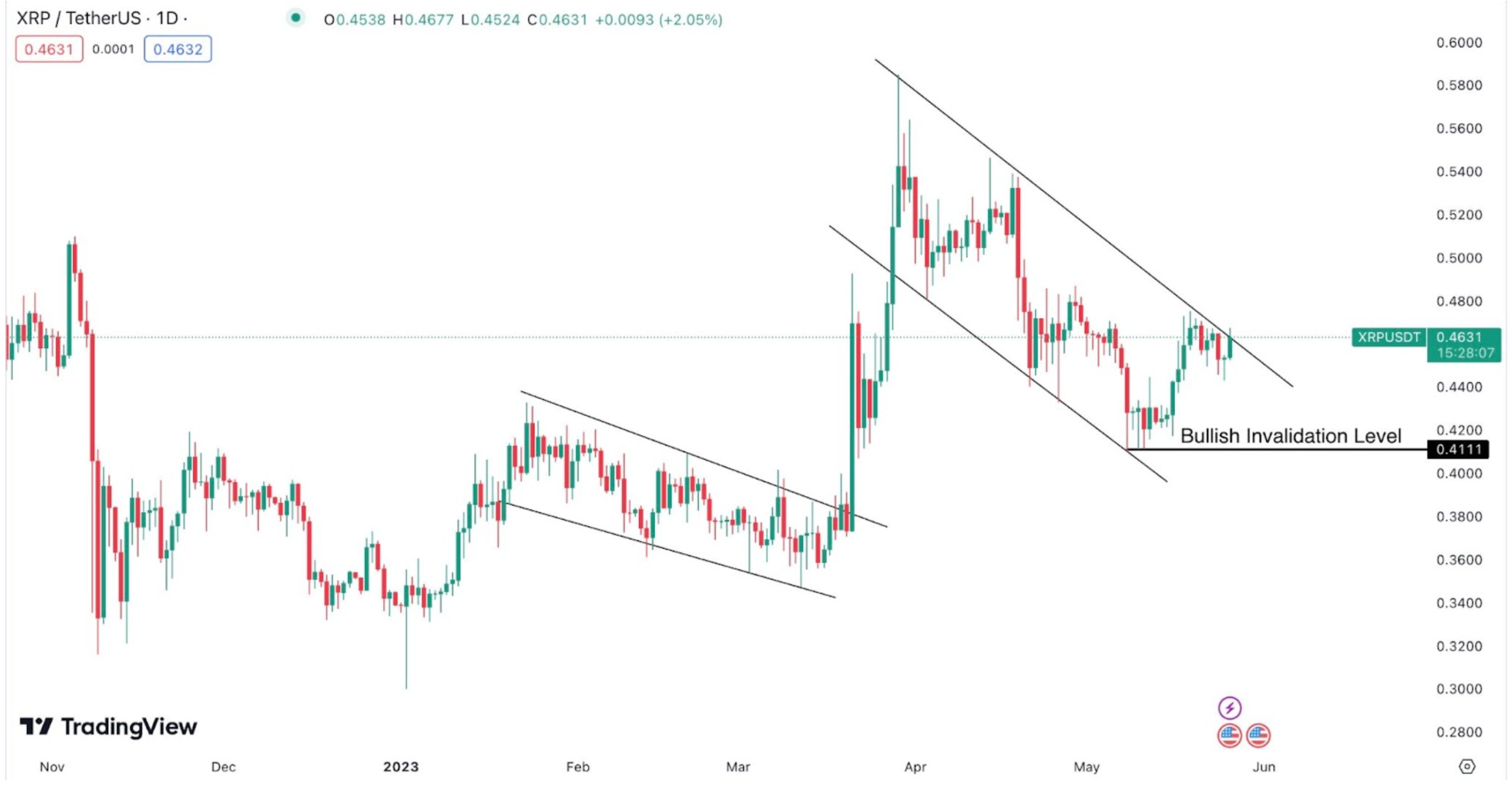 Institutional Inflows/Outflows
Digital asset investment products saw outflows totaling US$32m, representing the 5th consecutive week of outflows totaling US$232m. The outflows in Bitcoin of US$33m represented most of the negative sentiment, as it has done over the last 5 weeks. However, we must also note, Short-bitcoin also saw minor outflows of US$1.3m for the week.
Altcoins, except for Ethereum (US$1m outflow), saw inflows, the most notable of which were Avalanche and Litecoin. Like Bitcoin, Litecoin has a halving where the block rewards for miners are cut in half. This halving event is now on the horizon and is expected to take place in July or August of this year. Investors are rotating into Litecoin leading into the historically bullish event. 
Bitcoin Options Expiry: 
Despite institutional outflows from BTC continuing for a fifth week in a row, the options market presents a slightly different image. Approximately 86,000 Bitcoin options contracts worth $2.6 billion are set to expire today. For this group of Bitcoin options, the put/call ratio (PCR) is 0.38. The number of traded put (short) contracts divided by the number of traded call (long) contracts yields this ratio.
Values under 1 are typically regarded as bullish since more speculators are buying call options than put options. Speculators are betting on the Bitcoin market turning bullish at these levels. 
With the options market painting a bullish picture paired with the SHORT-Bitcoin outflows, we could be witnessing a potential turning point in the market. 
Cryptocurrency firms are fighting back against US regulators/lawmakers
According to the lawsuit supported by Coinbase, the US Treasury broke the law when it imposed sanctions on Tornado Cash. With support from Coinbase, a group of six cryptocurrency investors have filed a lawsuit against the US Department of Treasury for placing restrictions on Tornado Cash. The Treasury is accused of breaking the law and the Constitution by prohibiting American citizens and organisations from interacting with the Tornado Cash smart contracts. 
Florida Gov. Ron DeSantis is PRO Bitcoin: 
During his live stream on Twitter, DeSantis who is running for the presidential campaign said "As president, we'll protect the ability to do things like bitcoin." "I just do not have the itch to have to control everything that people may be doing in this space, and I think the current regime, clearly, they have it out for Bitcoin, and if it continues for another four years, they'll probably end up killing it." This bold statement was a continuation of the governor's generally pro-bitcoin policies. DeSantis previously said that Florida should allow businesses to pay taxes directly in cryptocurrency. 
📞 Book a crypto consultation: https://lnkd.in/gzJXuXMJ
💻 Learn more about ICONOMI cryptocurrency business solutions: https://lnkd.in/ggfXuEVM
Investing in Crypto - Guide
Learn about the cryptocurrency market, discover Crypto Strategies, and master the art of building your crypto portfolio.
Download