Crypto Weekly Wrap: 20th October 2023
The market has been a hotbed of activity in recent times, with a series of significant developments and events making headlines. From regulatory challenges and legal battles to market optimism and technological advancements, the crypto industry is in a constant state of flux. We will delve into some of the latest news and developments in the crypto space, shedding light on their implications and what they mean for the future of digital assets.
Regulatory News
The regulatory system remains a topic of intense discussion and debate. Recent news reveals that the New York Attorney General, Letitia James, has filed a lawsuit against several cryptocurrency companies, including the Gemini Trust Company, Genesis Global Capital, and Digital Currency Group (DCG). The lawsuit alleges fraud involving more than $1 billion and highlights the need for stronger regulatory oversight within the industry.
Coinbase has chosen Ireland as its regulatory hub within the European Union (EU) in response to new EU laws known as the Markets in Crypto Assets regulation (MiCA). This move underscores the growing importance of regulatory compliance and the need for clear guidelines as crypto companies seek mainstream acceptance.
The Fight Against Fake News
The cryptocurrency industry has been plagued by fake news and misinformation, which can have profound effects on market prices and investor sentiment. Recent incidents involving false claims about BlackRock's approval of a Bitcoin ETF and rumours of Roblox supporting XRP payments have highlighted the need for vigilance and fact-checking within the crypto community.
The U.S. Securities and Exchange Commission (SEC) has issued warnings regarding the reliability of online information, emphasising the importance of discerning credible sources from false reports. These incidents remind us that while the crypto market can be highly reactive to news, it is essential to verify information before making investment decisions.
The misinformation about the ETF approval led to $154 million worth of Bitcoin positions being liquidated on Monday. It underscores the market's sensitivity to news, especially in the regulatory sphere. It serves as a stark reminder for traders to verify the authenticity of information before acting upon it.

[Screenshot from CoinGlass taken on Tuesday, 17th October at 9 BST]
Fidelity's Push for a Bitcoin ETF
Fidelity Investments, one of the world's largest asset management firms, has submitted an amendment application for its proposed spot Bitcoin exchange-traded fund (ETF) to the U.S. Securities and Exchange Commission (SEC). This move comes in the wake of similar actions by Ark Invest and Invesco, indicating ongoing discussions between prospective ETF providers and the SEC.
The development of spot Bitcoin ETFs represents a significant milestone in the cryptocurrency market, potentially opening the door for more institutional investment. Analysts anticipate that a Bitcoin ETF could add a substantial $1 trillion to the current market capitalization of cryptocurrencies, further solidifying the digital asset's position in the financial world.
The FTX Scandal and Industry Ethics
The ongoing FTX trial has brought to light internal issues at the cryptocurrency exchange, including allegations of market manipulation and unethical trading activities. The case not only scrutinises the actions of FTX but also underscores the ethical dimensions of conducting business in the crypto market.
Sam Bankman-Fried, the founder of FTX, has faced questions about his calculated public persona and utilitarian philosophy, raising concerns about ethical conduct within the industry. The trial has revealed complex interplay between personal and professional relationships, further emphasising the need for transparency and integrity in the cryptocurrency sector.
Bitcoin
Bitcoin (BTC) has demonstrated its resilience, with a recent 8.8% price surge, to $29.171. This increase might come amid calls from US lawmakers to take action against Hamas' use of cryptocurrencies following an incident in Israel.
Furthermore, Bitcoin's system is evolving with the introduction of stablecoins through Lightning Labs' Taproot Assets alpha. This development simplifies the issuance of stablecoins and real-world assets on both the Bitcoin and Lightning Network, expanding Bitcoin's functionality and potentially influencing its price.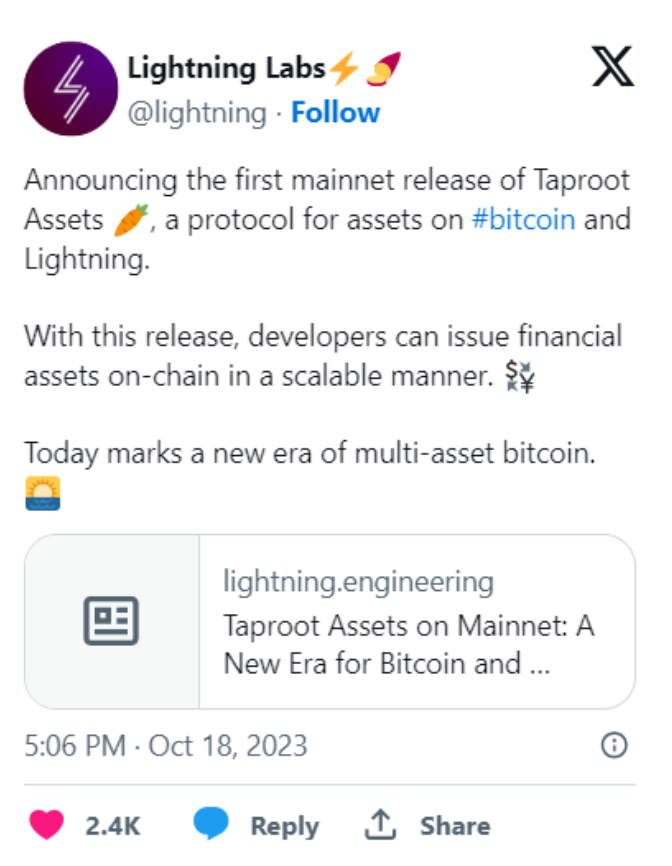 Tesla, while delving deeper into artificial intelligence (AI) research, maintains a significant Bitcoin portfolio. Despite market fluctuations, Tesla's Bitcoin holdings have remained consistent, with the company holding $184 million in digital assets as of September 30. This unwavering commitment to Bitcoin enhances investor sentiment and signals Tesla's belief in the cryptocurrency's potential.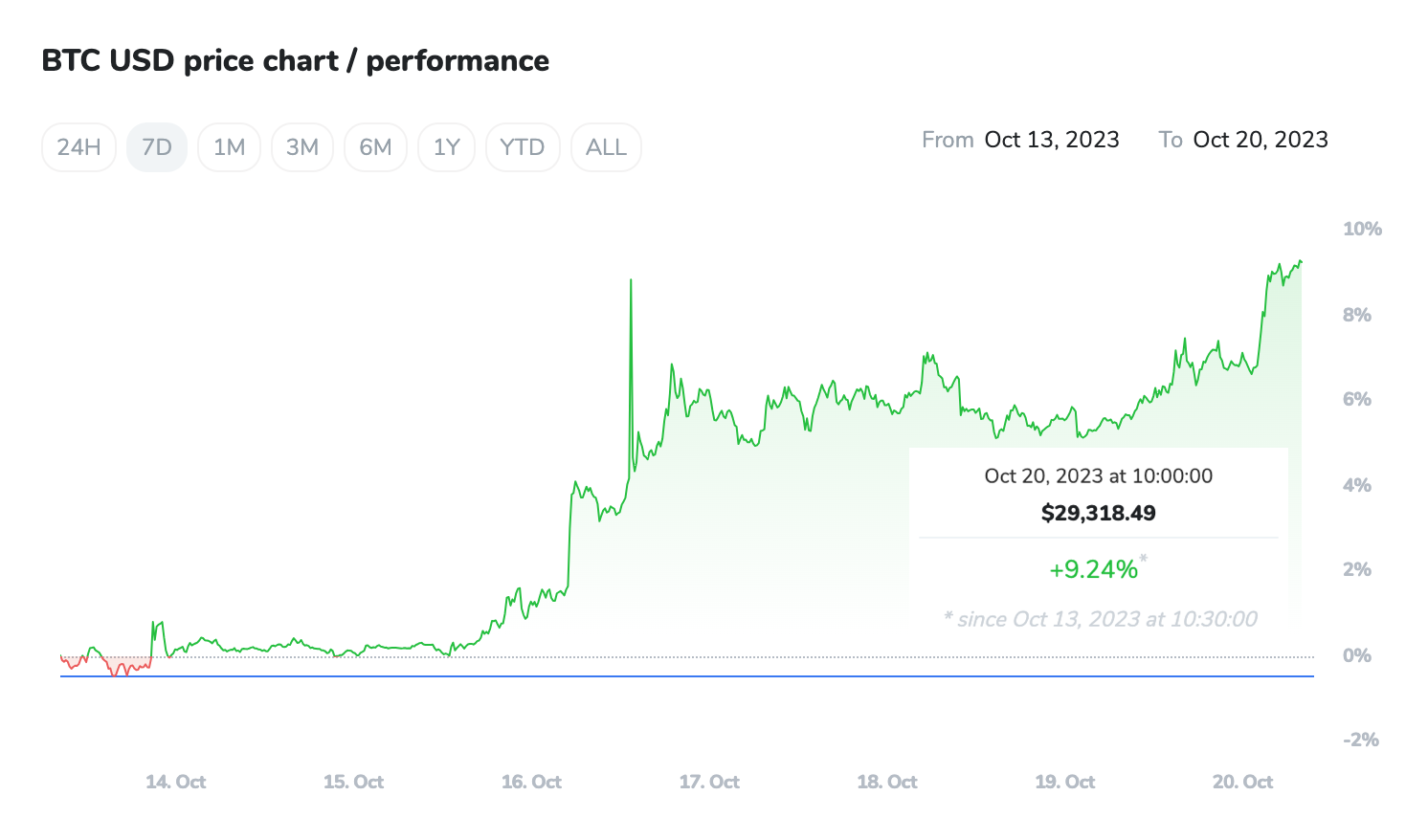 In terms of price analysis, Bitcoin faces resistance levels at $29,237, $29,921, and $30,500, with support at $27,691, $27,239, and $26,576. The 50-day Exponential Moving Average (EMA) at $27,250 suggests a short-term upward trend. Bitcoin surpassed the $28,500 barrier, and further accelerated its upward trajectory.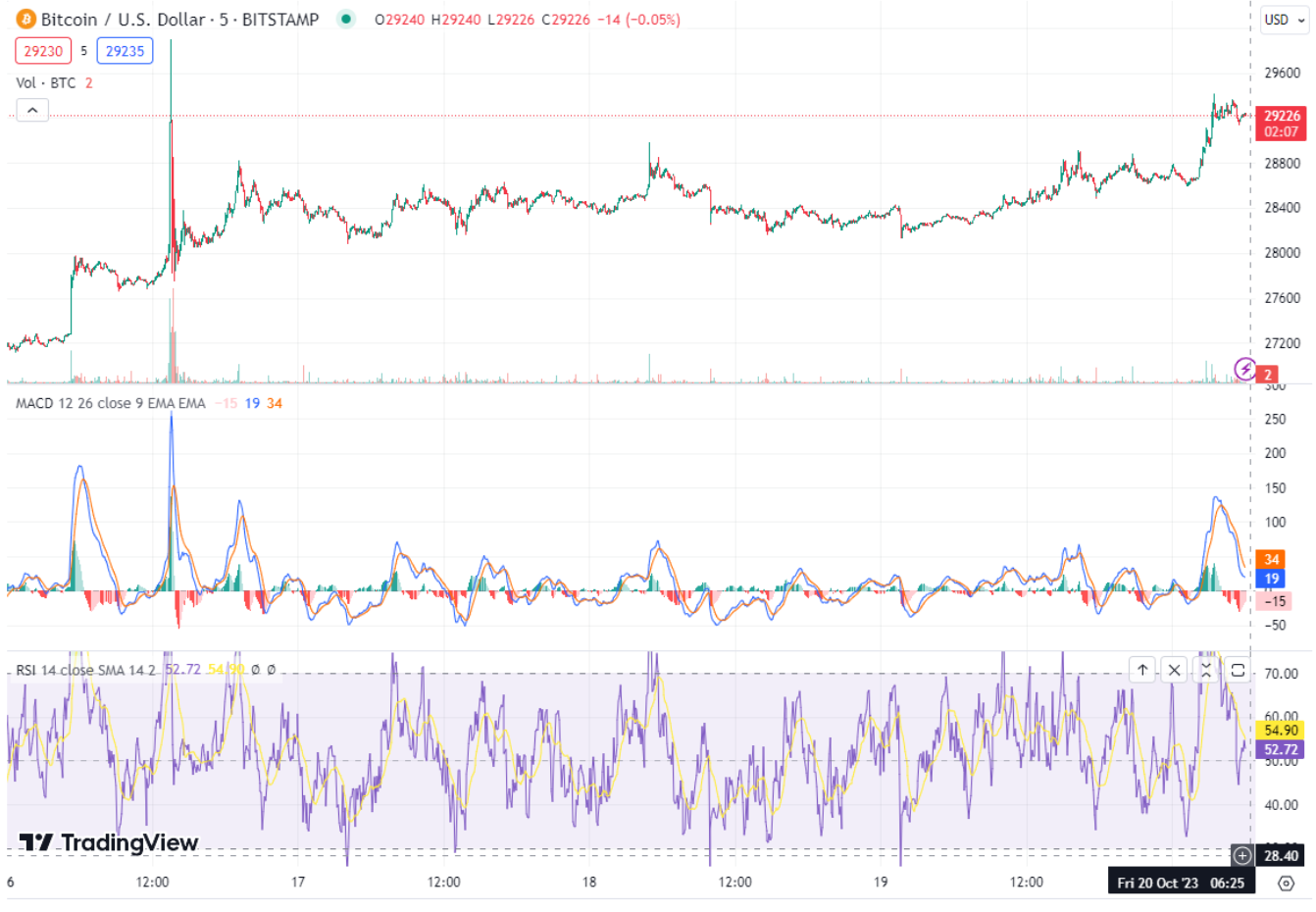 Investing in Crypto - Guide
Learn about the cryptocurrency market, discover Crypto Strategies, and master the art of building your crypto portfolio.
Download