Crypto Weekly Wrap: 13th October 2023
Ethereum's Surging Supply Concerns:
Ethereum has seen a significant increase in its circulating supply, with over $47 million worth of Ether tokens added within the last month. This development has stirred concerns, especially among those who anticipated Ethereum's shift to proof-of-stake to render it a deflationary asset. The decrease in transaction fees and diminished decentralised finance (DeFi) activity are believed to be the primary reasons behind this surge, with fewer tokens being burned due to the network's fee-burning mechanism.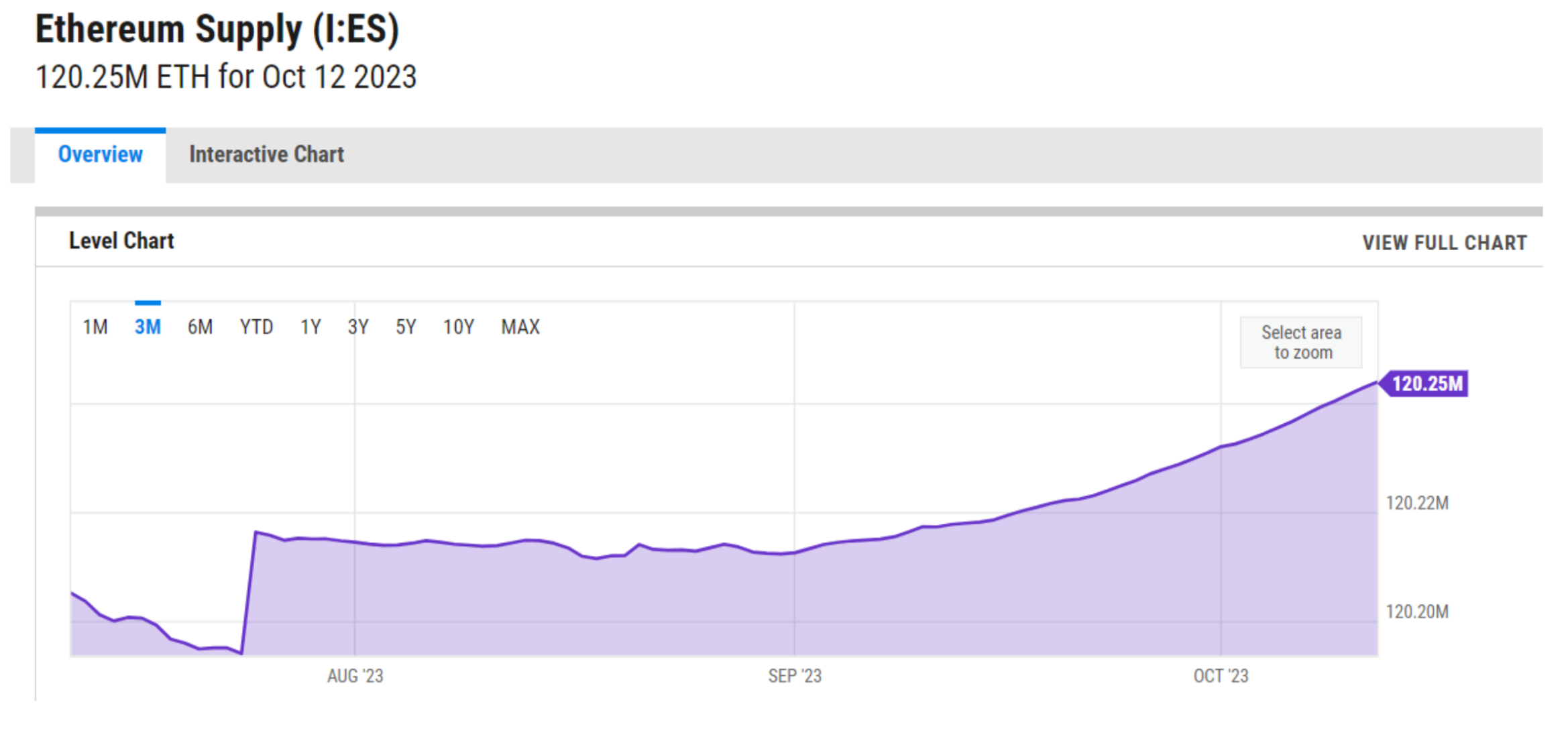 UK Regulatory Clampdown:
The UK's Financial Conduct Authority (FCA) has curtailed the activities of peer-to-peer platform, rebuildingsociety.com, prohibiting it from green-lighting financial promotions for Binance and other cryptocurrency entities. This move comes shortly after Binance, a globally renowned cryptocurrency exchange but unregulated in the UK, disclosed its collaboration with rebuildingsociety.com for the approval of its promotional content. Notably, Binance emphasised its consistent efforts to align with FCA regulations, highlighting a proactive approach by sharing its agreement with rebuildingsociety.com a week prior to the enforcement of the updated Financial Promotions Regime. Meanwhile, rebuildingsociety.com, believing it has surpassed the stipulated standards, had sought a waiver to secure more time for compliance with the FCA's new guidelines—a request that was declined. As regulations tighten, starting next month, companies desiring to promote non-regulated firms' marketing will need FCA clearance, showcasing their proficiency in comprehending the products on offer.
JP Morgan's Blockchain Foray:
In a bold move indicating traditional finance's ever-increasing entwinement with blockchain technology, JPMorgan Chase successfully conducted its first-ever blockchain-based collateral settlement. The transaction, facilitated by their Tokenized Collateral Network (TCN), involved clients BlackRock and Barclays. TCN's innovation promises near-instant collateral settlements, marking a significant departure from conventional systems that take up to a day. JPMorgan's developments hint at blockchain's transformative potential and signal a future where private banking blockchains might challenge established platforms like Ethereum.
The Rise of New Platforms and Protocols:
While Ethereum and Bitcoin continue to command the lion's share of attention, newer platforms and protocols are rapidly gaining ground. Ethereum's high gas fees and scalability issues have led many developers and users to explore alternatives. Chains like Solana, Polkadot, and Avalanche are gaining traction, bolstered by their promise of improved scalability, reduced fees, and interoperability.
Outlook - Challenges and Opportunities:
While the current developments bring optimism, the industry faces challenges. Regulatory scrutiny worldwide is intensifying, with governments attempting to strike a balance between innovation and investor protection. Moreover, while DeFi offers a revolutionary approach to traditional finance, it remains rife with scams, rug pulls, and smart contract vulnerabilities.
However, these challenges coincide with significant opportunities. With the growing integration of blockchain into traditional sectors, from banking with JPMorgan's endeavours to entertainment via NFTs, the line between mainstream finance and the decentralised world is blurring. Furthermore, continued advancements in blockchain technology, consensus mechanisms, and layer-2 solutions promise a future where transactions are instant, fees are minimal, and interoperability is the norm.
Bitcoin Technical Outlook & Market Developments
Bitcoin's trajectory  this week indicated a turbulent market response following the FOMC's assertive remarks, as recorded a near 3% dip. Current trade positions Bitcoin at around $26,900, reflecting a fairly quiet 24 hours with an increase of 0.07%. The crypto's market cap stands robust at approximately $523.7 billion with a dominant trading volume of $12.71 billion.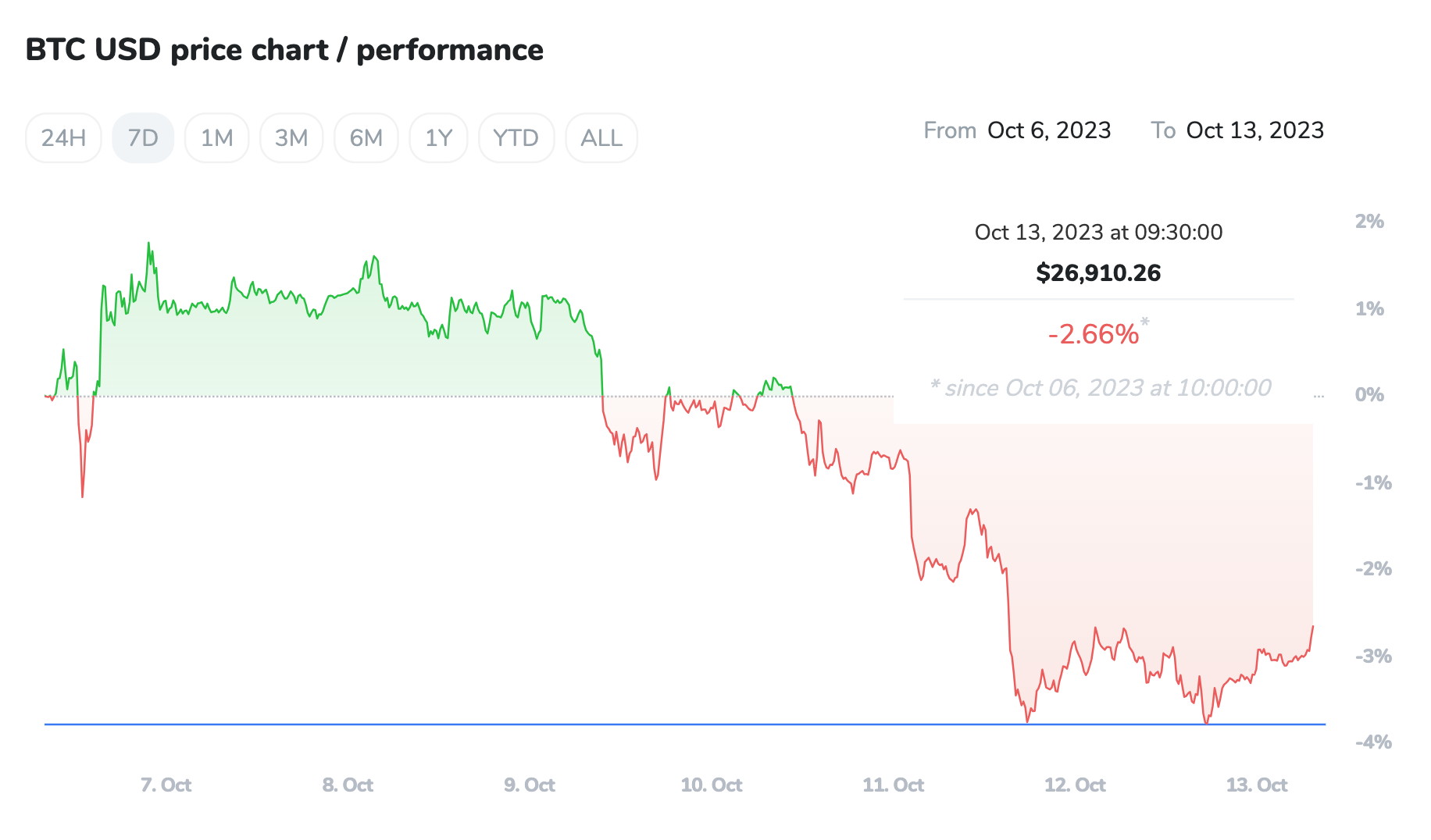 From a technical perspective, Bitcoin faces a critical juncture. The chart showcases a notable support level at $26,486. While immediate resistance looms at $28,020, a break above could pave the way to $30,565. On the downside, a slip could see the coin find support at $25,474, with potential dips targeting $22,929.
The current Relative Strength Index (RSI) is at 50, indicating a balanced momentum, with the 50-day Exponential Moving Average (EMA) positioned at $27,085 – hinting at a short-term bearish trend. Bitcoin's recent descent below the $27,350 mark, along with its relation to the 50 EMA, suggests potential declines. Investors and traders should remain vigilant, with market dynamics pointing towards a need for cautious navigation in the near future.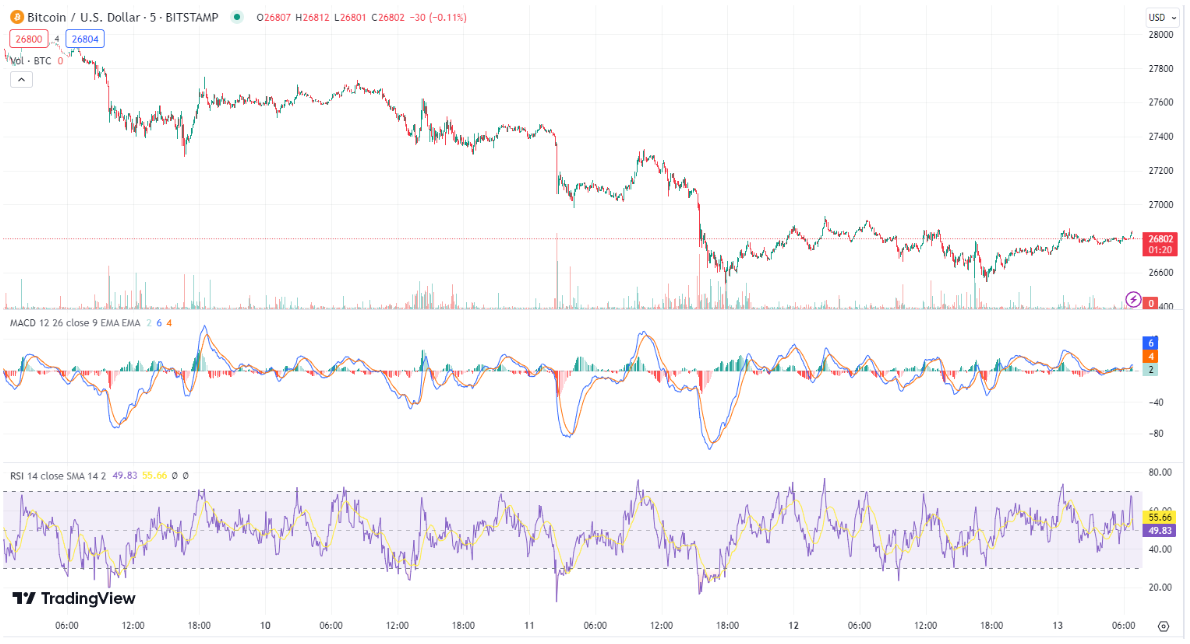 Conclusion:
The cryptocurrency domain remains as dynamic as ever. As traditional giants like JPMorgan delve deeper into the world of blockchain and countries grapple with regulatory frameworks, the industry stands at a pivotal juncture. Whether you're an investor, developer, or casual observer, the crypto market promises innovation, challenges, and excitement in equal measure. As always, staying informed and understanding the implications of these developments will be crucial for anyone involved or interested in this space.
Investing in Crypto - Guide
Learn about the cryptocurrency market, discover Crypto Strategies, and master the art of building your crypto portfolio.
Download