Investing 101
May 12, 2023
💡 Crypto Weekly Wrap: 12th May 2023
📉 US Debt Ceiling Weighing On Risk Sentiment
The US dollar has found support despite inflation hitting a 2-year low, the rise in the dollar has put downside pressure on all risk assets, including cryptocurrencies. Although this is a low-probability outcome, fears of the US defaulting on its debt obligations due to the debt ceiling have increased. US Treasury Secretary Janet Yellen urged Congress on Thursday to raise its debt ceiling, warning that a US default would produce an "economic and financial catastrophe". Failure to raise the debt ceiling remains a bearish outcome for all risk assets. Although, it is widely expected that this issue will be resolved. The US Government has raised its debt ceiling 80 times since 1960. 
🏢 US Government Selling BTC
There are ongoing rumors that the United States government has parted with 9800 Bitcoin (BTC) in a sale that reportedly raked in $277 million. The supposedly sudden release of that quantity of BTC in the crypto space caused the value of the coin to begin its depreciation. BTC is down roughly 8% since Monday's open - however, profit-taking was expected after tagging the major USD 30k resistance level.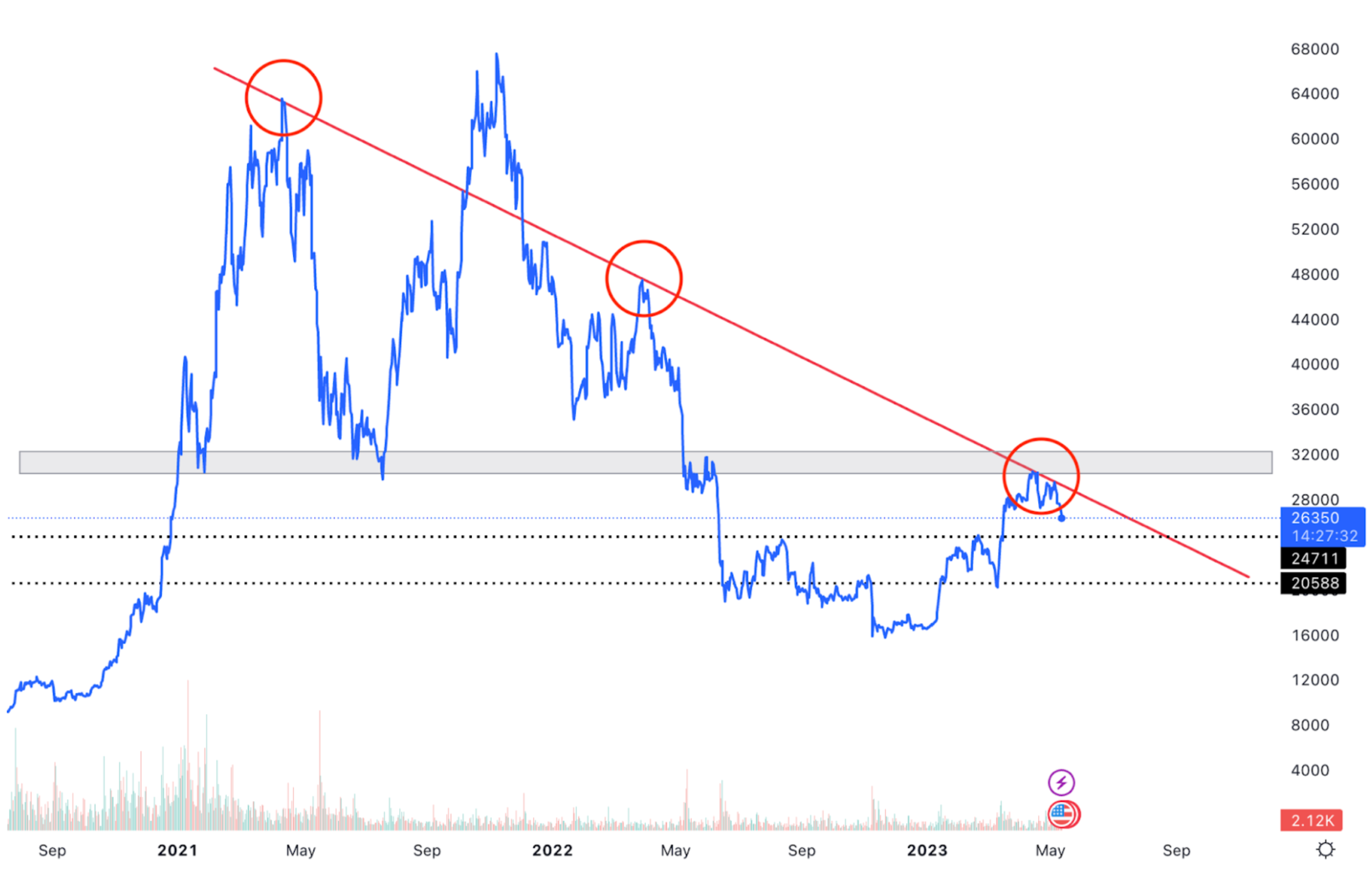 📈 USDT (TETHER) Profits Surge:
The largest stablecoin issuer, Tether, ended the first quarter of 2023 with a net profit of $1.48 billion, more than double its net profit of the previous quarter of $700 million. The corporation acknowledged that there was a 20% increase in token circulation. The stablecoin issuer also reports holdings of $1.5 billion in Bitcoin and $3.4 billion in gold, or 2 percent and 4 percent, respectively, of its entire reserve. This is the first time Tether has made it's gold and bitcoin holdings public.
🎯 Binance takes aim at US regulators:
The largest cryptocurrency exchange in the world, Binance, has stated that doing business in the US has become "very difficult" due to a crackdown on cryptocurrencies. US regulators have targeted Binance this year as they crack down on what they consider illegal activities. The Commodity Futures Trading Commission filed a lawsuit against the organisation in March, stating that it had been operating illegally in the nation and had violated the law by heavily pursuing US consumers. The CFTC complaint was "unexpected and disappointing" at the time, according to Binance. Finance also stated that it aims to be regulated in the UK. Binance had previous disputes with UK regulators, who claimed that the exchange couldn't be regulated because it didn't offer the bare minimum of information about its commercial operations. 
LEARN MORE
Do you or your business want to learn how to diversify into the cryptocurrency market? 
Investing in Crypto - Guide
Learn about the cryptocurrency market, discover Crypto Strategies, and master the art of building your crypto portfolio.
Download