How To Guides
Oct 12, 2022
Gifts within Strategies
Introduction
Going along with our idea of being the platform where users can share their knowledge with others and build communities around their Crypto Strategies, we are committed to building all the tools a Strategist needs to grow.
In addition to user-based gift cards, which are useful for all ICONOMI users, Crypto Strategy gift cards allow all Strategists to directly advertise their Strategies. Using them, they can grow their copier base, ACS, and recognition.
Marketing: Enabled
All Strategists have access to the 'Marketing' tab within the Crypto Strategy management view, which allows them to generate any number of gift cards with only a few clicks. All generated gift cards, used or unused, will be displayed in a table on that tab where you can monitor their usage or cancel them before they are used.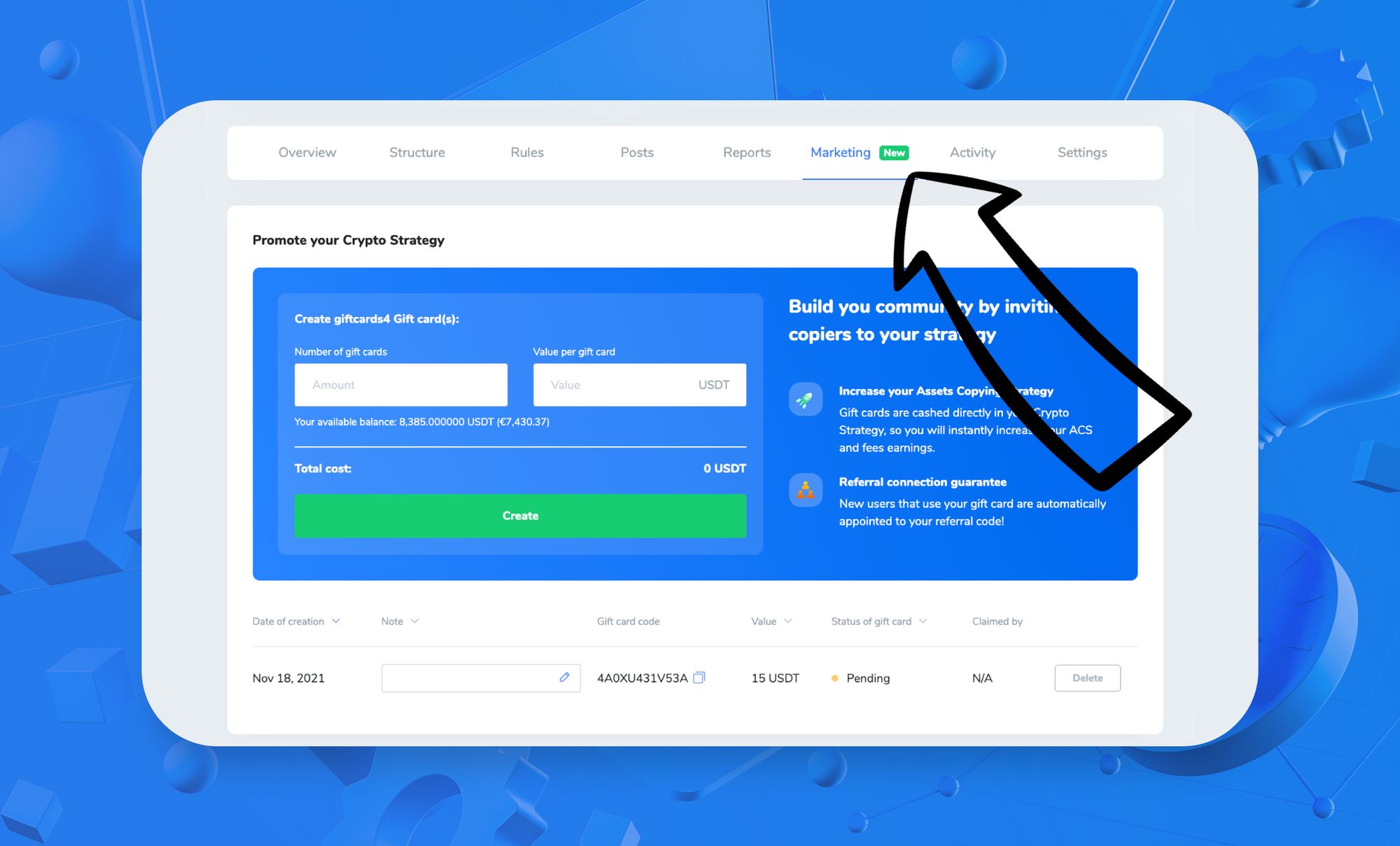 The primary goal of the Strategy gift cards is to allow the Strategist to utilise social media channels, such as Twitter, to create giveaways, contests, or any other promotion they can think of and reward the participants with gift cards that ensure them the following:
When a Strategy gift card is cashed in, the value is automatically used to copy the Crypto Strategy with which the gift card was created
If a gift card is the first transaction of a fully verified user, a referral connection is established to the gift card creator trumping any referral links that might be saved on the user's account. As such, you have a referral guarantee for new users who use your gift cards.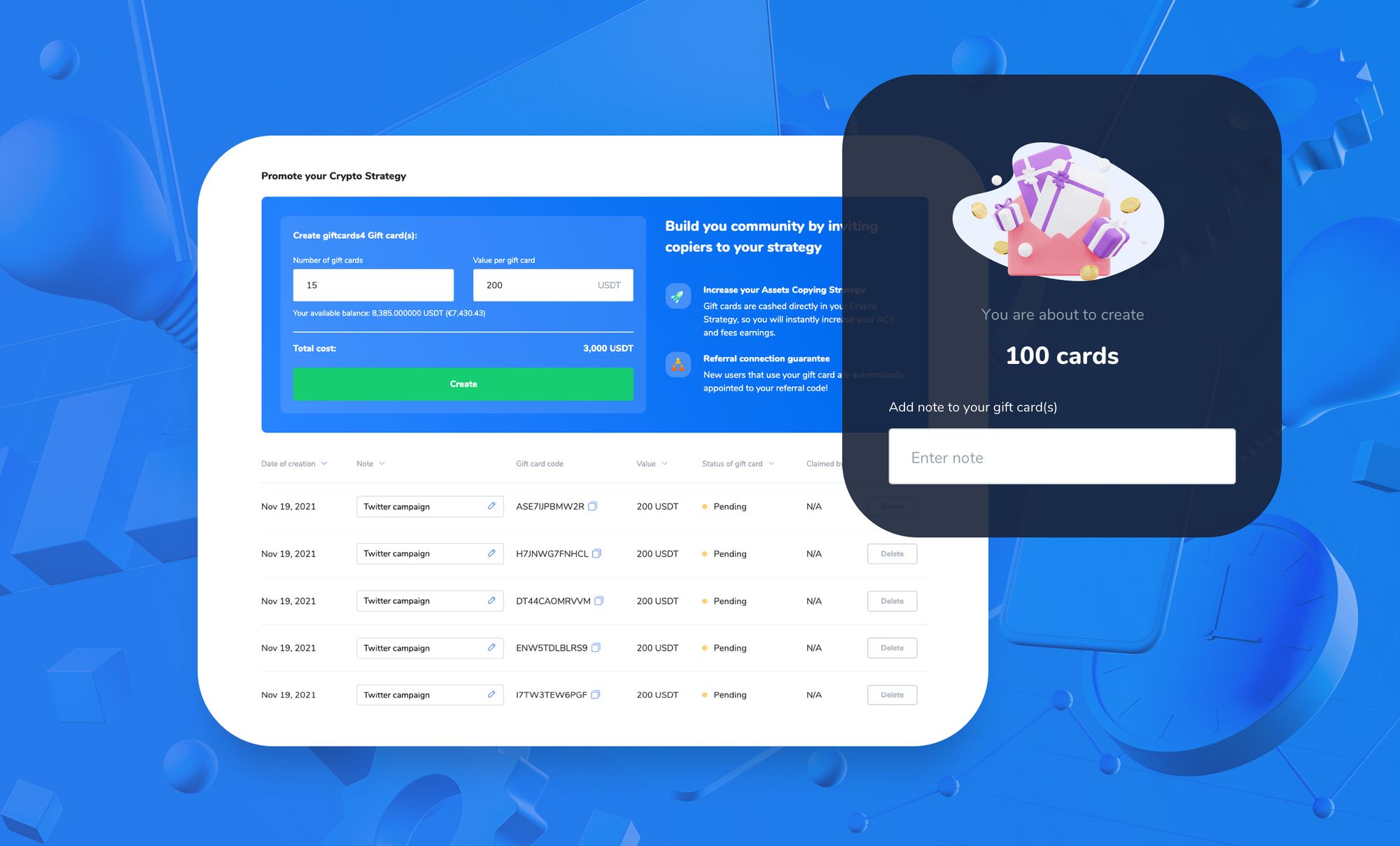 Requirements and creation flow
All Crypto Strategies have access to gift cards
The vehicle for value transfer is USDT, ensuring the value stability between the gift card creation and its actual value
Strategists need to have USDT before they can create gift cards
To issue the gift cards, go to https://www.iconomi.com/manage and select the "Marketing" tab, where you can create, monitor, and administer gift cards
Only tier 1 users can redeem a gift card
Single gift card amount is limited to a maximum of 250 USDT
If you're the one receiving a gift card, fear not; you are not locking yourself to that Strategy! You can stop copying whenever you want, as you are in control of your assets. Afterwards, you can copy
another Crypto Strategy
, invest in a single asset or withdraw your funds. Or you can copy the original Strategy with more!
FAQ
Is ICONOMI making money on gift card creation?
The gift card creation is free of charge, and ICONOMI does not collect anything from their creation.
Can I publish gift card codes directly on my website or Twitter? Can I print them out under my own brand name?
Yes, marketing and promotion of a Crypto Strategy is the main objective of gift cards.
Can a user who cashed in a gift card stop copying your Strategy and leave someplace else immediately? Is it possible for users to cash in the gift card and withdraw the amount immediately?
Currently, this is possible. We have thought about this a lot and decided against lockdown periods or vesting, so it's easier to monitor whether users stay in the Strategy or not.
Investing in Crypto - Guide
Learn about the cryptocurrency market, discover Crypto Strategies, and master the art of building your crypto portfolio.
Download