What we're building & launching
Feb 25, 2021
Be in Control of Who Can Access Your Strategy
New Crypto Strategy visibility switching
The number of Crypto Strategies on the ICONOMI platform is ever-growing, and we've upgraded the way how managers can switch between the visibility of their Crypto Strategy. From now on managers can easily switch between different visibilities of their strategy with only a few clicks.
There are three different settings: Private, Unlisted, and Public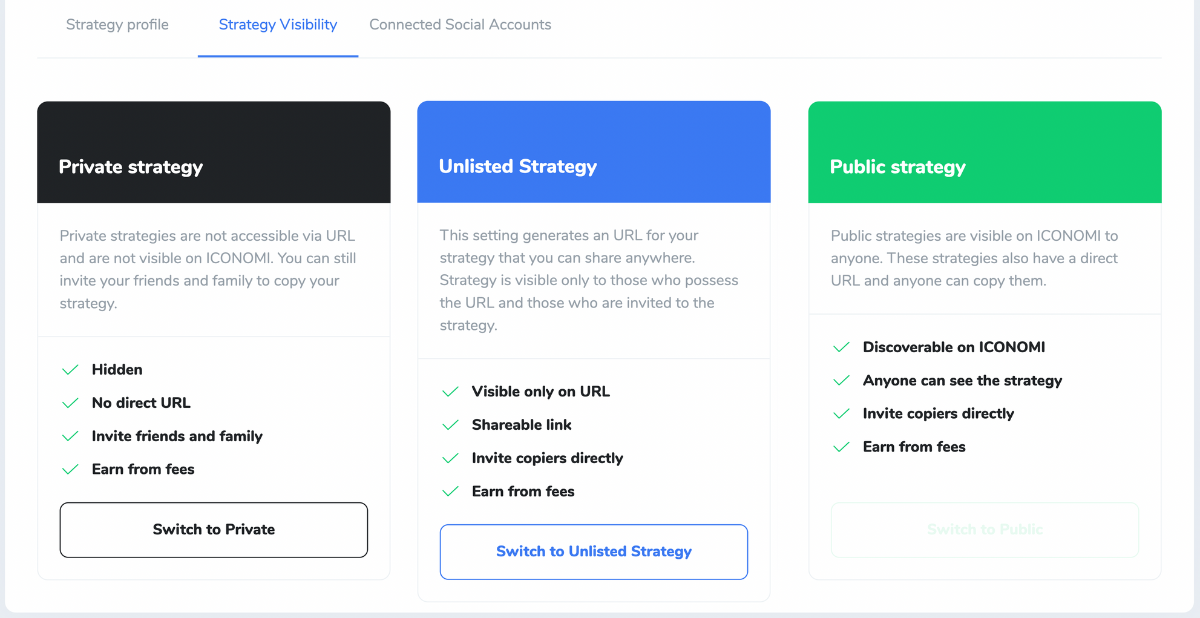 Private
Private Strategies are not accessible via URL and are not visible on the ICONOMI platform by searching for it. You can still invite your friends and family to copy your Strategy.
Main characteristics:
Hidden
No direct URL
Invite friends and family
Earn from fees
Unlisted
Invite only Strategies generate a URL that you can share with anyone. Only those who possess the URL can see and copy the Strategy.
Main characteristics:
Visible only via URL
Copiers need to ask for an invite first
Sharable link with "Ask for invite" button
Invite copiers directly
Earn from fees
Public
Public Strategies are, well, public. Anyone on the ICONOMI platform can see them. They also have a direct URL and anyone can copy them without needing approval. There is, however, a prerequisite; your Strategy must have at least €5000 ACS in the last 28 days. And once you go public, you can only switch to another visibility after another 28 days.
Main characteristics:
Discoverable on ICONOMI
Anyone can see the Strategy
Can be promoted based on its success
Invite copiers directly
Earn from fees
Investing in Crypto - Guide
Learn about the cryptocurrency market, discover Crypto Strategies, and master the art of building your crypto portfolio.
Download