Investing 101
Jun 2, 2023
Crypto Market Wrap: 2nd June 2023
Bitcoin Long-term View:
Despite the negative market sentiment, the clamp down across the globe on the cryptocurrency industry, the ongoing banking crisis, the looming recession and surging interest rates, BTC is moving as expected. Bitcoin is still trading inside the rising channel formation/structure. After tagging the lower bound of the channel at roughly 15,500 USD in December 2022, BTC reached its first major milestone at 30,000 USD, up roughly 100%. And, understanding that the next BTC halving event is only 1 year away, history suggests a new bull cycle has already begun. On average BTC bottoms roughly 400 days prior to a halving event, which indicates Q1 2023 should have been the bottom. Zooming out and understanding the market cycles will provide clarity in a very noisy market.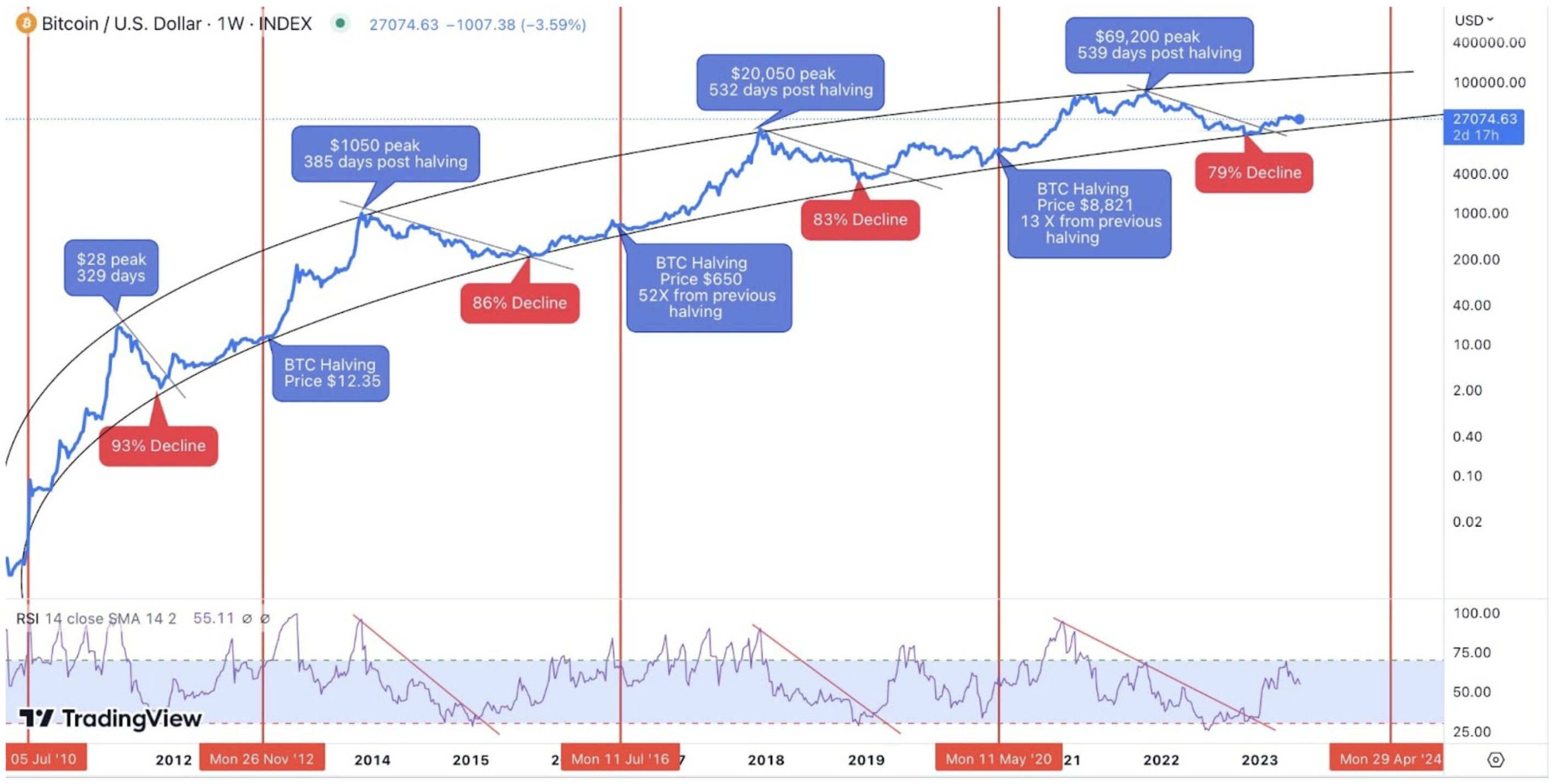 US Debt Ceiling/FED
 On hearing that the US debt ceiling had been agreed upon, the US dollar index (DXY) plunged. The US debt ceiling situation will be resolved in two years, according to a deal that President Biden and Republican House Speaker McCarthy declared they reached. Since the US Government has raised the debt ceiling 79 times since the 1960s, a compromise was expected to be achieved even though this dampened risk sentiment. Because of the risk-on attitude, the US dollar is falling, which is good for both stocks and cryptocurrencies. Dollar decline = increase in risk assets!
The question which is now weighing on investor sentiment is whether the FED has finished raising interest rates. The US is set to release several significant economic data points later today, including information on unemployment and Non-Farm payrolls. The US unemployment rate is expected to increase from 3.4% to 3.5%. The financial market is currently in a position where negative economic data is positive for risk assets. If US economic data deteriorates, it will give the FED ammunition to hold off on further rate hikes. 
China Crypto U-Turn:

Binance CEO, CZ, tweeted earlier this week: CCTV (China Central Television) just broadcasted crypto. It's a big deal. The Chinese-speaking communities are buzzing. Historically, coverages like these led to bull runs. Not saying the past predicts the future. And not financial advice.
In a major U-turn, China appears to be signalling it's now open to cryptocurrencies. In 2021, China enacted its strictest crypto trading and mining ban, ejecting all Bitcoin, Ethereum and crypto miners from the country. Which resulted in a BTC market sell-off of roughly 50%. Hong Kong followed China in clamping down on bitcoin and crypto trading platforms but has recently adopted a new crypto licensing regime that will allow the trading of established cryptocurrencies such as bitcoin and Ethereum from June 1. China is now open for business in the cryptocurrency space. 
Arbitrum Network Activity
The expenses and income associated with broadcasting information and security proofs back to the main Ethereum network increased to a new record-high of 10,025 Ether (ETH), or almost $18.8 million. In the mainnet publishing fees, Arbitrum emerged as the top contributor, contributing 4700 ETH, or nearly $8.8 million. Fresh news coming from Circle, the "global financial technology company helping money move at internet speed," has announced the impending introduction of its stablecoin, USDC, on the Arbitrum platform. This step is intended to improve the functionality of the Arbitrum ecosystem. This work will switch out the current Ethereum-bridged version of USDC for a native version on June 8, 2023. The Arbitrum ecosystem will gain several advantages from the implementation of native USDC. 
Want to learn more about cryptocurrency? 
📞 Book a crypto consultation: https://lnkd.in/gzJXuXMJ
💻 Learn more about ICONOMI cryptocurrency solutions: https://lnkd.in/ggfXuEVM
Investing in Crypto - Guide
Learn about the cryptocurrency market, discover Crypto Strategies, and master the art of building your crypto portfolio.
Download