How To Guides
Aug 18, 2021
Creating a Crypto Strategy
If you don't already know, Crypto Strategies are collections of crypto assets led by a Strategist, copied by copiers who pay fees for your know-how. If you're tired of being a copier, here's how to create your own Crypto Strategy and start leading others while getting rewarded for good work.
There are two different types of Strategies - DEMO and Live Strategies.
DEMO
Hone your skills
DEMO Strategies are there for you to test different currencies and plans of structure. You can have up to three at once, altering them at your whim. See what works best for you, how many times you need to change the structure, or just watch the virtual money number react.
To create a DEMO Strategy, simply press "New Crypto Strategy" and enter your desired name. As simple as that, your DEMO Strategy is done! It's automatically funded with a virtual 1000EUR, all yours to play around with. You can change the structure and monitor how your investment would perform, all with zero risks.
Crypto Strategy
Put your skills to use
Once you're ready, you can create a Crypto Strategy with real assets and more features.
The first step is choosing the right name and ticker. The name can be changed a few times in the future, but the ticker is there to stay. Choose it carefully, as it will be included in the URL of your Strategy (https://www.iconomi.com/asset/"ticker").
Before you start inviting copiers to your new Strategy, you will need to fund it. Press "Manage funds" and follow the wizard. The minimum amount is just 10EUR.
Next, you will need to set the fees of the Strategy. If you need guidance, check what other Strategists have set. Higher fees might deter copiers, while lower fees will not make it as profitable for you. You can raise the fees twice per year. Finally, select how often you want the fees to be collected.
Once that's done, the Strategy is active and under your command, but it is not yet public.
Visibility
Your Crypto Strategy needs to meet certain parameters before being publicly listed on the ICONOMI platform. Before then, you can have it either as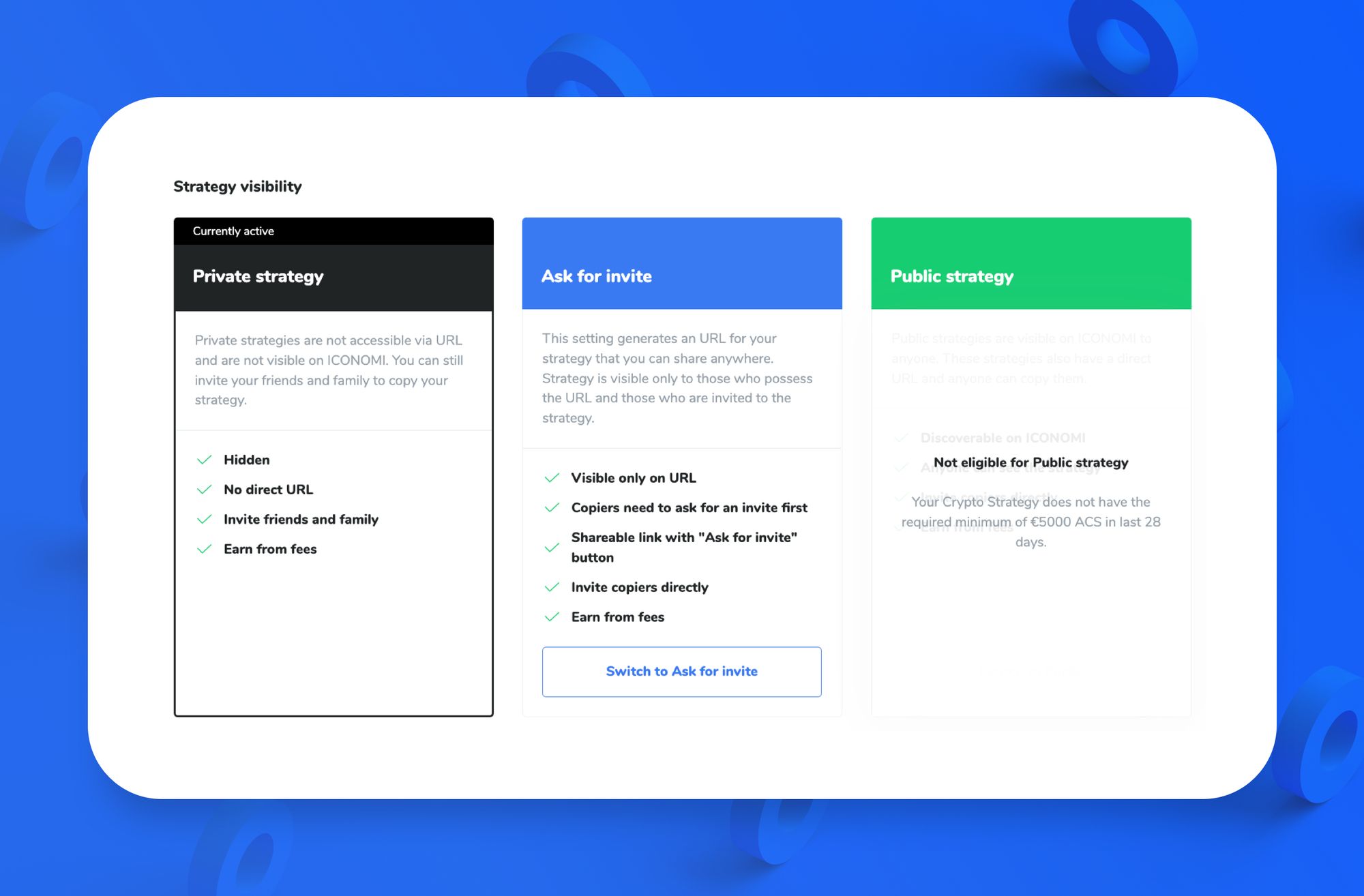 Private:
The only ones that join are those you invite directly. The Crypto Strategy is hidden otherwise.
Ask for invite
The Strategy is visible only to those with whom you've shared the URL with.
You still choose who can copy your Strategy, as they need to ask for an invite.
Public
The Strategy is fully visible on the ICONOMI platform
Anyone can start copying
The requirement to go public is 5000EUR ACS (Assets Copying Strategy) in the last 28 consecutive days. This includes both your assets and those of your copiers.
And that's it! Once your Strategy is public, you can really take off.
Who knows? Maybe you're the next top dog, making a living off of a few clicks per day.
Investing in Crypto - Guide
Learn about the cryptocurrency market, discover Crypto Strategies, and master the art of building your crypto portfolio.
Download