Investing 101
Nov 8, 2023
Cosmos (ATOM) Gains Momentum with Exciting Developments
Cosmos (ATOM) has been making headlines with a series of significant developments and a surge in its price. This versatile blockchain system, designed for seamless interoperability, has caught the attention of both investors and enthusiasts alike. 
Recent Developments:
dYdX Migration: A major highlight was dYdX's migration from Ethereum (ETH) to Cosmos. This decentralised exchange (DEX) launched its own dYdX Chain, built on the Cosmos SDK and Tendermint consensus protocol. This move was driven by Cosmos's unique customizability, catering precisely to dYdX's needs. This migration is expected to bring significant activity and value to the Cosmos ecosystem, making it more vibrant and dynamic.
Noble's USDC Integration: The integration of Noble's USDC into the Cosmos ecosystem is another game-changer. USDC, one of the leading stablecoins, is known for its 1:1 peg to the US dollar. With $200 million worth of Noble's USDC entering the Cosmos ecosystem, it signifies growing adoption and utility for ATOM.
BTC Integration: Cosmos made a substantial move towards bridging blockchains by integrating Bitcoin into its network. The partnership with Osmosis decentralised exchange has brought a wrapped version of Bitcoin, known as nBTC, to Cosmos. This development opens up new avenues for users to bring Bitcoin into the Cosmos ecosystem, eliminating the need for conversions. This integration has already shown promising signs of network growth and increased adoption.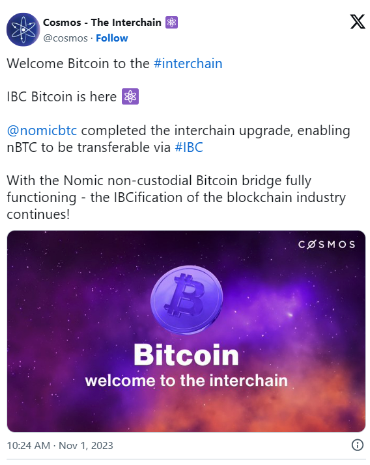 Price Surge and Technical Analysis:
ATOM has experienced a notable surge in its price, reflecting the positive sentiment surrounding these recent developments. The technical analysis of ATOM's performance in the crypto market provides valuable insights.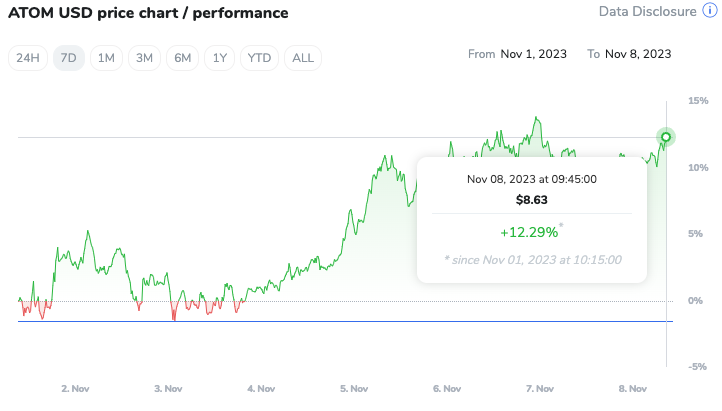 ATOM's price has been on an upward trajectory, with notable gains. It is currently trading for $8.74, marking a 13.99% increase in the past days following the announcement of BTC integration. The integration of Bitcoin into Cosmos has certainly played a pivotal role in this price surge.
In recent market movements, ATOM has continued to perform well. It saw an impressive 26.80% price increase in the last month. This upward movement is in stark contrast to some other cryptocurrencies, such as Avalanche's AVAX, which lost 1.2% overnight. ATOM's price performance indicates robust market sentiment and a bullish trend.
It's important to note that while ATOM has seen significant price gains, its trading volume experienced a slight decline in the last 24 hours. This decrease in trading volume may suggest a temporary drop in investor interest in actively trading ATOM. However, this shouldn't overshadow the overall positive sentiment surrounding Cosmos.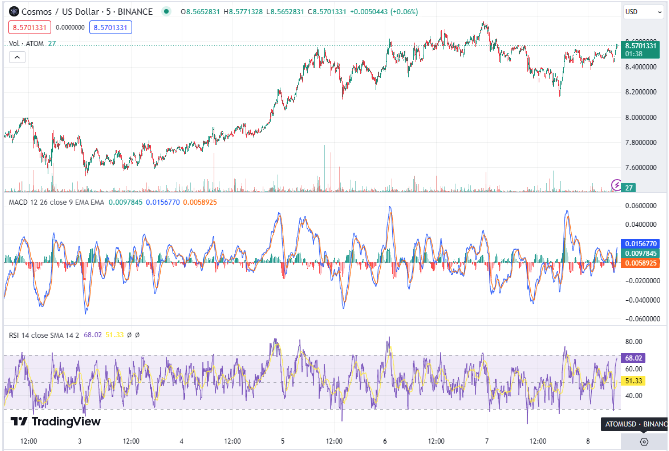 Technical indicators also offer valuable insights into ATOM's performance. The Relative Strength Index (RSI) has entered the overbought zone, which often suggests a potential price correction in the near future. On the other hand, the Chaikin Money Flow (CMF) has taken a sideways path, indicating a degree of uncertainty in the market. The MACD, a key momentum indicator, remains in favour of buyers, which indicates that bullish momentum still prevails.
In addition to the technical analysis, social mentions and bullish sentiment for Cosmos Hub have shown a significant increase over the past week, which is an optimistic signal. This uptick in sentiment highlights growing enthusiasm and confidence in ATOM's potential.
Conclusion:
Cosmos (ATOM) is riding a wave of positive developments and price surges, firmly establishing itself as a promising player. With notable migrations, the integration of Bitcoin, and the addition of Noble's USDC, Cosmos is making all the right moves to attract more users and strengthen its network. While technical analysis suggests a potential price correction in the short term, the overall sentiment remains bullish, and the long-term outlook for Cosmos appears bright.
Investing in Crypto - Guide
Learn about the cryptocurrency market, discover Crypto Strategies, and master the art of building your crypto portfolio.
Download