Investing 101
Aug 30, 2023
Bitcoin Cash's Recent Surge
Bitcoin Cash Going to Zero? Not
Bitcoin Cash (BCH) has demonstrated a remarkable surge in value over the past week, showcasing a 15.47% increase in the last 7 days. This positive momentum extended further, with a notable 14.83% uptick in the last 24 hours. However, in the most recent hour, there was a minor pullback of 0.42%. As of now, BCH is priced at $215.71 per unit, although it remains significantly below its all-time high of $3,188.20. The current circulating supply stands at 19.49M BCH.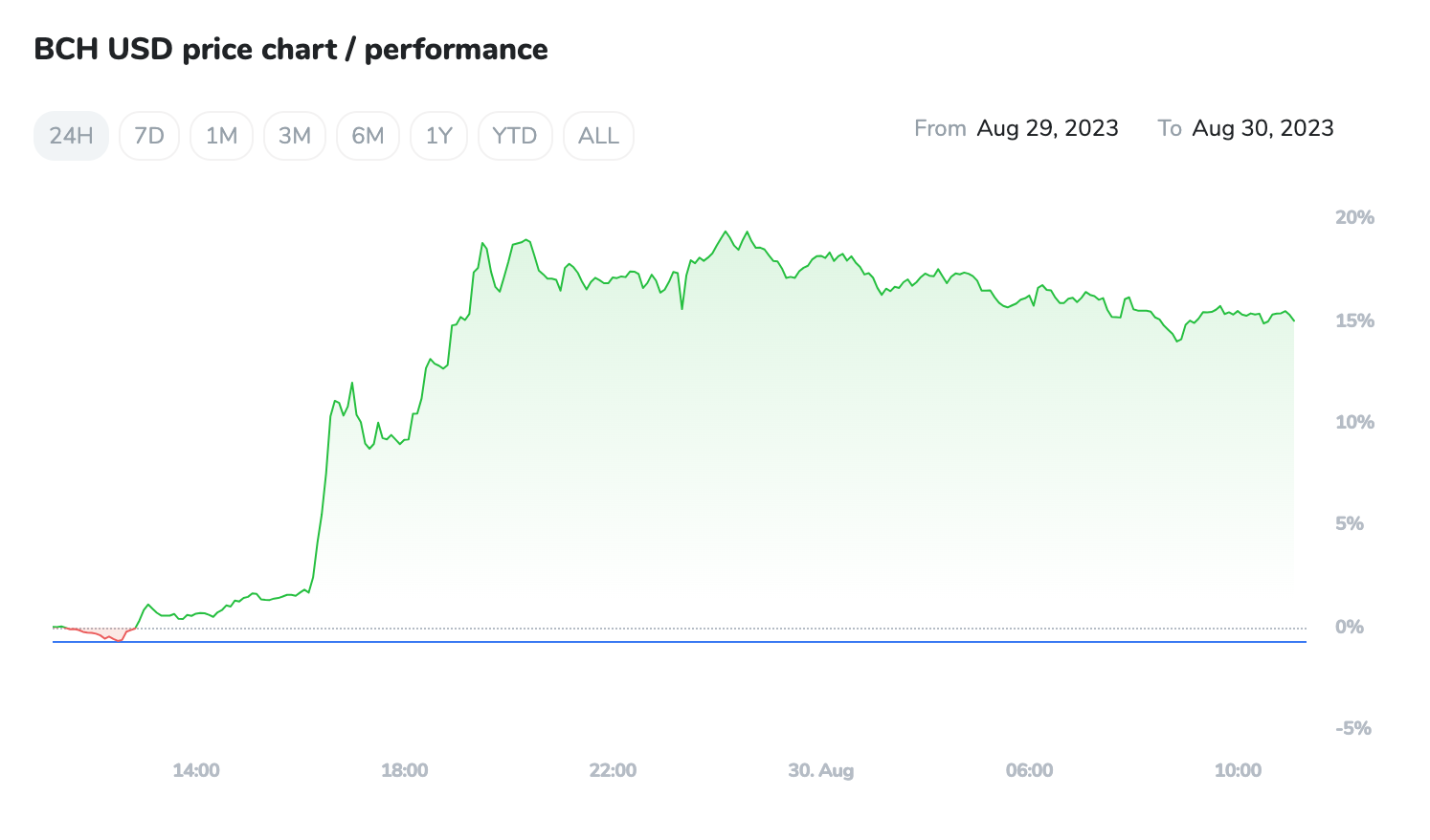 This surge can be attributed to the recent U.S. Court of Appeals for the D.C. Circuit ruling, which found that the SEC had wrongly rejected Grayscale's application to convert its Bitcoin Trust (GBTC) into an official BTC spot exchange-traded fund (ETF). The verdict obliges the SEC to revisit the application with a 45-day window to potentially appeal. In comparison with Bitcoin's 7% gain over the past 24 hours, reaching $27,970, Bitcoin Cash has taken the lead by surging 15%. It also holds the 18th position in terms of market capitalization, although its value and market cap are still overshadowed by the original BTC.
Another beneficiary of this market enthusiasm is Stacks, a BTC-associated coin that operates on a layer-2 network to enable smart contracts and decentralised applications (dApps). Stacks has observed a 13% surge, reaching a current price of $0.51. Similarly, Bitcoin SV, which originated as a fork from Bitcoin Cash, has recorded a 10% increase in the last 24 hours, reaching $34 per coin. The overall cryptocurrency market has experienced a collective surge of over 5% in the past day.
While the court's ruling doesn't guarantee the approval of a spot BTC fund, it does clear a substantial legal obstacle in the path of Grayscale and others pursuing this avenue. This development has contributed to the general optimism surrounding the cryptocurrency market.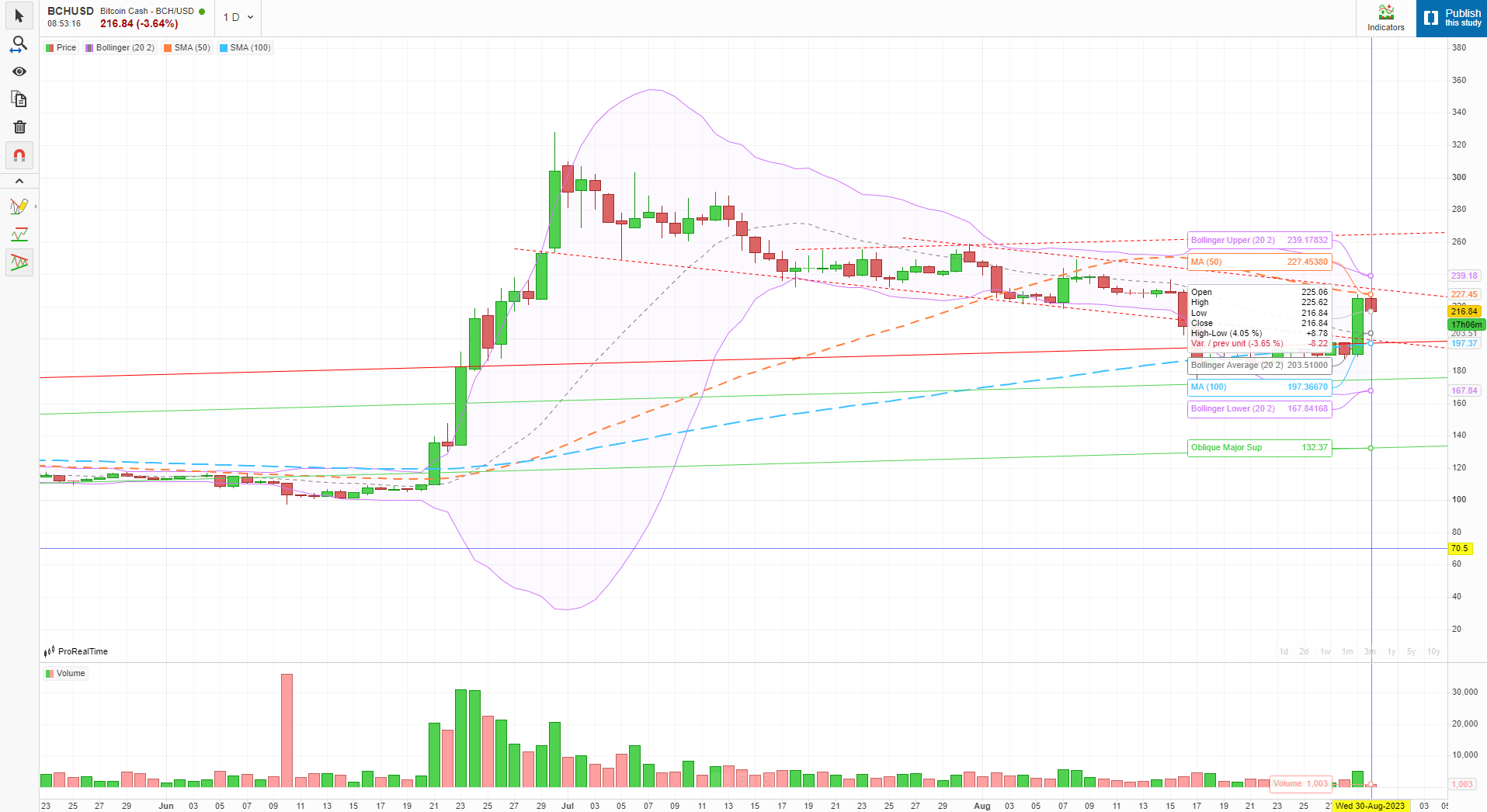 Slightly bearish trend encourages short positions under $196.16. Noteworthy support levels are at $188.85, $186.86. We can see the Upper Bollinger band at $239.18 and Lower band at $167.84. However, a recent rebound from the 200-day EMA signals potential reversal, hinting at a shift in momentum. While $200 remains a pivotal resistance, a breakthrough could drive prices towards $228 and $258.  Presently at $191.57, RSI movement out of oversold territory may point to budding bullish momentum.
We are carefully watching these trends, recognizing that regulatory clarifications can significantly influence market sentiment and drive interest in various cryptocurrencies. Bitcoin Cash has demonstrated its potential for substantial price movement. We classify it as a medium risk cryptocurrency which highlights the potential for price fluctuations while also indicating the growing interest in trading. Overall, recent news and analysis signal a promising path for BCH, further affirming its position in the cryptocurrency market.
Investing in Crypto - Guide
Learn about the cryptocurrency market, discover Crypto Strategies, and master the art of building your crypto portfolio.
Download